While OPPO's Find lineup shows off the company's best and its A series covers the affordable range, the Reno lineup handles the middle ground with few compromises. The OPPO Reno7 5G is the latest to do so with a long list of features on paper.
SEE ALSO: OPPO Reno7 5G, Reno7 Z 5G official in the Philippines. See prices here
From top to bottom, the smartphone hits the most important specs: a midrange MediaTek processor, an AMOLED panel with high refresh rate, and plenty of RAM and storage. More than anything, OPPO touts its camera performance as a leader in this segment. Altogether, it's a solid package, but at a price of P26,999 ($517), is the Reno7 5G worth your money?
Curves for days
The first thing you'd notice when holding the OPPO Reno7 5G is its slim, curvy body. It feels good in one's hand; the only sharp edges are along the camera bump. The bundled clear case evens out the plastic back, at the expense of adding some heft and diminishing the flashy Startrails Blue color of our review unit. If you're not into this color-shifting look, you may also choose the stealthier Starry Black.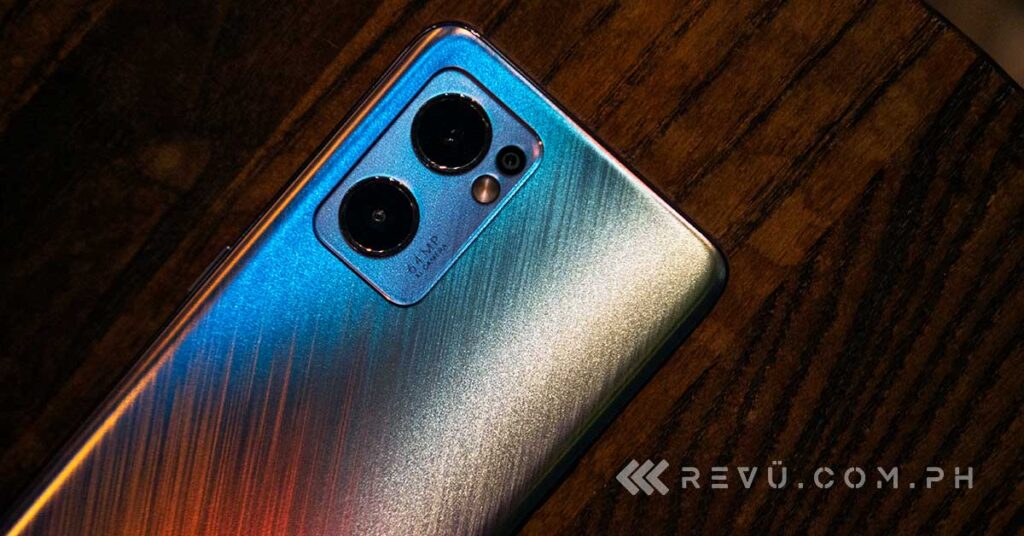 The bigger draw for us, however, is the 7.8mm thickness and 173g weight, making the Reno7 5G feel like a more compact phone in spite of its sizable 6.4-inch 1080p AMOLED panel. This is easily one of the most well-designed handsets on the current midrange market.
Similar to rival phones, the OPPO Reno7 5G comes with a USB-C port in addition to the 3.5mm audio port. In a world where wireless earphones are becoming the norm, it's nice to have the option for wired headphones. On the other hand, it's disappointing to see only one loudspeaker, which can easily be blocked by your palm while in landscape orientation.
The AMOLED edge
The Reno7 5G's AMOLED panel has a maximum 90Hz refresh rate and 180Hz touch sampling rate, resulting in smoother visuals and interaction with the display. Unfortunately, there's no dynamic adjustment for the refresh rate. You must choose between a full-time 90Hz or full-time 60Hz; the software doesn't adjust on its own or give sub-60Hz rates to conserve battery power.
The screen's excellent contrast and brightness make the phone's ColorOS 12 interface look great in dark mode. Despite being heavily skinned, OPPO offers several customization options for the always-on display and user interface. It also provides a built-in fingerprint sensor with different animations to choose from — another feature absent in LCD-equipped smartphones.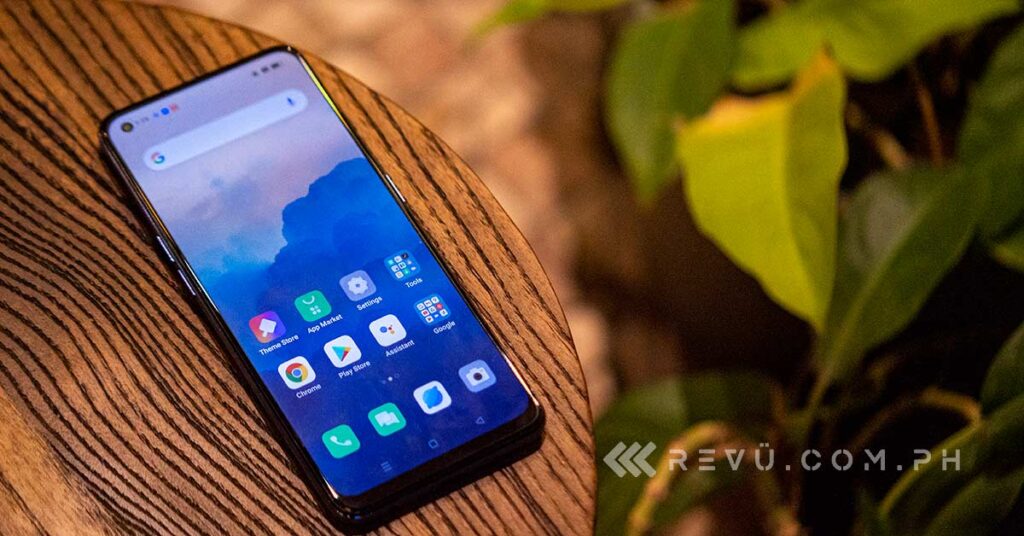 Speaking of ColorOS 12, it's based on Android 11, sadly. This means you'll miss out on Android 12's convenient features, such as the more robust security and notification options. In addition, there are lots of bundled apps which you may or may not appreciate. You'd have to either disable or uninstall the unwanted software. On the bright side, the Reno7 5G has support for Netflix's Android app unlike other Chinese-made smartphones.
Not just for portraits
A single 32-megapixel selfie camera occupies the top-left corner of the display. It presents several features, including background blur and OPPO's large selection of filters. You won't need most of the manual options, however; the Reno7 5G's auto settings work wonders for selfies. During daytime, it's great at adding warmth to your face, while sharpness is increased when lighting is poor.
The rear has three distinctive cameras: a 64-megapixel main camera, an 8-megapixel ultrawide camera, and a 2-megapixel macro camera. Most of the work is done by the 64-megapixel shooter. There's an option to use the entire resolution for larger photos, but you're better off using the default 16 megapixels to produce clearer shots at much lighter file sizes. It's a potential difference between 20MB and 8MB for the 64-megapixel and 16-megapixel pictures, respectively.
Some sample shots. Click on a thumbnail to launch the gallery
The camera app's most interesting mode has to be Portrait. Aside from improving your subject's skin tone and removing blemishes, you can customize the background blur effects and add more depth to the bokeh. These features carry over to video shooting, wherein the camera would brighten the subject and adjust the background's look in real time.
The 8-megapixel ultrawide and 2-megapixel shooters are fun to use as well. Again, the Reno7 5G's image optimization steps up in different lighting conditions. OPPO puts a lot of emphasis on its improving AI integration, which has reached a new peak with the latest Reno7 series.
Not the performance you'd expect
At first glance, you'd think the MediaTek Dimensity 900 5G chipset is the Reno7 5G's highlight, but then you'd remember how much this device costs. For reference, this processor directly compares to the Qualcomm Snapdragon 695 5G chip, which you'd find in more affordable phones. The Reno7 5G is certainly fast enough in handling multiple tasks simultaneously, but it feels inadequate compared to similarly priced phones.
A PCMark Work 3.0 score of 8310 and 3DMark Wild Life score of 2021 are close to the numbers of the Snapdragon 695 5G in the cheaper Realme 9 Pro and Reno7 Z 5G. The Dimensity 900 5G is an efficient chip, though; the Reno7 5G reached 14 hours and 25 minutes in PCMark's battery test, proving that over five hours of screen-on time per full charge is doable.
To justify the high asking price, the smartphone is equipped with improved hardware in other sections. Most prominent is the 65-watt charging for the 4,500mAh battery. It takes no more than 35 minutes to bring it to a full charge. That's much faster than Apple and Samsung's best smartphones. Additionally, OPPO has its own multi-cooling system to maintain temperatures during heavy loads.
The Reno7 5G's sole memory and storage configuration is another strong point. The one-and-only model has 8GB of RAM and 256GB of expandable storage. Once again, not even Apple and Samsung provide this much at this price point. Along with its 5G connectivity, this device is both generous and future-proof.
Put together, the OPPO Reno7 5G is a decent gaming device. We could crank popular titles such as Apex Legends, Mobile Legends, and Pokemon Unite to max graphics settings without experiencing stutters. As expected, demanding games like Genshin Impact would give this phone some trouble. Medium settings are possible, but you'd have to stay in a cool room to keep the handset's temperature below 40 degrees Celsius.
Are there better deals out there?
The OPPO Reno7 5G not only looks great, it's also loaded on the features that matter. We love the unbelievably fast charging, solid battery life, and impressive camera performance.
The most glaring downside is the chipset. With a midrange Dimensity 900 5G and price of P26,999 ($517), the Reno7 5G isn't competitive against its closely priced rivals. Here are a couple of examples: the OnePlus Nord 2 with its Dimensity 1200 processor and the Dimensity 920-equipped Realme 9 Pro Plus, both of which are even cheaper after discounts. It doesn't help that the Reno7 5G shares the same processor as its predecessor, the Reno6 5G.
If gaming performance and benchmarks don't matter that much to you, consider the Reno7 5G and its fashionable design. We recommend it to those who value 5G connectivity, battery life, and camera quality above all else.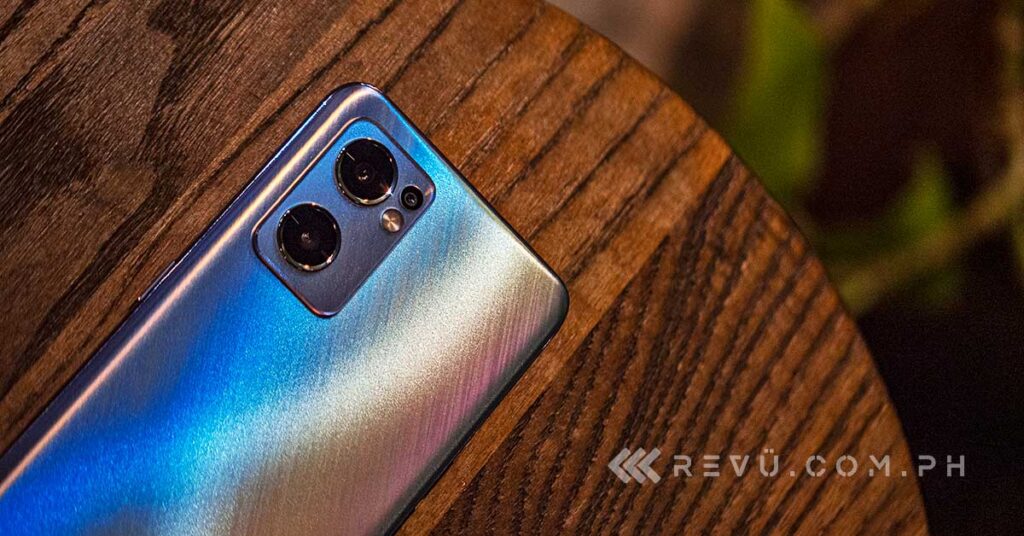 OPPO Reno7 5G specs
6.4-inch 1080p AMOLED, 90Hz refresh rate and 180Hz touch sampling rate
MediaTek Dimensity 900 5G processor
8GB RAM
256GB storage, expandable via microSD
64-megapixel main, 8-megapixel ultrawide, 2-megapixel macro cameras
32-megapixel front camera
Under-display fingerprint sensor
4,500mAh battery
65-watt SuperVOOC charging
ColorOS 12, Android 11
Startrails Blue or Starry Black
---