Realme has been having a smooth run with its 9-series so far. The Realme 9 Pro is a battery-endurance champ with 5G, while the Realme 9 Pro Plus is a near-complete package at a competitive price.
Positioned below the two Pro models, the Realme 9i adopts the same modern design at a more affordable price of P11,990 (around $228). Of course, there are compromises. On paper, the most glaring is the lack of 5G connectivity because of its lower-end processor, followed by the dated software in Android 11.
On the other hand, the Realme 9i has a lot more going for it. It's not simply a filler phone in the company's entry-level segment. Using the device extensively reveals more pros than cons.
Another pretty phone
The Realme 9i's design is as attractive as it is easy to hold. The Prism Blue color on our review unit glistens under sunlight and does well at hiding fingerprints. The camera bump has a cheaper-looking reflective coating that doesn't take anything away from the overall aesthetic. The included clear case protects the rear cameras without covering the blue finish.
The smartphone settles for a side-mounted fingerprint reader, which many may actually prefer over under-display sensors. It doubles as the power button when pressed down. A USB-C port is found between the 3.5mm audio port and bottom-firing loudspeaker. Look a little closer at the earpiece, and you'll notice it also acts as an additional loudspeaker for stereo sound.
Its card tray delivers the best of all worlds: two slots for SIM cards and a dedicated microSD slot to expand the 128GB of storage. With this, you don't have to sacrifice a SIM card slot for extra storage. Sadly, there's no 5G connectivity on board, making the Realme 9i's mobile data slower depending on your area.
Skin-deep features
The other surprising omission is the latest Android version. The Realme 9i comes with Realme UI 2.0, which is based on the nearly two-year-old Android 11, even though the older Realme 9 Pro and Realme 9 Pro Plus are equipped with Android 12. This downgrade leads to older features and security patches. In addition, certain apps like Netflix and GCash aren't supported by the Google Play Store on this Android ROM.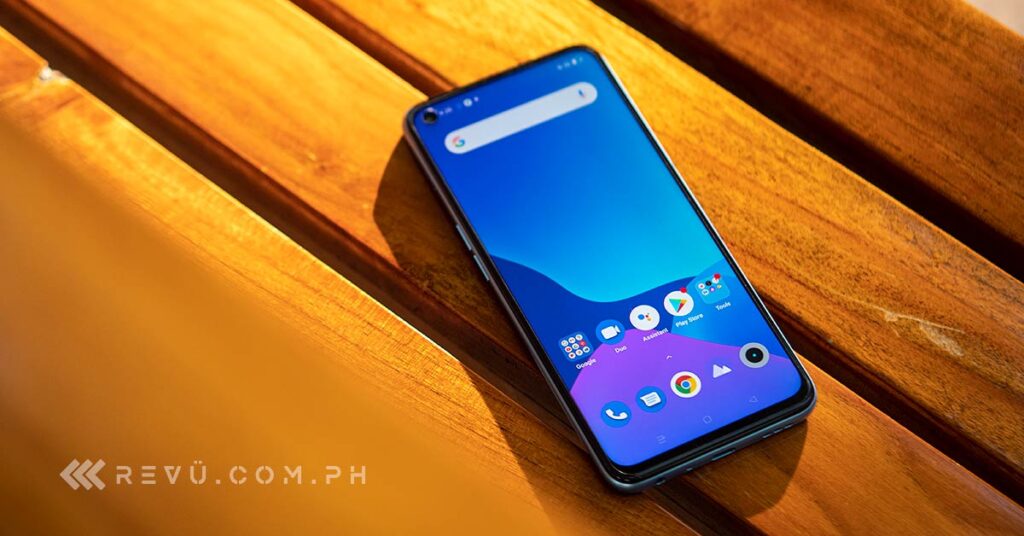 To our surprise, the display was downgraded as well. The 6.6-inch 1080p LCD seems fine at first, but then you'd notice it's down to a 90Hz refresh rate from the 120Hz of the Realme 8i. There's nothing wrong with 90Hz, however. It's more energy-efficient and lots of games don't go beyond this refresh rate, anyway.
Even though the Realme 9i doesn't have an AMOLED display like the higher-end models, Realme UI 2.0 presents three choices for its dark mode: enhanced, medium, and gentle. Enhanced produces the darkest black it can on the LCD panel, whereas medium and gentle are closer to gray. These two options offer a nice middle ground between a true dark mode and the traditional white background.
On the lower-end of midrange
Those familiar with the Qualcomm Snapdragon 680 chipset know what to expect. It's fast enough to push the 90Hz refresh rate in regular apps, but stutters when tasked with demanding games. Lighter titles like Mobile Legends and Pokemon Unite were no problem for the Realme 9i. Genshin Impact gave it the most trouble; even at the lowest graphics settings, too much action caused terrible input lag.
Our review unit came with only 4GB of RAM instead of the 6GB expected in retail models, so our experience might not reflect actual performance. Our benchmark numbers matched expectations on PCMark and GeekBench, but we achieved a disappointing result in 3DMark's Wild Life test. Overall, we were still satisfied with its performance and couldn't expect more from a lower-midrange processor.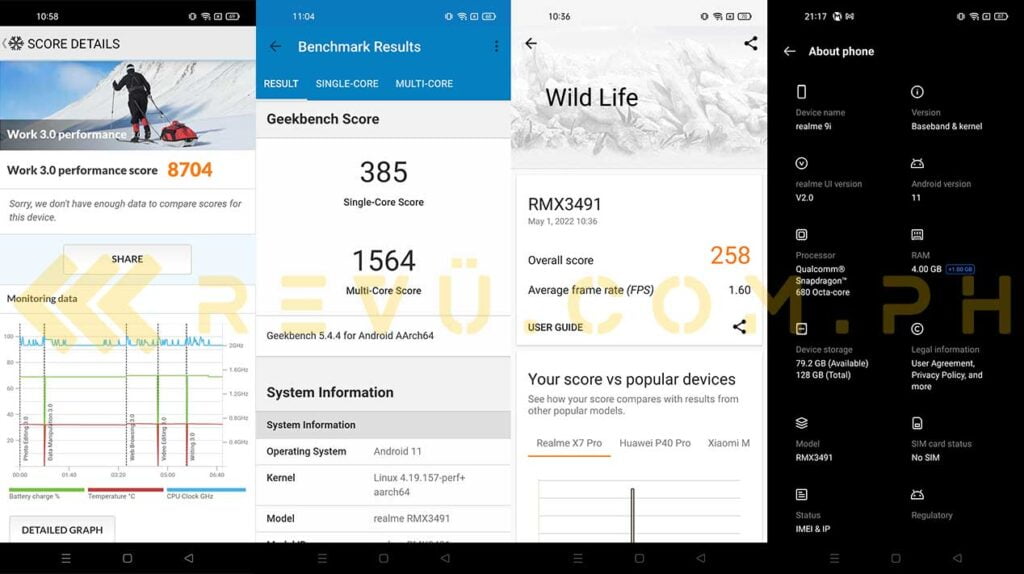 Where the Realme 9i really shines is battery life. A full charge provides over seven hours of screen-on time with regular usage. PCMark's battery endurance test gave us an outstanding time of 19 hours and 57 minutes. This exceeds the scores of most smartphones out there, including the higher-end Realme 9 Pro. The bundled 33-watt charger takes the 5000mAh battery from 0% to 100% in approximately 75 minutes.
Two cameras too many
At first, we were impressed to see three cameras on the back. But then we realized that the two additions to the 50-megapixel main camera are 2-megapixel monochrome and macro cameras. They don't offer any versatility like other setups with telephoto and ultrawide lenses. We also didn't notice a noticeable improvement in image quality from the two extra shooters.
The main 50-megapixel camera is great, however. Colors are punchy with just enough saturation. Photos are sharp during daytime and only a little mushy at night. A dedicated night mode extends the exposure time for more clarity, while the portrait mode adds accurate blur behind a subject. Its camera app is easy to use and even allows you to use the full 50-megapixel resolution if the default 12.5-megapixel images aren't enough.
The 16-megapixel front-facing camera is just as reliable. Selfies are sharp even under poor lighting. The default skin smoothing may be too much for most, but it's an easy setting to adjust. Video recording goes up to 1080p at 30 frames per second for both the rear and front cameras. We were happy with the noise reduction and stabilization of its videos.
Sample shots. Click on a thumbnail to launch the gallery
Do the upgrades outweigh the downgrades?
We've reached a point wherein all smartphones perform well, even at the lower price brackets. At P11,990 ($228), the Realme 9i excels at certain aspects, such as battery endurance and camera performance. At the same time, the downgrades in screen refresh rate and software may turn off mobile tech enthusiasts. The Realme 9i is meant for consumers who prioritize looks and reliability in everyday usage.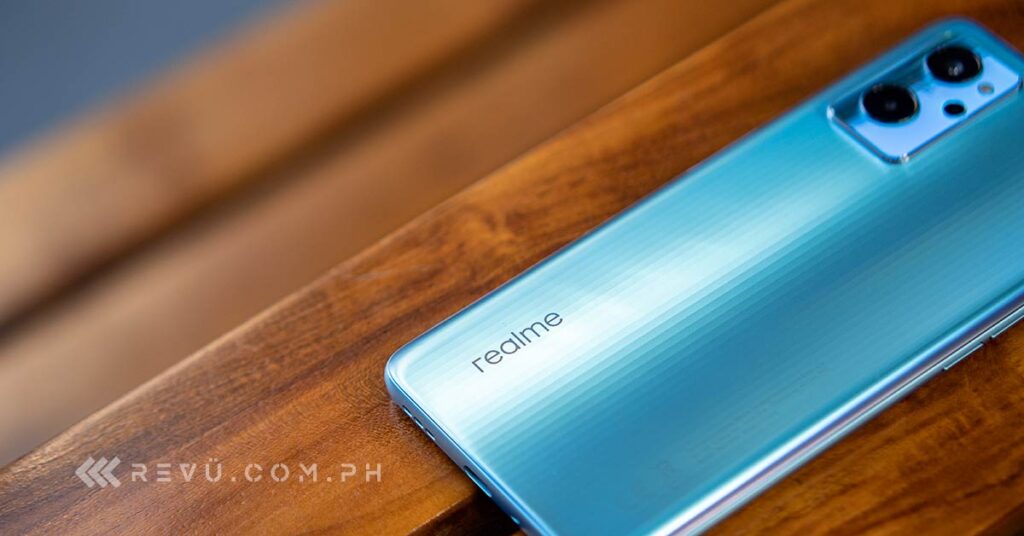 Its closest rival is the Redmi Note 11. It has the same Snapdragon 680 processor, but comes with a richer AMOLED display and an additional ultrawide rear camera. If you're willing to spend more, the Redmi Note 11 Pro 5G and Realme 9 Pro have 5G connectivity and better overall specs for a marginal price increase.
Chances are you'd find early-bird discounts and online sales for the Realme 9i right after launch. With the right price cut, this smartphone is a cut above the rest.
Where you can buy the Realme 9i: Shopee (online) and Realme official stores and partner dealers nationwide (offline)
Realme 9i specs
6.6-inch 1080p LCD, 90Hz refresh rate
Qualcomm Snapdragon 680 processor
6GB RAM
128GB storage, expandable with microSD
50-megapixel main, 2-megapixel monochrome, and 2-megapixel macro cameras
16-megapixel front camera
Side-mounted fingerprint reader
Stereo speakers
5,000mAh battery
33-watt Dart Charge
Realme UI 2.0, based on Android 11
Color options: Prism Blue and Prism Black
---