Realme has been on a roll in the Philippines. Depending on which charts you check, it is either number one or two in smartphone market share for the first quarter of 2022. That's a massive accomplishment considering the likes of Samsung and Xiaomi have been around much longer.
SEE ALSO: Realme 9 4G brand's newest mid-priced phone in the Philippines
A lot of credit belongs to the Realme 9 series. Models like the Realme 9 Pro and Realme 9 Pro Plus, as well as the Realme 9i, have proven how diverse the company's portfolio has become in the midrange segment.
We now have the base model, the Realme 9 4G. With no Pro or Plus to its name, you'd easily mistake it for a no-frills variant of the series. On the contrary, the Realme 9 4G is quite complete in terms of features. There are only a couple of potential deal-breakers, which we'll examine in this review.
One size fits all
The Realme 9 4G's mix of a 6.4-inch screen and 7.99mm profile makes its body easy to hold. The rear camera bump adds grip to your fingers on the rear, at the expense of introducing wobble to the phone while used on a flat surface.
Because of the punch-hole camera's placement on the upper-left of the display and single loudspeaker on the lower-right, the phone works great in landscape orientation. In other words, your left hand would cover the front camera while your right hand wouldn't touch the loudspeaker, making it ideal during gaming or video viewing.
Our review unit's Starburst Gold stands out with changing tones depending on the reflected light. If you're not into that, more basic Stargaze White and Meteor Black options are available.
The only unsightly part is the large chin. It consumes too much space below the screen. Underneath that is a 3.5mm audio port beside the USB-C port if you prefer using wired earphones.
The newest and brightest
Once you get past the larger-than-usual chin, you'll enjoy the 6.4-inch 1080p Super AMOLED display. It's a gorgeous screen at this price point, and the 90Hz refresh rate is a welcome sight for smoother scrolling and gaming when applicable. Even though the panel isn't as large as those in other budget-friendly phones, it's certainly more pocketable.
Another advantage to an AMOLED display is the inclusion of an under-display fingerprint reader. It's placed at a comfortable spot on the lower half of the screen. It takes a little over a second to log in. Alternatively, a faster (yet less secure) face unlock is available.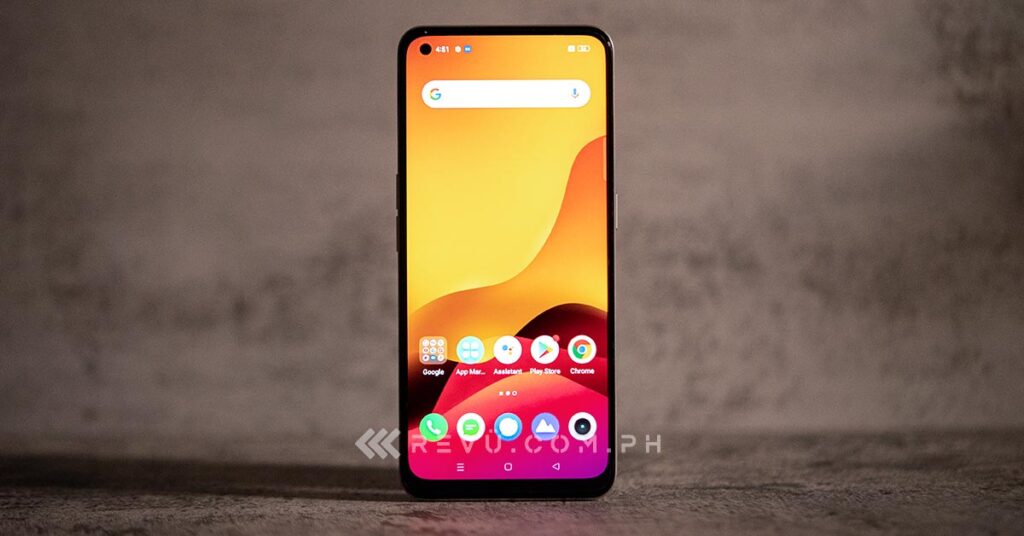 Unlike the Realme 9i and its older Android 11 OS, the base Realme 9 4G is equipped with Android 12 and the company's signature Realme UI 3.0. It offers the features you'd expect from this Android version: universal dark mode, robust notification settings, and tighter security patches.
There are a lot of apps you may want to uninstall during the initial setup. Fortunately, Realme UI makes it easy to remove apps and even change your home launcher to anything you prefer from Google Play.
Making the most of a chip
Efficiency is the priority of the Realme 9 4G's Qualcomm Snapdragon 680 chipset. It's not optimized for gaming or heavy apps; instead, it's consistently fast when switching between light apps and doesn't heat up after continued use. For configurations, you can choose either 6GB or 8GB of RAM to go along with the set 128GB storage, which can be expanded with a microSD card.
We weren't expecting much out of its gaming performance, but we were pleasantly surprised. Mobile Legends ran smoothly at the highest graphics settings with the refresh rate at 90Hz. Genshin Impact obviously gave it the most trouble. However, we still managed a steady 30 frames per second on low settings with stutters happening only during graphically intense moments.
Out of all the benchmarks we tried, PCMark's battery test provided the most impressive score. Its endurance test resulted in 15 hours and 59 minutes for the Realme 9 4G's 5,000mAh battery. In real-world usage, we easily got over five hours of screen-on time with heavy usage per charge.
The Realme 9 4G is bundled with a 33-watt charger that takes the battery capacity from empty to full in about 70 minutes. This lines up with Realme's advertised speed. The charging brick is relatively compact and light, making it easy to pack during travels.
More megapixels, better quality?
The 108-megapixel main camera is the Realme 9 4G's most eye-popping specification. Its native camera app allows you to use the full resolution, but we don't advise doing so. Rather, it's best to stick to the default 12-megapixel output for everyday photos. This provides more image detail and better lighting in dark environments, as well as a much smaller file size.
It's accompanied by more modest 8-megapixel ultrawide and 2-megapixel macro cameras. The ultrawide lens is helpful when you want to capture more subjects in a tight space; the macro shooter lets you focus closer to a subject, albeit with a slight drop in quality.
Sample shots
Pictures produced by all three cameras were great in ideal lighting situations and inconsistent everywhere else. We felt the Realme 9 4G struggle when there were too many light sources at a time. The colors were also off when the image sensors were forced to boost the dynamic range.
The 16-megapixel front camera was more reliable. We were satisfied with the selfies and accurate background blur. Both the front and rear cameras can shoot videos at up to 1080p and 30 frames per second, as well. Image stabilization was acceptable even with jittery hands.
Final thoughts
All in all, the Realme 9 4G is a strong contender in the lower-midrange market. Its battery-efficient processor coupled with a sharp screen and large battery make it a dependable performer in day-to-day tasks and light gaming.
It currently retails at P14,999 (around $282) for the 6GB RAM variant with 128GB of expandable storage. That's surprisingly more than the 5G-equipped Realme 9 Pro. The Pro model also includes a faster processor and higher screen refresh rate for mobile gamers its LCD panel.
If you favor an AMOLED display and 5G isn't important, the Realme 9 4G ticks the right boxes. Minor niggles such as the thick chin and inconsistent cameras — the latter of which can be improved through software updates — aren't enough to diminish its luster.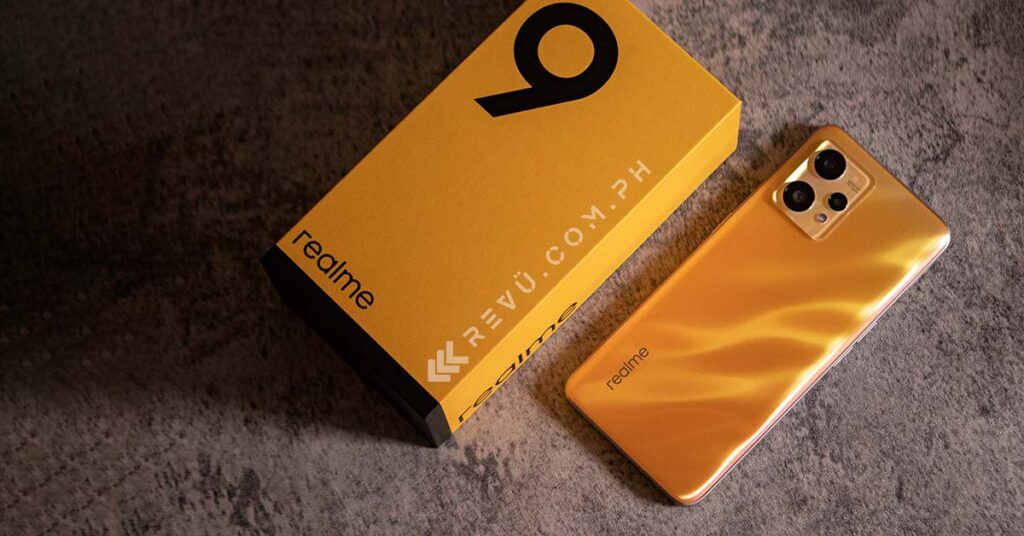 Realme 9 4G specs
6.4-inch 1080p Super AMOLED, 90Hz refresh rate
Qualcomm Snapdragon 680 processor
6/8GB RAM
128GB storage, expandable with microSD
108-megapixel main, 8-megapixel ultrawide, and 2-megapixel macro cameras
16-megapixel front camera
Under-display fingerprint reader
5,000mAh battery
33-watt Dart Charge
Realme UI 3.0, based on Android 12
Color options: Starburst Gold, Stargaze White, and Meteor Black
---