Yesterday, we reported that Realme has begun teasing the Realme 3 Pro in the Philippines, confirming rumors of its impending local release. It turns out the company's flagship smartphone is indeed launching in the country soon. This month, actually.

(Article updates, May 17: Realme 3 Pro review: Pro performance and features for less and Realme 3 Pro price in PH is pretty aggressive. Update, May 7: Good news for Mobile Legends fans! Read this: Mobile Legends now has High Frame Rate mode for SD 710 devices.)
According to an invite we received earlier, the Realme 3 Pro will be making its Philippine debut May 17. It is only the third Realme phone to get a domestic release date after the Realme C1 and Realme 3, but it is arguably the most exciting announcement to come out of the company since its entry in the Philippines in November 2018.
SEE ALSO: Realme 3 vs a flagship phone: Night-mode pictures
The first two have been critical and commercial successes. The Pro version of the Realme 3 should garner more positive reviews while performing better in the sales charts, although we still don't know how much it will cost here.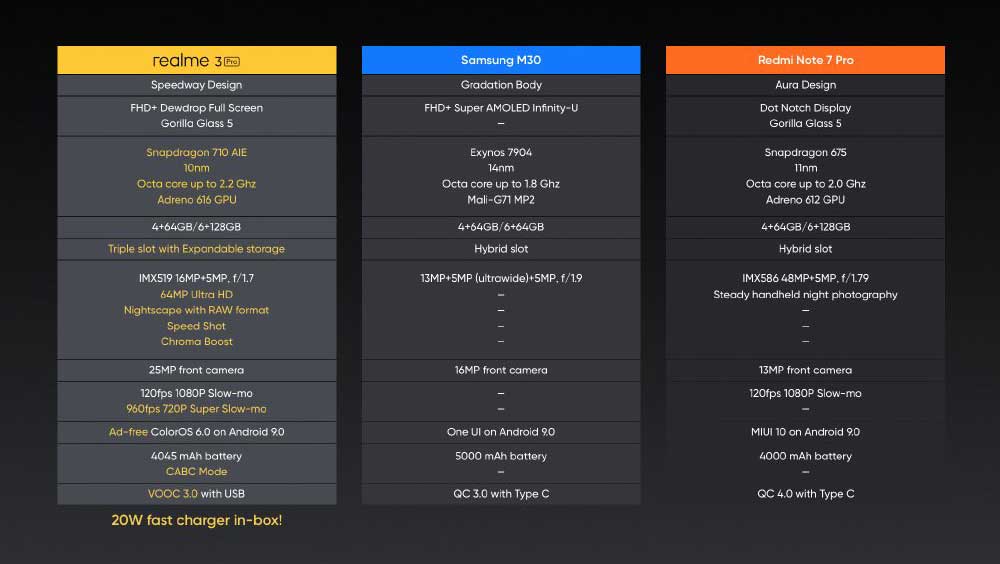 But we have a pretty good idea. In India, the base Realme 3 Pro with 4GB RAM and 64GB storage is priced at ₹13,999, which translates to around P10,479 or $202. Meanwhile, the unit with 6GB/128GB of memory costs ₹16,999, or about P12,725 or $245.
Prices for the Indian market are supposed to be lower because of government subsidies, so we expect the Realme 3 Pro to be priced between P13,000 ($251) and P16,000 ($309) here. It will still be considerably cheaper than any other phone powered by a Qualcomm Snapdragon 710, and it's going to be one of the fastest phones you can get for under P20,000 ($386).
READ ALSO: Realme 3 vs Samsung Galaxy M20: Which phone is better?
Other major draws of the phone include dual cameras on the back, a 25-megapixel selfie camera on the front, and a 4,045mAh battery that supports 20-watt VOOC 3.0 fast charging.
Realme 3 Pro official video
---