The Samsung Galaxy S10 Lite and Galaxy Note 10 Lite are finally official after weeks of rumors and speculation.
(Update, January 28: There's a development! Read Samsung Galaxy Note 10 Lite variants that will launch in the Philippines.)
(Update, January 22: The Note will be launched in the Philippines. Read Samsung Galaxy Note 10 Lite to arrive in the Philippines.)
The phones' hallmark features include flagship-grade specs, all-day battery life with fast-charging support, and Samsung's Infinity-O screens, similar to that on the Galaxy Note 10. Both devices also ship with Samsung's up-to-date One UI interface based on Android 10.
SEE ALSO: Samsung patent shows stretchable smartphone screen
As for pricing and availability, Samsung says the Galaxy S10 Lite and Galaxy Note 10 Lite will go on sale by the end of the first quarter. The latter is priced at €599 (around P34,218 or $668), while the S10 Lite will run you €649 (P37,074 or $724).
It bears noting, however, that European prices tend to be higher than in most other parts of the world when it comes to consumer electronics, so it's possible these new Samsungs will be cheaper in the Philippines if and when the Korean manufacturer decides to bring them here.
The Galaxy S10 Lite and Galaxy Note 10 Lite will be on display in Samsung's exhibition area at CES 2020 in Las Vegas.
Samsung Galaxy S10 Lite
The more expensive S10 Lite packs a 6.7-inch Super AMOLED display with thin bezels all around and a 2,400 x 1,080 resolution. The selfie camera in the notch at the top is 32 megapixels. It has three cameras on the back, headlined by a 48-megapixel camera with Super Steady OIS function, which has been claimed to offer better stability when shooting video than Samsung's latest flagships. There's also an ultra-wide 12-megapixel camera on the rear, as well as a 5-megapixel shooter for macro work.
READ ALSO: Samsung Galaxy A51 official with 5 cameras, Android 10
The smartphone runs on a 7nm octa-core chipset that fits the description of a Qualcomm Snapdragon 855. The processor is coupled with 6GB or 8GB RAM and 128GB of internal storage. It has a microSD card slot for expanding the storage. The battery is rated at 4,500mAh.
The Samsung Galaxy S10 Lite arrives in Prism White, Prism Black, and Prism Blue colors.
Specs
6.7-inch FHD+, 2,400 x 1,080 Super AMOLED screen with punch hole
Octa-core Qualcomm Snapdragon 855 processor
6GB/8GB RAM
128GB storage with microSD card slot
Triple 48MP (main), 12MP (ultra wide), 5MP (macro) rear cameras
32MP front camera
Fingerprint sensor (under-screen)
4,500mAh battery with 25-watt USB-C charging
One UI based on Android 10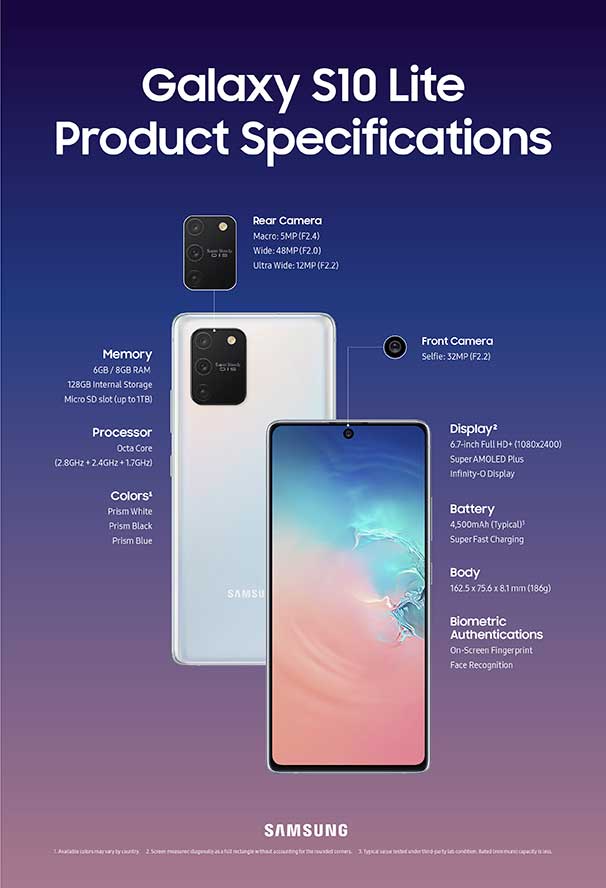 Samsung Galaxy Note 10 Lite
The surprisingly affordable (for a Samsung sub-flagship, anyway) Note 10 Lite is the company's current cheapest handset with its signature S Pen stylus.
It offers pretty much the same functionality you'll get on the S Pen of the top-of-the-line Note 10 phones, which is to say it has Bluetooth and you can use it to navigate the home screen, control video playback, and take pictures. It likewise allows for the usual S Pen stuff like note-taking, drawing, and turning handwritten notes into text for easy editing and sharing.
SEE ALSO: Samsung Galaxy A71 launched alongside Galaxy A51
The Samsung Galaxy Note 10 Lite makes use of a 10nm octa-core chip, which is likely an Exynos 9810, the same silicon inside Samsung's S9 and Note 9 devices. Like the S10 Lite, its RAM is 6GB or 8GB, while the storage is 128GB. Unfortunately, its onboard memory can't be expanded with microSD cards.
The phone's Super AMOLED display also measures 6.7 inches and runs at full HD. It features three 12-megapixel cameras on the back as well, plus dedicated lenses for ultra-wide and telephoto shooting. Meanwhile, the front-facing camera is equipped with a 32-megapixel sensor.
The color options for the Samsung Galaxy Note 10 Lite include Aura Glow, Aura Black, and Aura Red.
Specs
6.7-inch FHD+, 2,400 x 1,080 Super AMOLED screen with punch hole
Octa-core Samsung Exynos 9810 processor
6GB/8GB RAM
128GB storage
Triple 12MP (main), 12MP (ultra wide), 12MP (telephoto) rear cameras
32MP front camera
Fingerprint sensor (under-screen)
4,500mAh battery with 25-watt USB-C charging
S Pen
One UI based on Android 10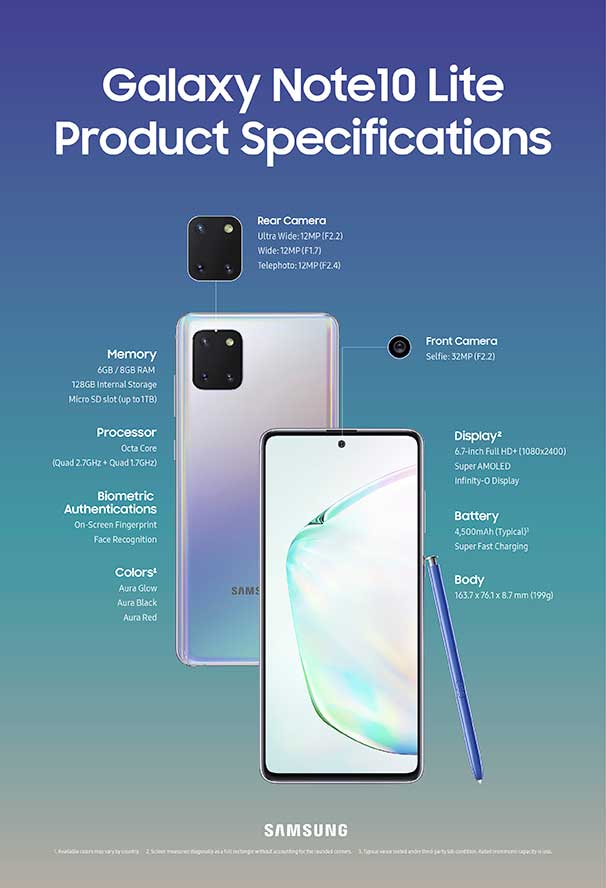 ---