Huawei has launched a new folding phone, the Huawei Mate Xs, which is the company's second foldable after last year's Huawei Mate X.
(Update, July 3: It's now on postpaid, too! Read Huawei Mate Xs 5G now available on postpaid in PH.)

(Update, April 6: It has arrived in the Philippines! Read Huawei Mate Xs foldable now available in the Philippines.)
Interestingly enough, the Mate Xs looks a lot like the Mate X, but brings a few notable improvements to the table. Crucially, the folding screen looks better; the crease where it bends (up to 180 degrees) is barely visible; the redesigned hinge is more durable; and the chipset is faster and supports 5G connectivity.
Huawei Mate Xs price and availability
The device will go on sale in "global markets" next month for €2,499, which translates to around P138,793 or $2,713 converted. The price point is steep but expected for a device of its kind.
In the Philippines, the Huawei Mate Xs hasn't been officially confirmed for release yet, although we've been told there's a good chance the phone will make it to the country soon, likely with the help of major carriers.
Raw video of our first look at the Huawei Mate Xs. We were supposed to do a 'proper' video, but we had to leave for another round-table discussion, so please make do with this 😀
Huawei Mate Xs specs
6.6-inch foldable OLED screen, 2,480 x 1,148 resolution, 19.5:9 aspect ratio (phone mode)
6.38-inch OLED screen (phone mode; rear/secondary)
8-inch OLED screen, 2,480 x 2,200 resolution (tablet mode)
7nm octa-core Kirin 990 processor with integrated 5G modem
8GB RAM
512GB expandable storage
Quad: 40MP, f/1.8 main camera; 16MP, f/2.2 ultra-wide-angle camera; 8MP, f/2.4 telephoto camera with OIS (up to 30x digital zoom); 3D depth sensor
Fingerprint reader (side-mounted)
4,500mAh dual-battery setup with 55-watt fast wired charging
EMUI 10 based on Android 10
Huawei Mate Xs first impressions
The Huawei Mate X was one of the most impressive devices we've held in recent memory, and that is certainly true for the Mate Xs as well, both inside and out.
At its score, it's still a perfectly handy, perfectly portable phone that can fold out to the size of a regular tablet to give you a lot more screen real estate and a better viewing experience.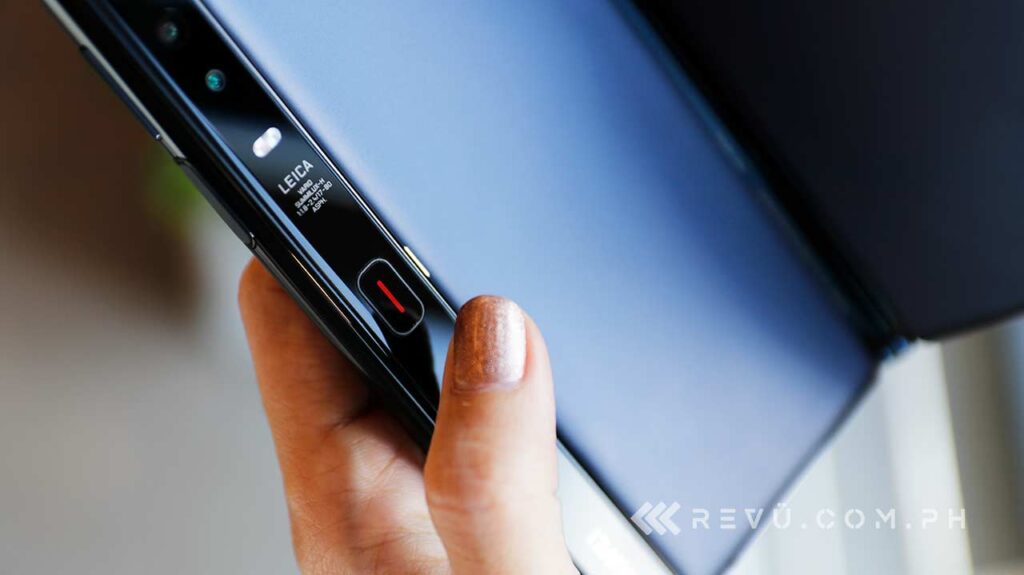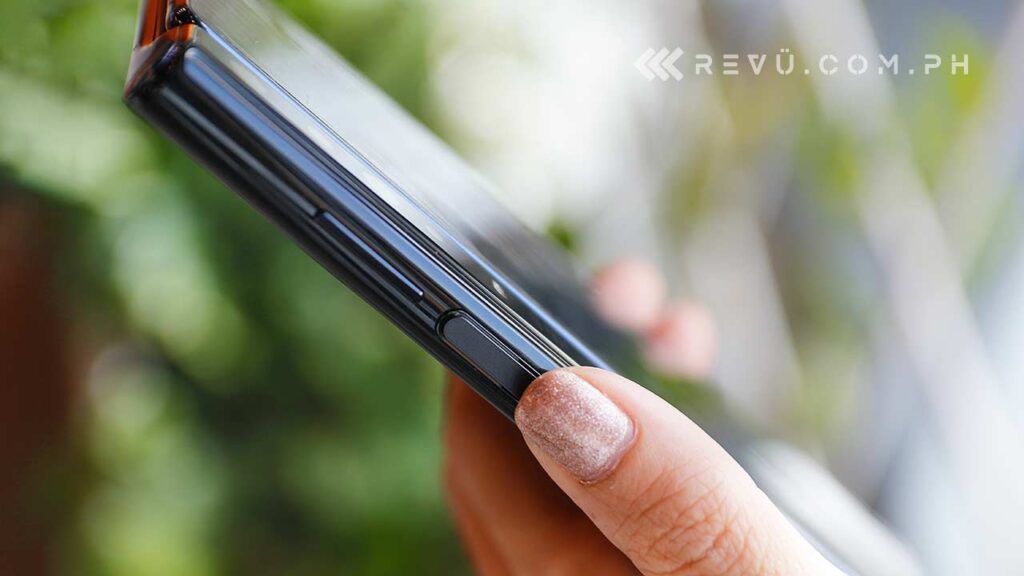 It's still a 2-in-1 device with a 180-degree hinge that allows half of the display to be flipped behind the front panel and houses four cameras with dedicated ultra-wide and telephoto lenses. And it still boasts powerful internals that can keep pace with today's flagships.
This time around, though, the Huawei Mate Xs uses a quad-layer construction for the flexible OLED screen, which includes two layers of polyamide film bonded together with a totally clear adhesive. It's said to be 80% stronger than what's on the Mate X and costs much more (about three times the price of gold) to produce.
SEE ALSO: Debunking myths: Huawei Mobile Services explained
Huawei says this should make the display more robust and less prone to damage, but, to be clear, it's still made of plastic; there's no glass in the construction.
In phone mode, the Mate Xs gives you a 6.6-inch cover (read: main) screen and a 6.38-inch secondary display that turns on when taking a selfie using the camera array on the hinge. When folded out, you get an 8-inch, tablet-sized screen with a 2,480 x 2,200 resolution; the cover display is 2,480 x 1,148 with an aspect ratio of 19.5:9.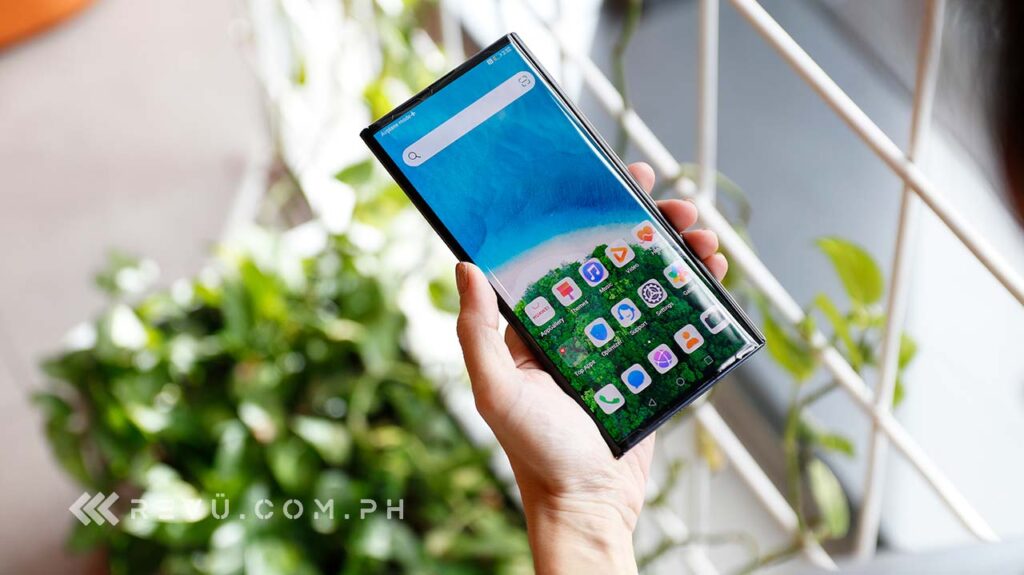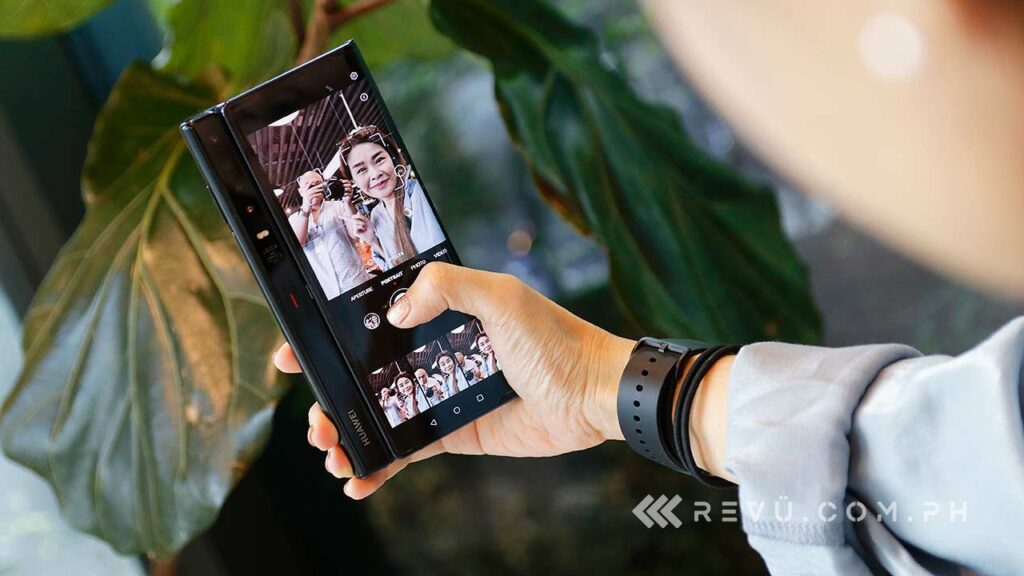 There is no notch or cutout to get in the way of what you're doing on the screen, and there is no front-facing camera anywhere on the bezels. You can take a super-crisp selfie with the 40-megapixel primary camera, which is handy in dark or nighttime scenes.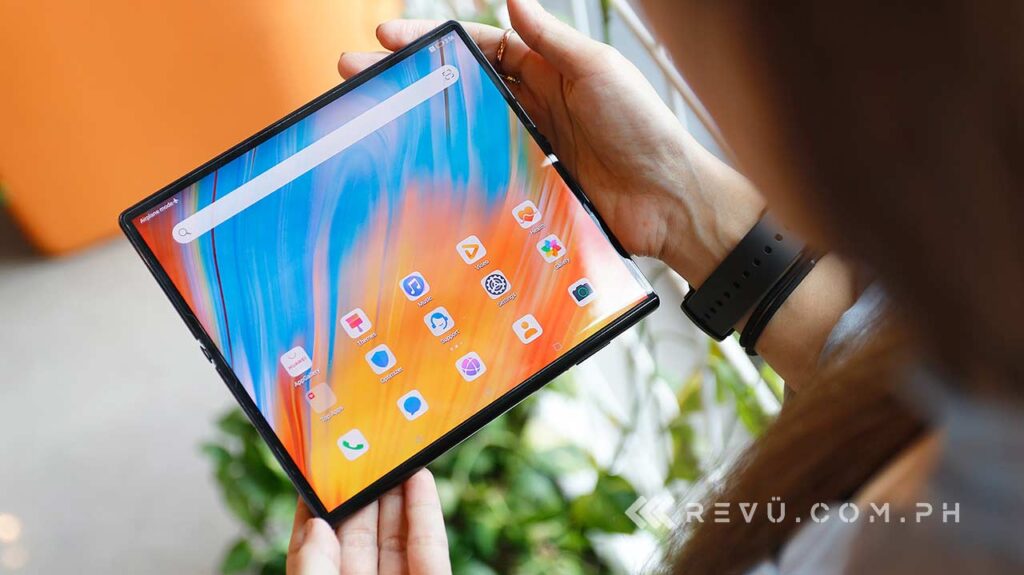 Another notable aspect of the hardware is the all-new hinge design, which incorporates zirconium-based liquid metal and holds over 100 components. It is said to be more durable and rigid compared to the design of the Mate X. The hinge definitely felt sturdy and reassuring to hold in the time we got to spend with it, but, for some reason, it also looks like it has two styluses attached to both ends.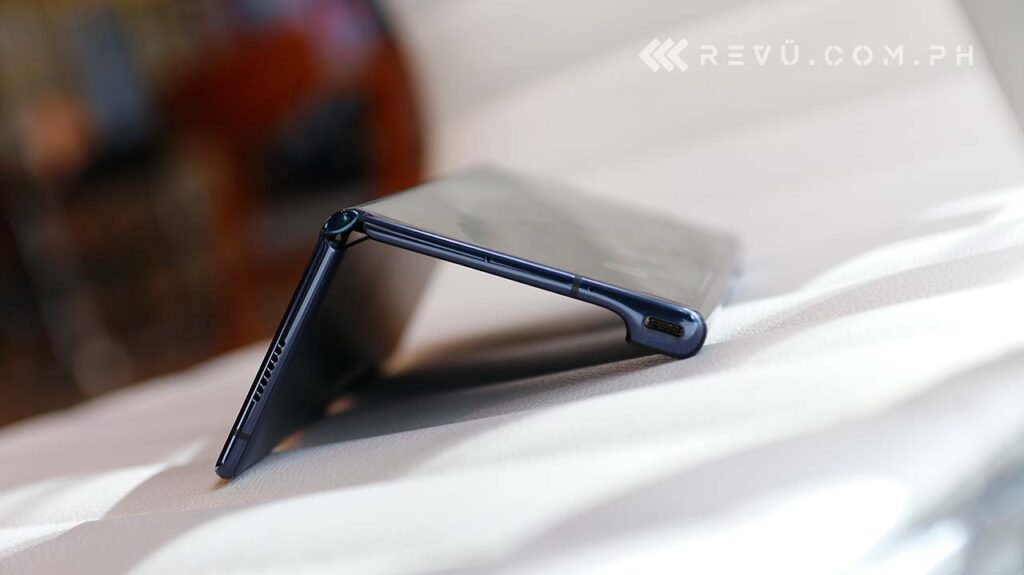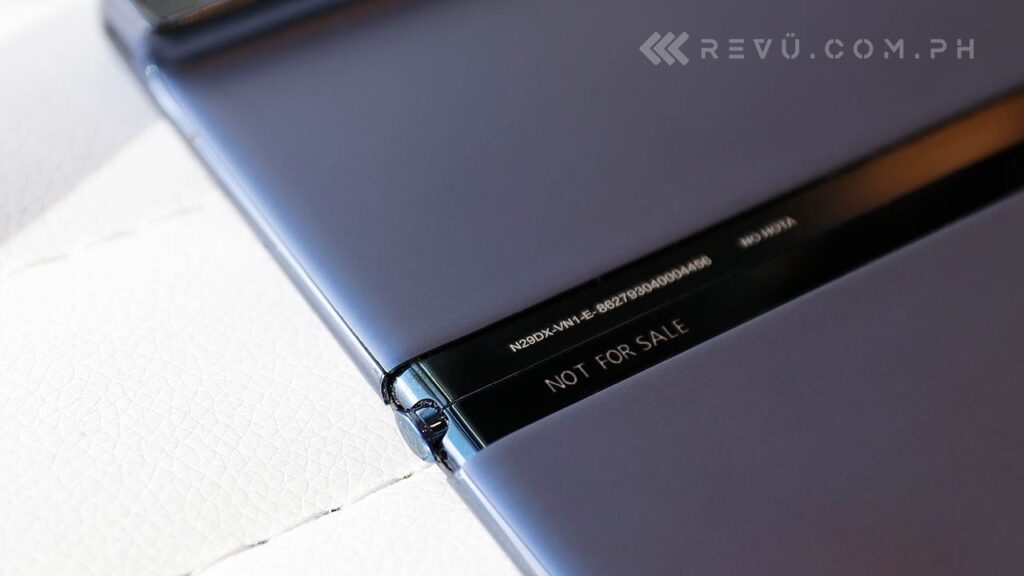 Like on the Mate X, the transition between phone and tablet on the Huawei Mate Xs is handled as pleasingly as we remember it. And, as a bonus, the hinge doesn't make a troubling creaking sound when the display is folded backwards.
Inside, the Mate Xs gets a HiSilicon Kirin 990 chipset with an integrated 5G modem (as opposed to a separate component), 8GB of RAM, and 512GB of storage. The modem supports both SA and NSA networks, as well as most mainstream 5G bands worldwide. The chip also integrates a special cooling system, which Huawei claims is designed specifically for foldable form factors and covers the folding portion of the device.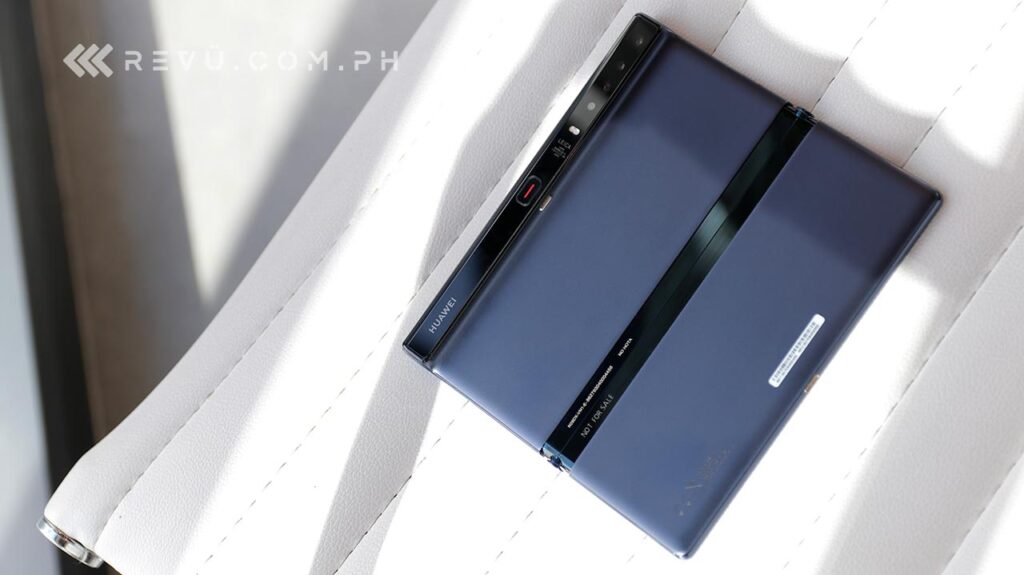 Powering the Huawei Mate Xs is a 4,500mAh dual-battery setup that can get up to 85% charge in just 30 minutes using the bundled 55-watt USB-C fast charger. Unfortunately, like the Huawei Mate 30 series and the company's other recent releases, the Mate Xs won't ship with Google apps and services preloaded. And it won't have native access to the Google Play Store, either.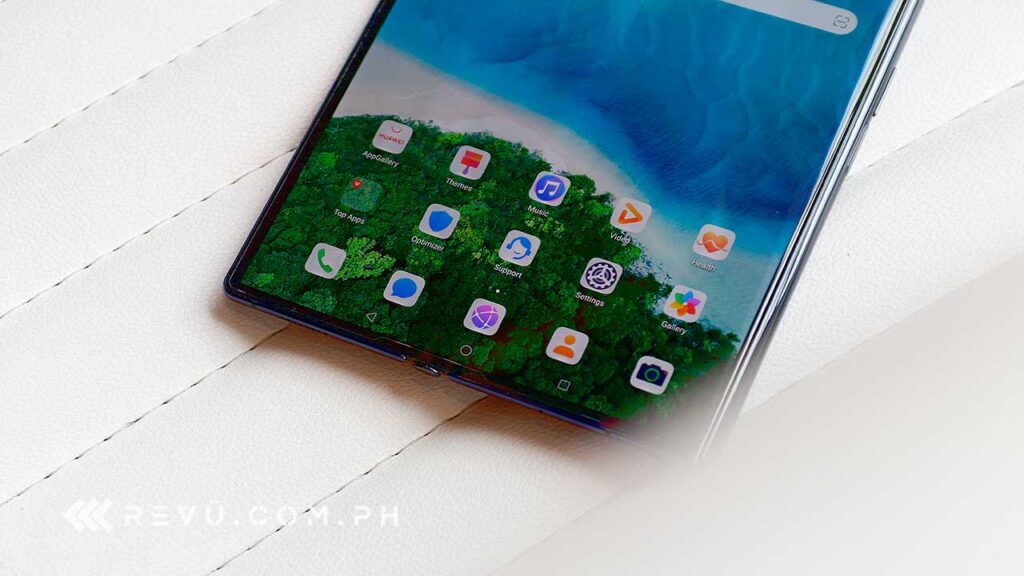 That's a bummer for some, but it will run the latest build of EMUI 10 based on Android 10 out of the box, and Huawei has added some foldable-specific features such as a multi-window interface with drag-and-drop functionality. Additionally, Huawei's own AppGallery, which has over 400 million monthly potential users and is more robust than ever, is present as an alternative to Google's app store.
Huawei Mate Xs sample pictures
For taking pictures, the Huawei Mate Xs sports a quad-camera system consisting of a 40-megapixel Leica camera, a 16-megapixel ultra-wide camera, an 8-megapixel telephoto camera with optical image stabilization for 3x optical zoom or up to 30x digital zoom, and a 3D depth-sensing camera for portrait shots.
The main and telephoto cameras also work together to capture macro shots up to 2.5cm from the device. The detail and focus in the macro shots look impressive, especially considering there is no dedicated macro sensor on the module. Finally, here are some photos taken with the Huawei Mate Xs.
Sample pictures captured on the Huawei Mate Xs, except the third photo, which shows how near the Xs was to the Elsa figure while we were shooting in Super Macro mode
---