Huawei has been one of the leading players in the world of consumer electronics, and the telecom and hardware giant never fails to impress with its smartphones.
And while not a household name just yet when it comes to laptops, Huawei has impressed industry observers with its latest releases.
SEE ALSO: Huawei MateBook D 15 review: A value-priced aluminum laptop
The recently launched Huawei MateBook D 15 promises to continue the company's push toward the PC market, at a lower price point even; in the Philippines, it's priced at P37,990, or about $746 converted, for the variant with 256GB SSD and 1TB HDD storage. It's a 15.6-inch Windows 10 laptop with a metallic unibody shell and a capable AMD Ryzen 5 processor with Radeon RX Vega 8 graphics under the hood, among others.
Here, we share with you the top five features that have convinced us here at Revü that the new Huawei MateBook D 15 is worth buying.
1. Aluminum body with portable proportions
The Huawei MateBook D 15 arrives in two attractive finishes — Mystic Silver and Space Grey — and features a metallic unibody shell that's almost on a par with an Apple MacBook Pro in terms of build quality and attention to detail. The keyboard is great to type on, which matters a lot in our work, and the touchpad feels particularly pleasing for navigating the screen and multitouch gestures.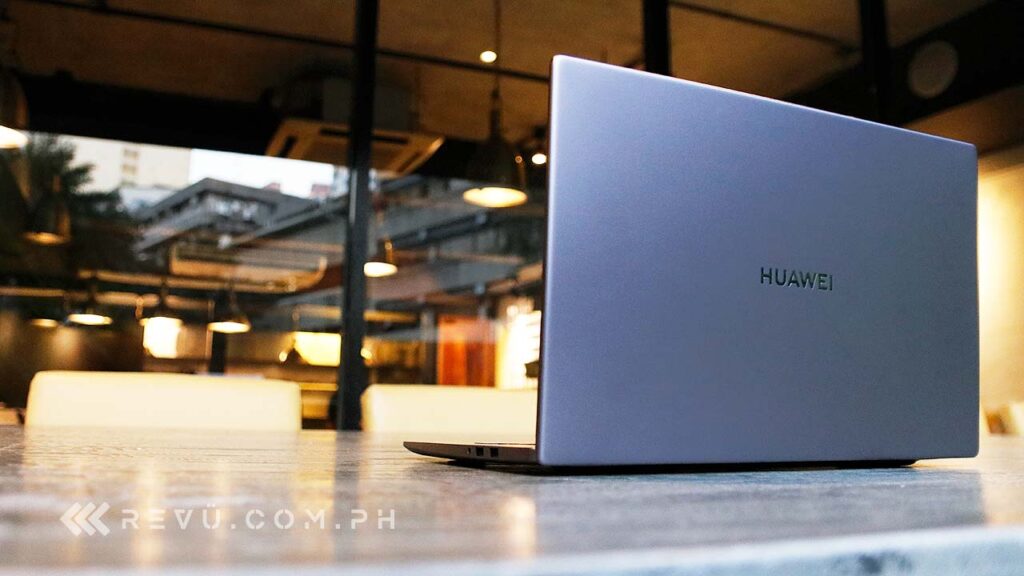 There is an adequate amount of ports to accommodate your peripherals, too — three USB ports; a USB-C connector for fast charging and data transfer; a full-sized HDMI input; and a headphone/microphone combo jack.
The new MateBook's overall design is closely identical to an Apple notebook, especially if you look at the touchpad and keyboard island. Which is to say, more than anything else, that Huawei has done a fantastic job of making its latest laptop look premium and comfortable to use despite its impressively competitive price tag.
SEE ALSO: PH price drop: Huawei P30, P30 Pro, Mate 30, Mate 30 Pro and Debunking myths: Huawei Mobile Services explained
For better portability, the Huawei MateBook D 15 measures just 16.9mm at its thickest point and comes in at 1.62Kg with an SSD and HDD combo storage. Those measurements give it a hardware footprint comparable to that of an ultraportable with a smaller display. And they make the MateBook easier to carry around. We can even fit our review unit in most of our backpacks and laptop bags, including those not designed for 15-inchers and larger.
Then there's the pop-up HD webcam that sits between the F6 and F7 keys on the function row. A press of the camera button pops the lens up, and pressing it again completely hides the camera within the chassis when not in use.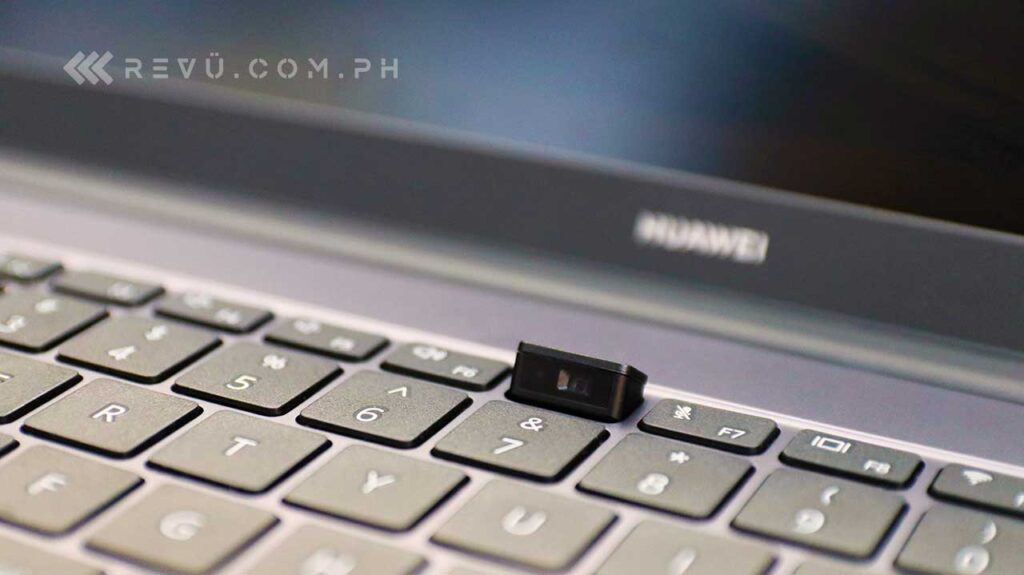 This unique webcam placement not only allows the top bezel to be smaller because there are no camera components hidden in the bezel, but it can also help you physically secure your webcam — and your privacy — against hackers and cyberattacks, which are prevalent these days.
Additionally, Huawei has thrown in a new cooling solution to keep the MateBook D 15 running cooler. How is that important? It can extend battery life while reducing noise. The company calls it Shark Fin Design 2.0, and it's said to improve air flow by up to 27 percent compared to conventional laptop fans. This is a handy feature for us here in the Philippines where the temperature often spikes above 30 degrees.
2. Large FullView screen with small bezels
The Huawei MateBook D 15's 15.6-inch panel uses IPS technology to produce natural colors, decent contrast performance, and generous viewing angles. The screen-to-body ratio is an impressive 87%, with slim 5.3mm bezels on the sides and at the top.
A higher ratio means more screen space without increasing the size of the laptop. It also denotes more bits of content can be viewed on the display at a glance; you don't need to scroll down or sideways too far. What's more, the new MateBook has been certified by TÜV Rheinland for reducing blue-light exposure, which we'll get to in a bit.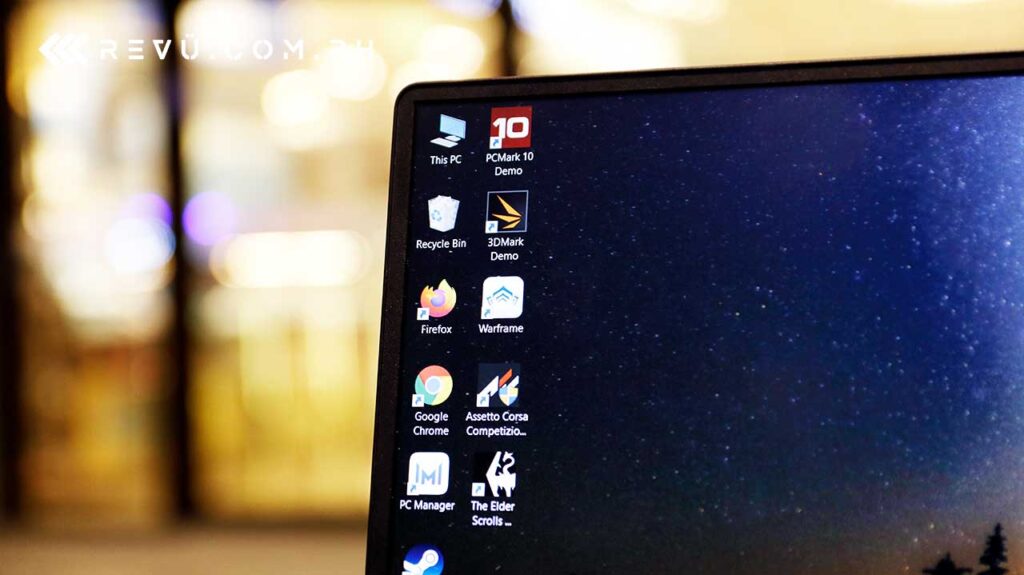 The panel is not touch-sensitive, but it still offers a few advantages with its size. A bigger screen is always easier to work on. Gaming experiences tend to be more immersive, especially with the help of smaller bezels. Plus, you can comfortably watch your favorite movies and TV shows with someone else on a larger laptop.
Windows 10's Night Light mode is available on the MateBook D 15 as well. This feature filters out aggressive blue light emitted by most of the screens we stare into for much of the day. Research proves that blue light may have a negative effect on your sleep patterns, so we suggest turning it on if you regularly find yourself glued to your computer screen in the evening.
Night Light mode can be scheduled according to your desired time, or to automatically sync with the sunset and sunrise, and you'll find the relevant options for these functions in the Settings app.
3. Generous storage and RAM
To store all your pictures, videos, and other big media files, the Huawei MateBook D 15 has a combo storage configuration comprising a 256GB SSD and a 1TB hard drive that can hold up to 150 hours of HD content. In this particular setup, the Microsoft Windows 10 Home OS and system applications are accessed from the SSD for faster boot-up and accelerated loading times.
For improved multitasking and efficiency, the latest MateBook boasts 8GB of DDR4 RAM in dual-channel mode, which potentially doubles the speed between the CPU and the memory paired with it. Confused? The only thing you have to take note of is that DDR4 is faster than previous memory technologies and has a bearing on your machine's gaming output.
4. Super-fast charging paired with decent battery life
The Huawei MateBook D 15 comes bundled with a 65-watt USB-C power brick that can bring the battery to about 50% after just 30 minutes plugged in. It takes a little more than an hour to get a dead battery to full capacity. That's mighty impressive for a laptop with a midrange price tag.
Battery life is decent; we get around 5 to 6 hours on a single charge. However — and this is important — fast charging allows you to juice up the MateBook D 15 much faster than you can drain it. Huawei says the internal battery will deliver 7 hours of 1080p video playback, 8 hours of web browsing, and 8.5 hours when doing office work. And that's true in our case.
Gaming and certain resource-intensive apps will obviously consume more battery power, as will running benchmark apps, so keep that in mind.
5. Three 2-in-1 scenarios for a better experience
Another advantage of the Huawei MateBook D 15 is that it offers three 2-in-1 features for a better usage experience. Those features are detailed below.
Power button with embedded fingerprint sensor. The new MateBook has a fingerprint sensor built into the physical power button on the top-right side beside the keyboard island. Throughout our testing, we found the sensor to be fast and accurate. More importantly, it's fully compatible with Microsoft's Windows Hello login for quick authentication.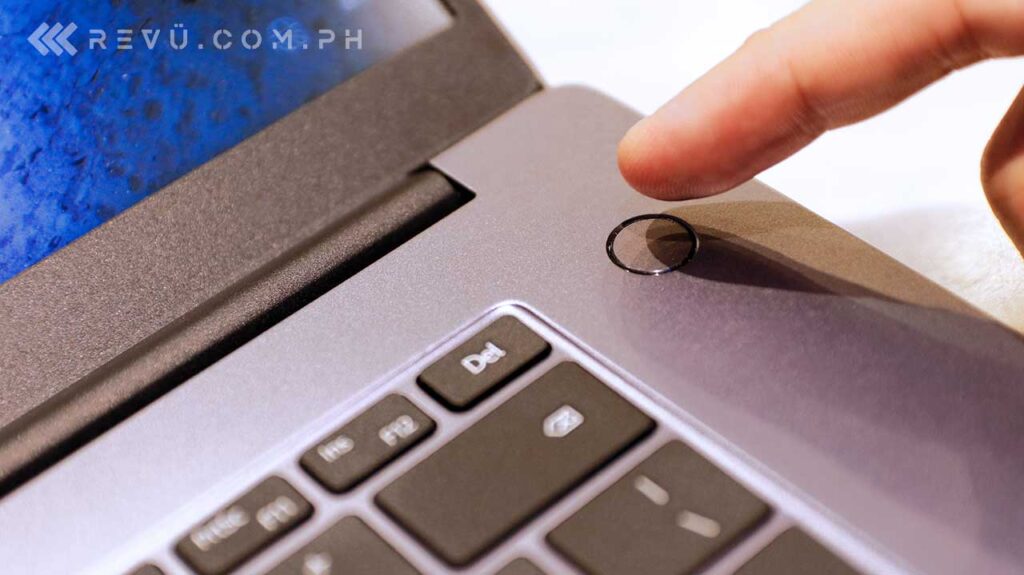 Huawei Share. Unique to the MateBook is the company's proprietary Huawei Share system, which is similar to Apple's AirDrop, except the former uses NFC tags for faster and effortless pairing. Using a compatible device with NFC connectivity like the Huawei Mate 30 and Mate 30 Pro, you can seamlessly transfer files by simply tapping the back of the phone on the NFC tag of the MateBook D 15.
This system also lets you mirror and operate the screen of their phone on a bigger laptop display, making it super easy to switch back and forth between devices, especially if the phone needs to be plugged in a few feet away from the laptop. Besides NFC, Huawei Share requires a Wi-Fi connection and Bluetooth.
A video showing how easy it is to work if you have a Huawei phone and a MateBook. Learn more about Huawei Share here
Power brick with detachable USB Type-C cable. The power brick of the MateBook D 15 comes with a separate USB-C to USB-C cable for fast charging and data transfer, as opposed to a traditional charger with a proprietary plug that can't be used for charging other devices and moving files around. That said, the MateBook charger offers much greater flexibility, especially if you already own USB-C devices.
Similarly, as the laptop can be topped up via a USB-C port, that's one less charger to lose, or to have in the bag when working on the go.
Huawei MateBook D 15 specs
15.6-inch FullView IPS-LCD display, 1,920 x 1,080 resolution (16:9 aspect ratio)
Fingerprint reader (power button-mounted)
AMD Ryzen 5 3500U processor
Radeon Vega 8
8GB LPDDR4 RAM
256GB SSD + 1TB HDD
USB Type-C (1), USB 2.0 (2), USB 3.0 (1), and microphone + headphone jack
1MP webcam
Dual speakers
Dual microphones
Color variants: Mystic Silver and Space Grey
Huawei is a content partner of Revü Philippines
---