Xiaomi just launched the Mi 10 and Mi 10 Pro during a livestreaming event today, but already, the new flagship smartphones are making waves in the industry and have garnered positive feedback on the imaging front.

(Update, March 7: Date set! Read Xiaomi Mi 10, Mi 10 Pro global launch set for March 27.)
In particular, the Xiaomi Mi 10 Pro has earned the highest overall camera rating for a mobile device from DxOMark, a benchmarking and testing company that focuses on cameras. The Mi 10 Pro achieved an impressive score of 124 with its rear-facing system, giving it the slightest advantage over the Huawei Mate 30 Pro 5G.
SEE ALSO: Xiaomi Mi 10, Mi 10 Pro now official. Price, specs comparison here
With 123 points, the 5G variant of the top-tier Huawei handset moves down to second in the rankings, but it's still ahead of the Honor V30 Pro, Huawei Mate 30 Pro 4G, Xiaomi Mi CC9 Pro aka Mi Note 10 Pro, and Apple iPhone 11 Pro Max, which has a DxOMark rating of 117.
It's not a given, but when Xiaomi announces a new high-end device, it usually ends up in DxOMark's leaderboard, which should cement its reputation when it comes to capturing pictures and videos.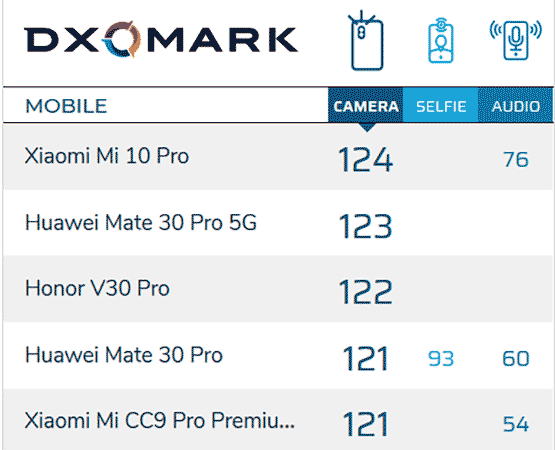 The Xiaomi Mi 10 Pro received 134 points for photo and 104 points for video. It tied the top-shelf Mate for still images, but got a slightly better video score (compared to the Mate 30 Pro 5G's 102 points), hence the higher overall rating. The photo score is the highest DxOMark has given for stills to date.
Specs-wise, the Mi 10 Pro (and Mi 10) features a 108-megapixel main image sensor Xiaomi co-developed with Samsung. It's the same sensor as the one in the Mi CC9 Pro and Mi Note 10 Pro.
Following the legacy set with #Mi9,#Mi10Pro =#DXOMARK Video NO.1!#LightsCameraAction pic.twitter.com/IreB9kXFOk

— Xiaomi #First108MPPentaCam (@Xiaomi) February 13, 2020
The Xiaomi Mi 10 Pro tied the Huawei Mate 30 Pro 5G for still images, but got a slightly better video score, hence the higher overall rating. Read DxOMark's full review here
The smartphone also arrives with an 8P lens for the primary shooter, as well as an 20-megapixel ultra-wide camera, a 12-megpaixel option for portraits, and a telephoto lens that delivers up to 10x hybrid zoom and 50x digital zoom. It can shoot video at super-sharp 8K resolution, too, like Samsung's latest Galaxy S20 series.
DxOMark praised the Xioami Mi 10 Pro's stellar all-around performance when taking pictures using the main and secondary cameras and singled out Xiaomi's improved camera software, as well as the performance boost provided by the latest Qualcomm Snapdragon 865 processor. With regard to capturing footage, the phone is said to offer "very efficient video stabilization," among other highlights.
Xiaomi Mi 10 Pro (compared to the regular Xiaomi Mi 10)
---