Or what we think is either the Xiaomi Mi 10 or Xiaomi Mi 10 Pro. Or both. The two smartphones look the same, after all.
In a post greeting Filipinas a happy International Women's Day, Xiaomi Philippines has used an image of its latest flagship series. We won't be surprised if the lineup will be immediately available in the country after its March 27 global launch. Recall that the Xiaomi Mi 9 was released here last year — albeit in limited quantities — in end-March, too.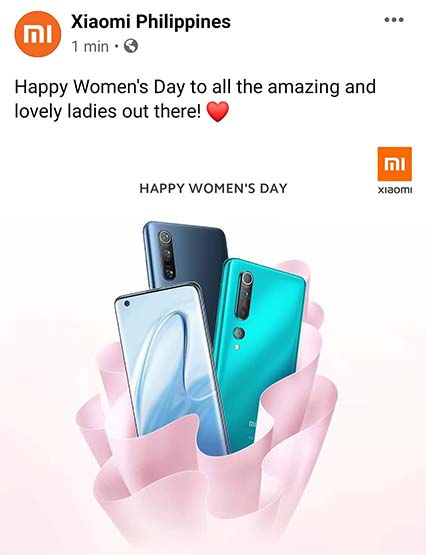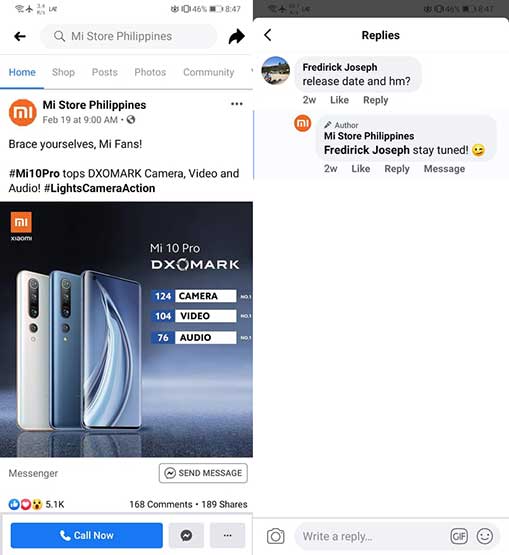 Why the fuss about the handsets? The Xiaomi Mi 10 and Mi 10 Pro seem to be another set of Mi phones to look forward to, what with the powerhouse specs that they offer for their respective prices in China, listed below:
Xiaomi Mi 10

8GB/128GB: ¥3,999 (around P28,919 or $573)

8GB/256GB: ¥4,299 (P31,089 or $616)
12GB/256GB: ¥4,699 (P33,981 or $673)

Xiaomi Mi 10 Pro

8GB/256GB: ¥4,999 (P36,151 or $716)
12GB/256GB: ¥5,499 (P39,767 or $788)
12GB/512GB: ¥5,999 (P43,383 or $859)
The Xiaomi Mi 10 and Mi 10 Pro are more affordable than their counterparts from Samsung, OPPO, and Apple. Plus remember that the cheapest model of the Xiaomi Mi 9 — priced at P22,990 ($454) at launch — was the version with 6GB of RAM and 64GB of storage. This year for the Mi 10, it's 8GB of RAM and 128GB of storage.
SEE ALSO: Apple, Samsung, Xiaomi phones dominate 2019 rankings and Redmi Note 9 debut scheduled for March 12
The two smartphones feature a Qualcomm Snapdragon 865 processor bundled with a 5G modem; LPDDR5 RAM; UFS 3.0 storage; a 6.67-inch AMOLED screen with a 90Hz refresh rate; and a 20-megapixel selfie camera. What's more, the 108-megapixel camera system on the back of the Xiaomi Mi 10 Pro variant has received the highest rating ever for a smartphone shooter from DxOMark.
Xiaomi Mi 10 vs Xiaomi Mi 10 Pro: A specs comparison
---