Antutu's global list of best-performing Android smartphones in April is in, and we're seeing new chart-toppers.
A Huawei unit knocked a handset that ruled the midrange category since its release, while a Xiaomi device landed first in the premium segment.
Top 10 for midrange smartphones
After several months of besting other mid-level models, the Xiaomi Redmi Note 8 Pro finally got dislodged from the top and settled for second place. The crown now belongs to the Huawei Nova 7i, which became available in the Philippines for P13,990 (around $278) in March.
The Nova 7i is powered by a Kirin 810 chip fabricated on TSMC's 7nm process and is the first AI SoC built on Huawei's Da Vinci architecture.
The third, fourth, and sixth spots were occupied by Realme smartphones — the Realme 6 with MediaTek Helio G90T, the Realme 6 Pro with Qualcomm Snapdragon 720G, and the Realme X2 with Qualcomm Snapdragon 730G.
Three more Xiaomi handsets made it to the list — the newly released Redmi Note 9S and the Xiaomi Mi 9T and Mi Note 10. Samsung took the other spots with the Galaxy A80 and Galaxy A71.
Interestingly, units with Snapdragon 720G performed better than those with Snapdragon 730G in Antutu's test. It must be because the main frequency of the former is 0.1 higher than the 730G's.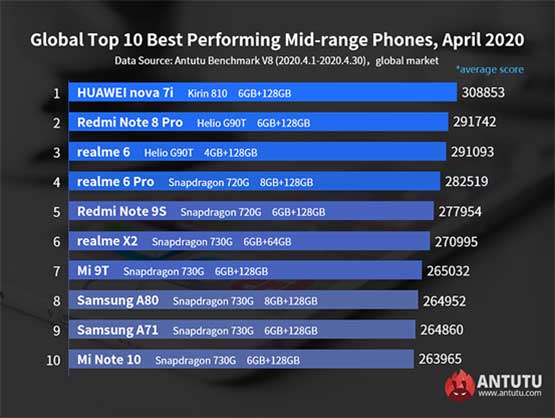 Top 10 for flagship smartphones
The premium category for April also saw a new best-performing device in the Xiaomi Mi 10 Pro, which forced one-time No. 1 Samsung Galaxy S20 Ultra with Qualcomm Snapdragon 865 out of the top 10. Its non-Pro model landed third with a score of 580,027.
Three OnePlus smartphones got in, with the OnePlus 8 Pro, OnePlus 7T, and OnePlus 7T Pro snatching the second, ninth, and tenth places.
There's another Snapdragon phone on the list — one that has consistently been on it since the handset's availability. The ASUS ROG Phone 2 with Qualcomm's 855 Plus took the sixth spot with an average benchmark score of 509,060.
The rest are occupied by Exynos variants of Samsung's Galaxy S20 series phones.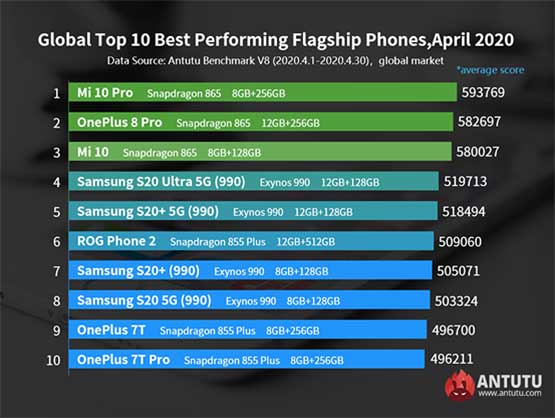 ---