It's the battle (at the start) of the year, a highly anticipated faceoff pitting two super-specced Android flagships against each other to determine which phone deserves to be at the top. In one corner, there's the Huawei P40 Pro, a sleek, curvy camera powerhouse that performs as good as it looks. In the other, the Samsung Galaxy S20 Ultra, which looks imposing and formidable.
(Update, June 17: Biases aside? Why don't you take a blind camera test to find out which flagship phone suits your style when it comes to taking pictures and videos? Go to Blind camera test: Huawei P40 Pro vs Samsung Galaxy S20 Ultra.)
These smartphones have bright selling points across the board, but they also highlight their fast OLED screens, their camera and chipset performance, as well as their battery life and available wired and wireless fast-charging options. So, at least in terms of main attractions, which smartphone flagship is the better deal overall? Read on for our verdict.
Pricing in the Philippines
Both the Huawei P40 Pro and Samsung Galaxy S20 Ultra are top-end models representing the best hardware in the category, but their prices vary greatly. In the Philippines, the P40 Pro is priced at P50,990 (around $1,010), while the Galaxy S20 Ultra is more expensive by almost P20,000 ($396), retailing at P69,990 ($1,386). Does the steep difference in prices between the two equal a clear winner? Let's find out.
Build quality and design
As expected of any high-end smartphone, the Huawei P40 Pro and Samsung Galaxy S20 Ultra feature glass-and-metal designs, with a build quality that feels ultra premium and solid.
The S20 Ultra is noticeably heavier, but that's understandable given its larger footprint and higher battery capacity. Its width also makes it nearly impossible to operate comfortably with one hand; we can barely touch the upper part of the screen with our thumb. It makes navigating some apps harder than it needs to be, especially those not optimized for bigger displays. Its size feels uncomfortable in the pockets as well, but you can probably already tell that just by looking at the unit.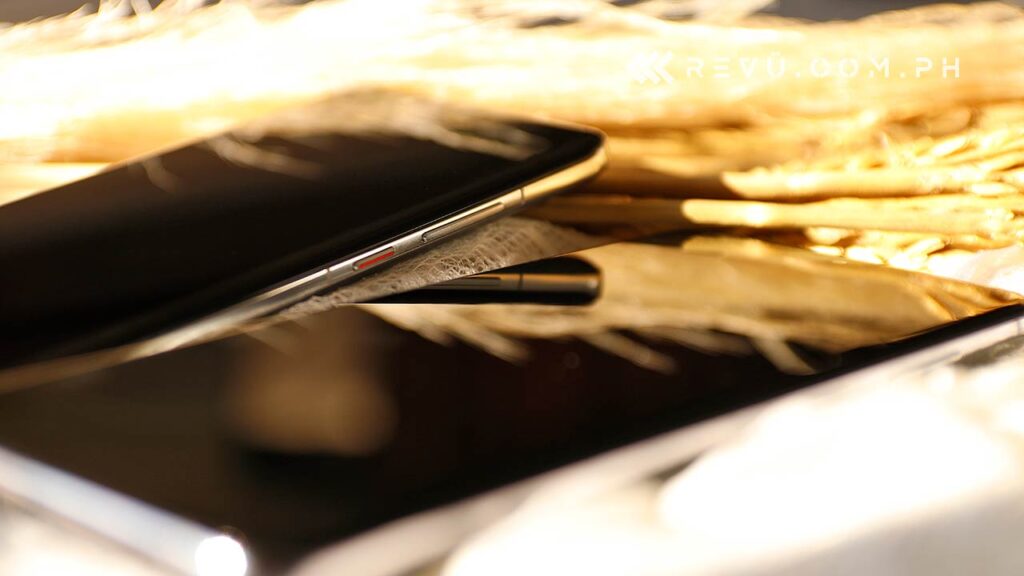 The P40 Pro, on the other hand, has more manageable dimensions and should fit most pockets without showing too much of a bulge. It's easier to operate one-handed, in which case you'll likely find that you can reach the entire screen with your thumb.
The Huawei looks better, too, with three color options to choose from — Silver Frost, Blush Gold, and Deep Sea Blue. The Samsung phone is available in Cosmic Gray and Cosmic Black, which may be okay for those who seek a minimalist aesthetic. But us who want more options? We're disappointed that the Korean manufacturer has moved away from the colorful designs of the Galaxy S10 and Note 10 series. The massive camera module on the back is the first to hit your eyes and doesn't do it any favors, visually.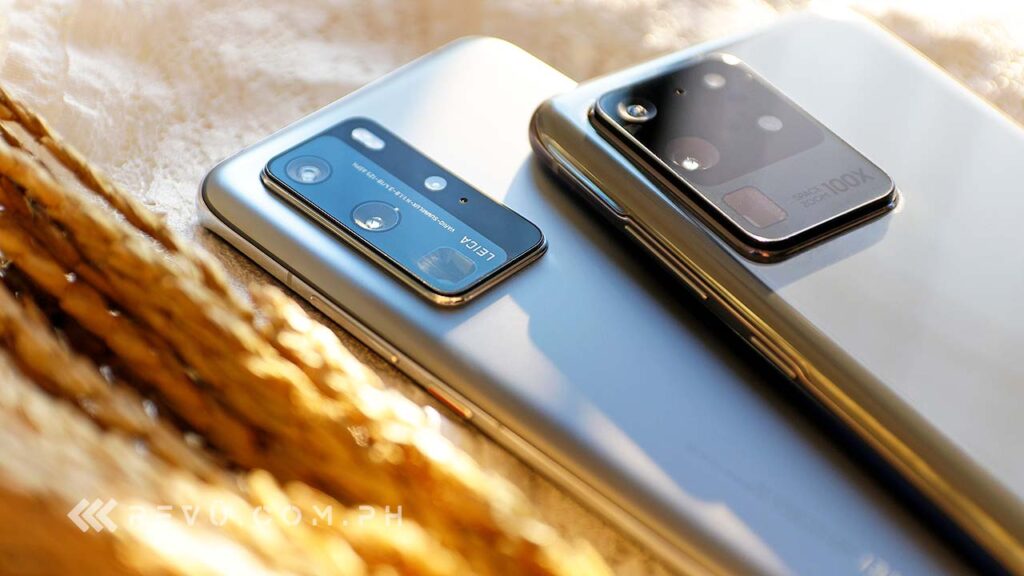 Both devices have under-display fingerprint sensors for unlocking the phone and authorizing file access and digital payments. The ultrasonic scanner of the Galaxy S20 Ultra seems to work faster, while the P40 Pro boasts a bigger surface area for fingerprint detection.
In terms of facial recognition, Huawei's is much more accurate, thanks to integrated sensors on the front that measure depth and distance. You can use the S20 Ultra's face unlock in bright light without issues, but in low light, it's sluggish and misses more than it hits. The P40 Pro is worlds better at identifying faces regardless of available light in the environment.
Screen
Both the Huawei P40 Pro and Samsung Galaxy S20 Ultra have big, bright, and bold OLED displays with a high screen-to-body ratio and a punch hole for the selfie camera. They have always-on functionality as well, which can be helpful in keeping you from waking up your phone every once in a while to check the time and notifications.
More impressively, they have a fast refresh rate, which is great for gaming, navigating the display, and scrolling up and down through social feeds and system menus, among other things. The P40 Pro refreshes at 90Hz, while the Galaxy S20 Ultra runs at 120Hz.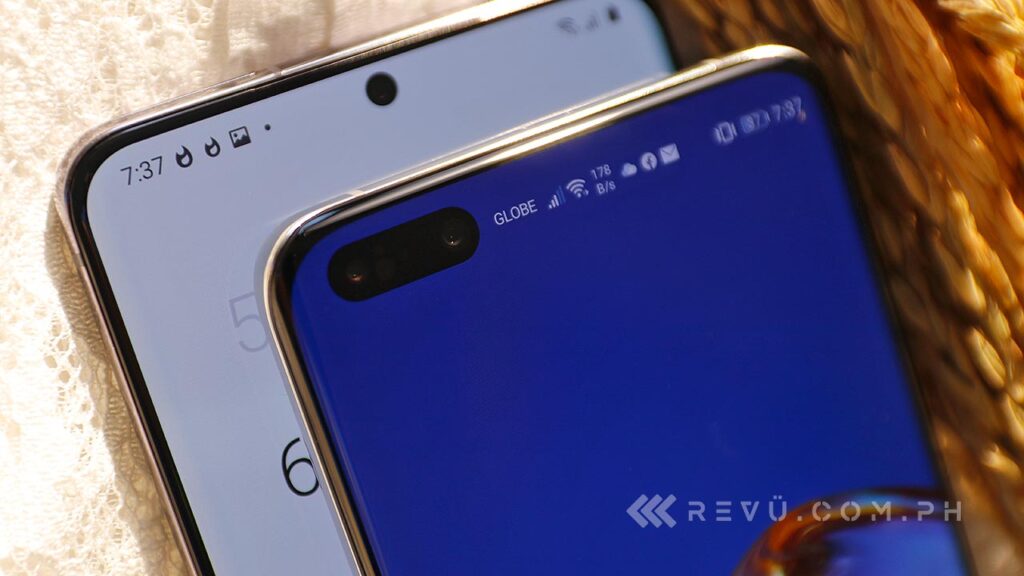 As for the resolution, the P40 Pro gets a screen size of 6.58 inches and operates natively at 2,640 x 1,200 pixels, while the Samsung flagship squeezes a 3,200 x 1,440 pixel count into a slightly larger 6.9-inch touch panel.
However, take note that the Galaxy S20 Ultra's QHD+ screen can't run at 120Hz at full resolution, so if you want a higher refresh rate, you'll need to switch to 1080p. That's quite a downgrade, and given the Ultra's screen size, you might notice a lack of detail when watching videos. There's also no option to turn down the refresh rate to 90Hz to save battery, or just for your own benefit.
Having said that, we've come across several 90Hz and 120Hz screens, and in our experience, the difference between the two is negligible, especially on lower brightness levels. We actually prefer using a 90Hz display, as it's more efficient and will get you a lot of battery life back if you spend long hours a day playing mobile games.
We like the P40 Pro more for another reason: Check out those serious curves on the glass front. Huawei calls it a Quad-Curve Overflow Display, where four sides of the screen have been tapered to meet the frame and give the user a more immersive viewing experience for games, videos, and other content.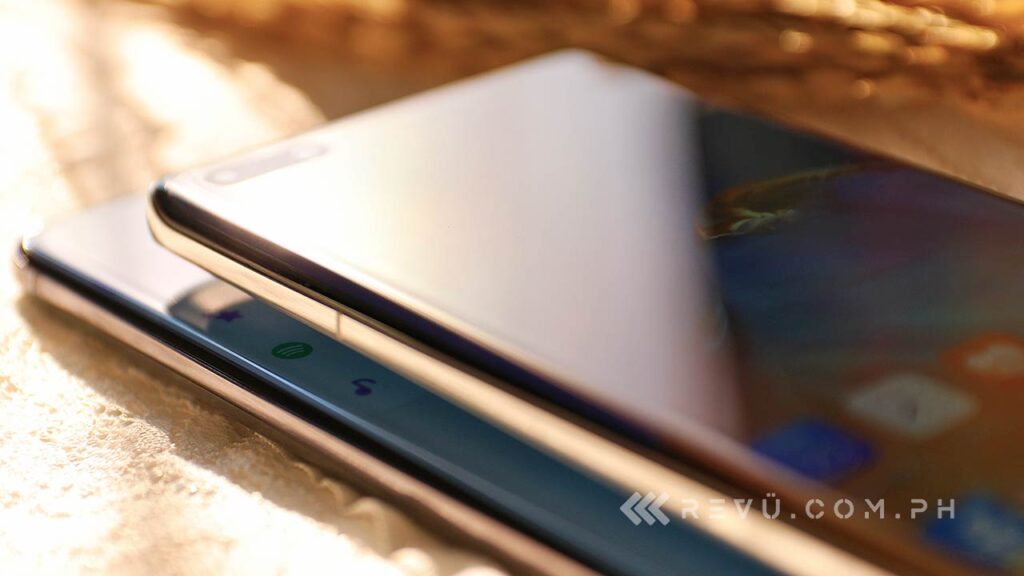 The Samsung phone isn't quite as curvy, even on the left and right sides. As a result, it doesn't feel as comfortable to hold and use as the Huawei flagship. And no, the latter's curves don't get in the way of navigating the screen.
In terms of performance and specs, the Samsung Galaxy S20 Ultra wins the contest, but if you're after longer usage times and a much better feel in the hand, then the Huawei P40 Pro is the way to go. Again, remember that the S20 Ultra doesn't support its most impressive spec — the 120Hz refresh rate — at full resolution. This forces you to downgrade the resolution to 1080p, rendering the QHD+ pixel count almost pointless.
Camera
Let's move on to the imaging specs and performance. Both feature a quad-camera setup with a periscope telephoto lens for zoom, an ultra-wide-angle shooter for landscapes and group photos, and a 3D depth sensor that helps when shooting portrait-style pictures. On the front, they sport sharp selfie cameras that can shoot 4K-resolution video at an impressive 60 frames per second.
We're talking about a lot of cameras here, so here's a quick guide to give you a better idea of how these phones stack up against each other:
Huawei P40 Pro
Rear cameras:

50-megapixel main camera with f/1.9 aperture lens, 23mm focal length, PDAF (phase-detection autofocus), OIS (optical image stabilization)
40-megapixel ultra-wide camera with f/1.8 lens, 18mm focal length, PDAF
12-megapixel telephoto camera with f/3.4 periscope lens, 125mm focal length, 5x optical zoom, 50x digital zoom, PDAF, OIS
3D TOF (Time-of-Flight) sensor

Front cameras:

32-megapixel camera with f/2.2 lens, 26mm focal length, AF
3D TOF and infrared sensors for portraits and face unlock
Samsung Galaxy S20 Ultra
Rear cameras:

108-megapixel main camera with f/1.8 aperture lens, 26mm focal length, PDAF, OIS
12-megapixel ultra-wide camera with f/2.2 lens, 13mm focal length
48-megapixel telephoto camera with f/3.5 periscope lens, 125mm focal length, 4x optical zoom, 100x digital zoom, PDAF, OIS
3D TOF (Time-of-Flight) sensor

Front cameras:

40-megapixel main camera with f/2.2 lens, 26mm focal length, PDAF
Now, let's analyze some photos taken with each phone for a better understanding of how their camera systems compare in real-world tests.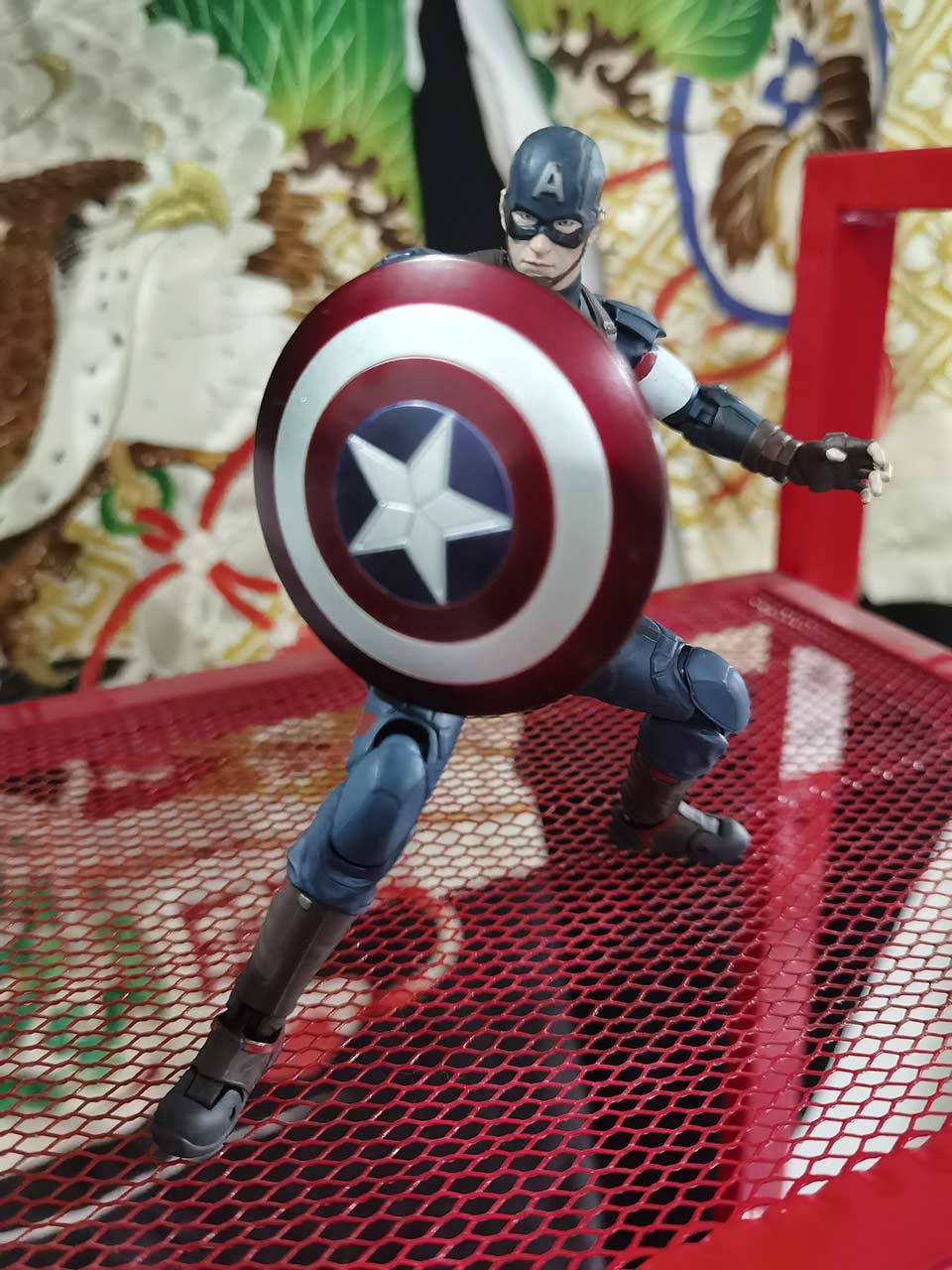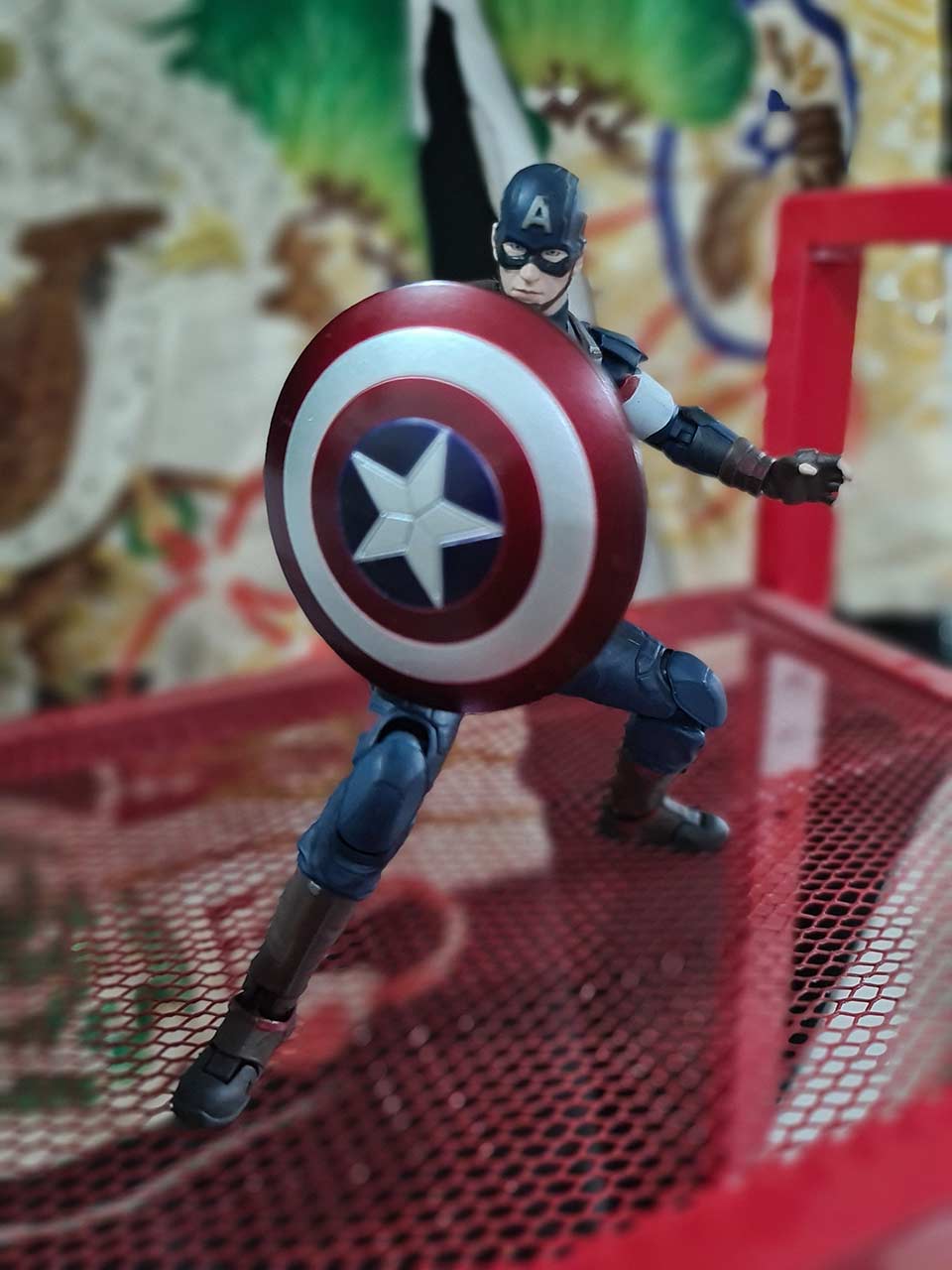 Portrait shots
Both portrait shots look great. However, upon close inspection, you'll notice that the Samsung Galaxy S20 Ultra's edge detection missed part of the figure's head and fingers. The left boot could be clearer as well.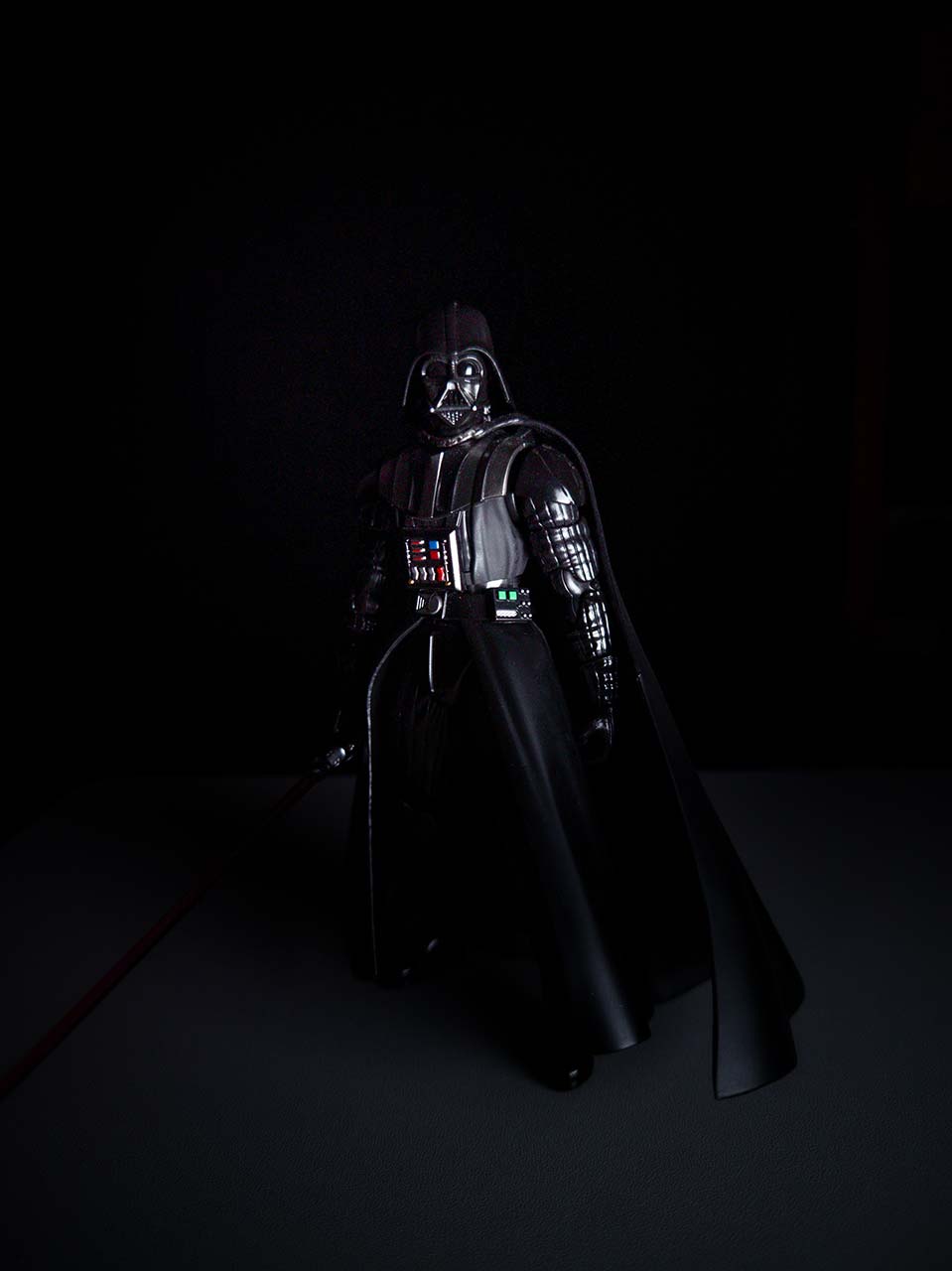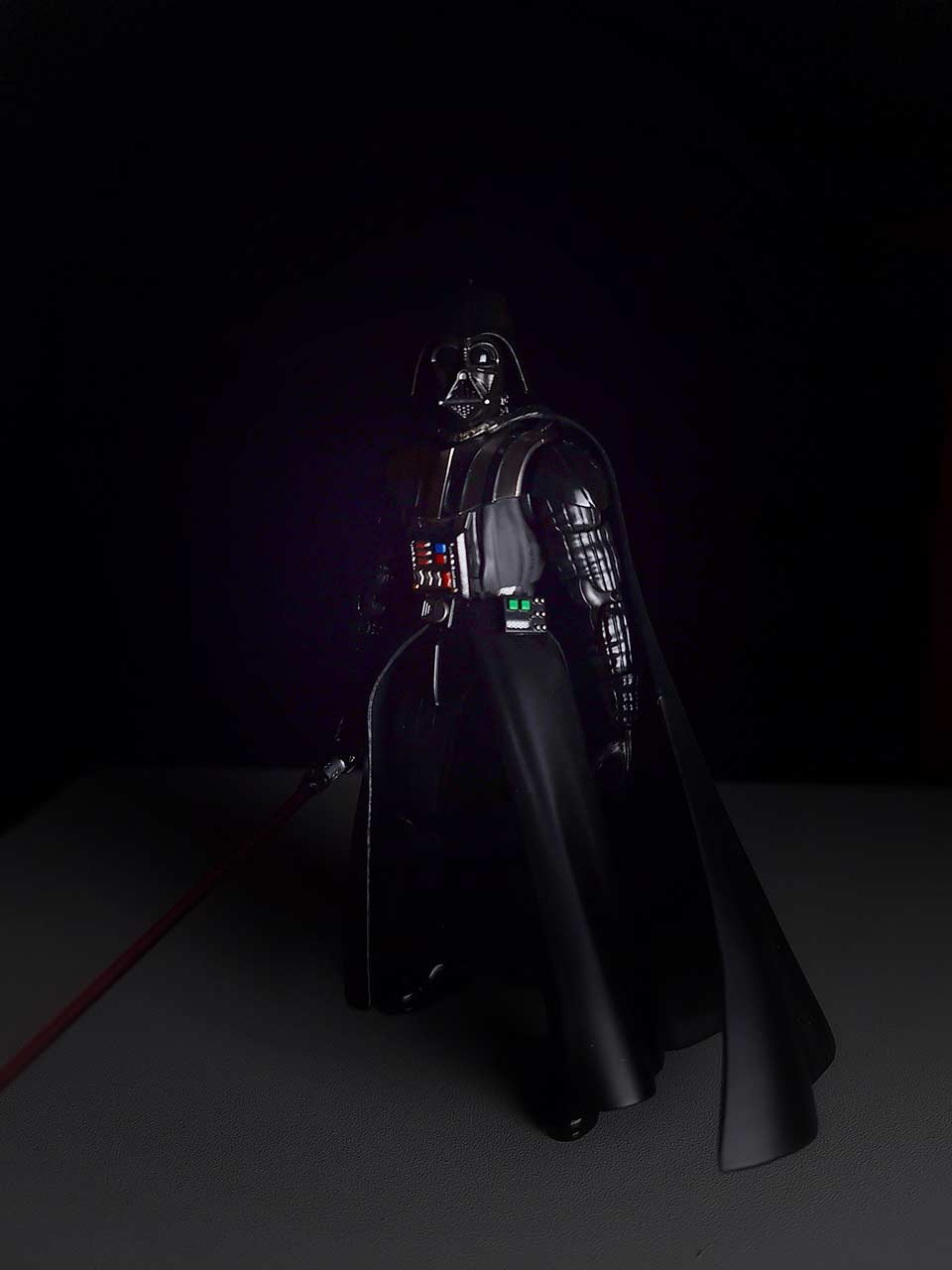 RAW images
These RAW images were edited and rendered using Snapseed, a popular photo-editing app. Again, they look nice. The photo taken with the P40 Pro looks more detailed, though, and the shadow work is better overall.
Low-light shots: Auto and Night mode (Huawei P40 Pro then Samsung Galaxy S20 Ultra)
Though you can't tell by looking at them, these pictures were actually taken in a very dark room. The Huawei P40 Pro took brighter and sharper images and didn't overcompensate for the lack of lighting, and that means it handily wins this round. It's also worth mentioning that the S20 Ultra needed 10 seconds to take the night shot included here; the P40 Pro was 3 seconds faster.
Closeup pictures, from 1x then 2x and 4x (Huawei P40 Pro then Samsung Galaxy S20 Ultra)
The Huawei P40 Pro claims another victory this round, providing higher detail and clarity and more accurate colors across all focal lengths.
1x and 50x zoom (Huawei P40 Pro then Samsung Galaxy S20 Ultra)
Both phones offer incredible zoom capabilities, with the S20 Ultra capable of taking photos at up to 100x zoom. The P40 Pro maxes out at 50x magnification, which is still impressive. In this set, it seems the Huawei flagship did a much better job with the colors and dynamic range.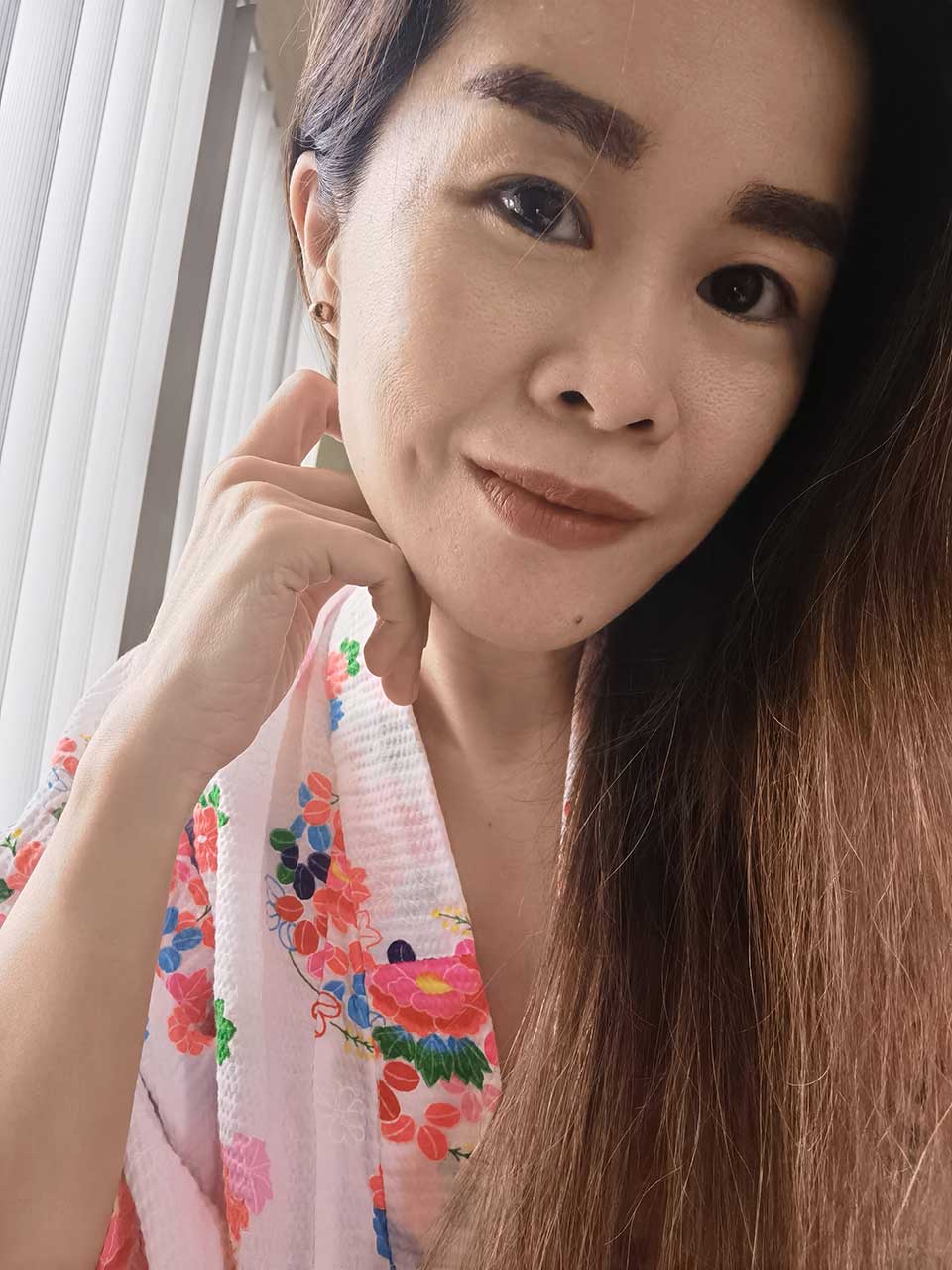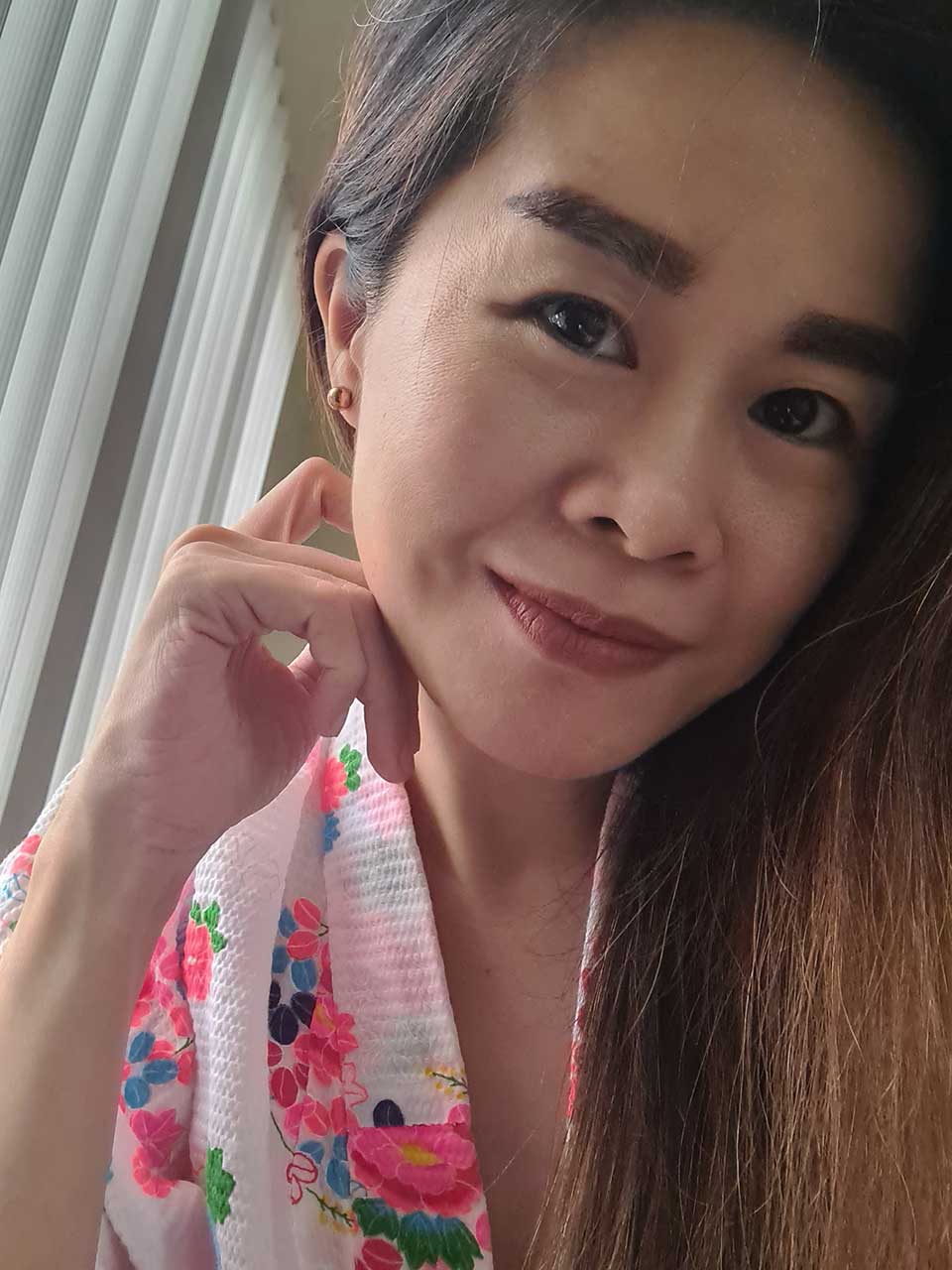 Selfies
As for selfies, both the Huawei P40 Pro and Samsung Galaxy S20 Ultra did a fantastic job with the skin tone and facial detail. The P40 Pro, though, captured a brighter photo in the same environment.
Taken as a whole, the Huawei P40 Pro outperforms its more expensive rival, for both main and selfie camera modes. Even when it comes to capturing highly detailed zoom shots, where it might seem that the Samsung Galaxy S20 Ultra has an enormous advantage, the results point to the Huawei as the winner in this round.
Performance
The Huawei P40 Pro is equipped with a Kirin 990 5G chipset under the hood, while the Samsung Galaxy S20 Ultra brings an Exynos 990, not a Qualcomm Snapdragon 865, to the Philippine market. Both chipsets should support ultra-fast 5G wireless connections where available, though we're not sure whether the S20 Ultra is fully compatible with 5G networks here. If you're not familiar, 5G is the newest and fastest cellular network — about 10 times faster than 4G and 100 times faster than 3G.
As expected, performance is about as good as it gets on an Android smartphone. The interface feels fluid and similar with the same swipe gestures for moving around the screen. Both phones don't slow you down when you're switching between multiple apps. Demanding games like Fortnite and Black Desert Online run without hitches for the most part.
If benchmark scores sound interesting to you, you'll find a few of them below. With 12GB RAM (as opposed to 8GB on the P40 Pro), the Exynos 990 achieves a slightly higher score in Antutu Benchmark, while the Geekbench numbers of the Kirin 990 5G are higher in both single- and multi-core tests.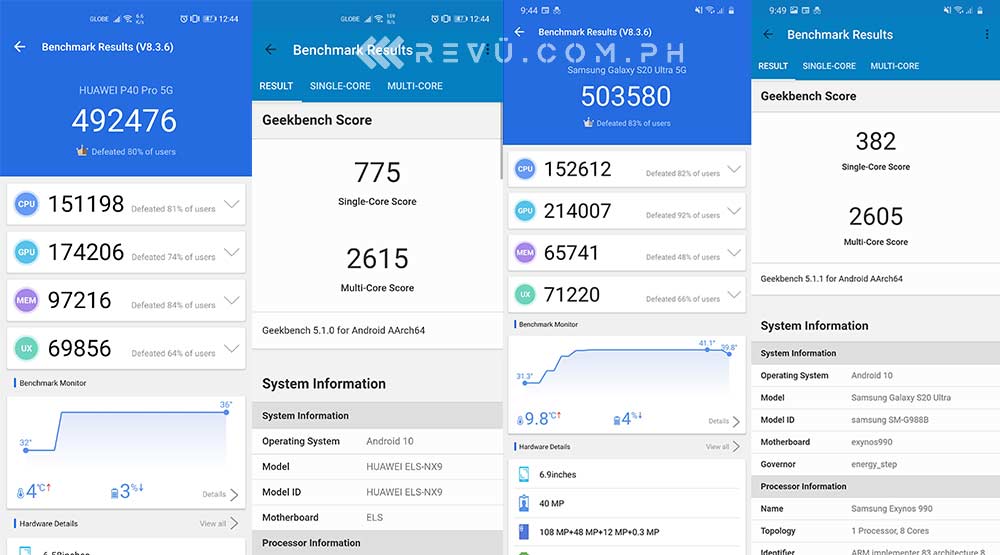 Despite the impressive scores of the Samsung Galaxy S20 Ultra, the phone does a poor job managing its thermals. So after a prolonged period of gaming or putting the handset under intense load by taking lots of pictures, one may notice the rear panel heating up uncomfortably in the hand and the frame rates plunging due to the processor getting throttled to prevent overheating and battery issues.
The P40 Pro doesn't have the same problem with the Kirin 990 5G, but of course, it will get warm to the touch after playing a game like Fortnite with the graphics set to the highest level. It's much more tolerable, and the heating is only more pronounced when the battery is low or the phone is charging.
Both the Huawei P40 Pro and Samsung Galaxy S20 Ultra run custom overlays based on Android 10. The Huawei flagship doesn't ship with Google services and apps; instead, it has Huawei Mobile Services or HMS coupled with first-party apps like the AppGallery app store.
It's not a dealbreaker for us, and you can still enjoy some Google services like Gmail and YouTube on the device using its own email client and browser app. HMS also has MeeTime, which is a messaging and video-chat service that offers up to 1080p picture quality and the ability to share your screen to the person on the other end of a video call.
SEE ALSO: Top 10 photo- and video-editing apps for the Huawei P40 Pro on the AppGallery
The number of quality apps on the AppGallery continues to expand, and the partners are flooding in. The AppGallery is now the third-largest app distribution platform in the world with 400 million active monthly users from over 170 countries. Popular apps listed on the AppGallery include Viu, Foodpanda, Snapchat, Viber, and many more.
If you can't find your favorite app on Huawei's native storefront, there's always the option to download it from other app stores and websites. One popular example is Netflix; even without the Google Play Store, it runs perfectly fine on the P40 Pro. Facebook, Messenger, and Instagram run without issues, too.
Some Google services, such as Gmail and YouTube, work on the P40 Pro as well through the phone's native email app and browser.
Battery life and charging
The Huawei P40 Pro has a 4,200mAh battery backup, which is smaller compared to the 5,000mAh cell in the Samsung Galaxy S20 Ultra. But contrary to what you might think, a larger battery doesn't always translate to better battery life. There are many other things to factor in, not the least of which is the screen size. The Galaxy S20 Ultra sports a bigger OLED panel that consumes more power, and the refresh rate and sharpness of the display also affect power usage.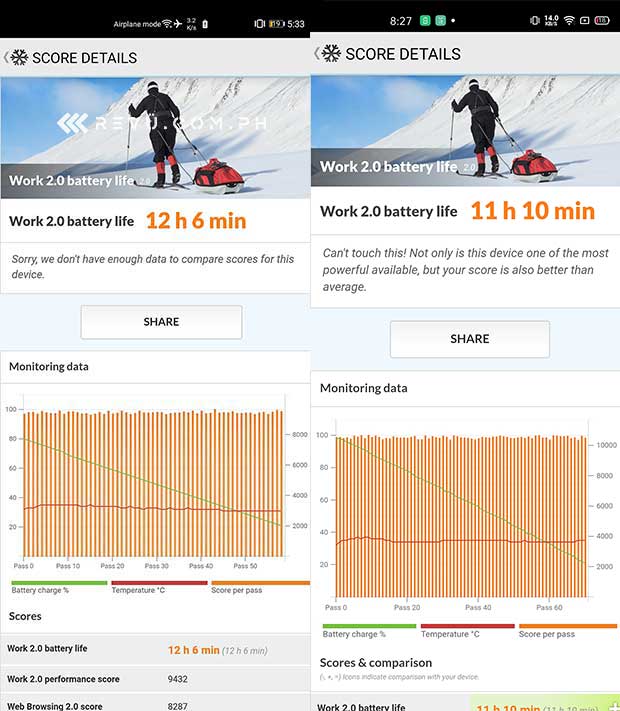 So it shouldn't be a surprise that the P40 Pro offers better battery life than the Samsung smartphone, as we found out after weeks of using both devices. The P40 Pro can last us two days off the charger, while the same can't be said about the Galaxy S20 Ultra. Battery life is probably a point for any handset, but on a 5G device, it could mean reaching for the charger much sooner than you would want to.
The wired and wireless charging standards vary between the two handsets. We listed them down below. Both arrive with reverse-wireless charging, too.
Huawei P40 Pro:
40 watts – wired charging
27 watts – wireless charging
27 watts – reverse-wireless charging
Samsung Galaxy S20 Ultra:
45 watts – wired charging
15 watts – wireless charging
9 watts – reverse-wireless charging
In our testing, we found that while the S20 Ultra offers faster wired charging, its bigger battery backup takes longer to reach full capacity from zero. And with regard to wireless, the P40 Pro manages to extend its advantage over its rival. So, to sum it up, when it comes to battery life and charging — regardless of whether it is wired or wireless — Huawei's premium offering is the victor of this round.
Final thoughts
Does a much higher price tag indicate a much better phone overall? In this case, the answer is no. The Samsung Galaxy S20 Ultra isn't clearly the superior product by any means.
We'd even argue that the Huawei P40 Pro is a more compelling choice given its wins in the design, camera, chipset, and battery life departments. On the display front, it's a toss-up between the P40 Pro's more convenient and efficient OLED and the bigger, faster, and more pixel-packed screen on the Samsung.
Despite the huge gap in local pricing, the Huawei P40 Pro and Samsung Galaxy S20 Ultra are equally capable flagships that represent the best Android has to offer. It's just indefensible that the S20 Ultra costs so much more. If you can live without Google on your device — and believe us, it's doable and easier than you might imagine — the P40 Pro is an easy choice.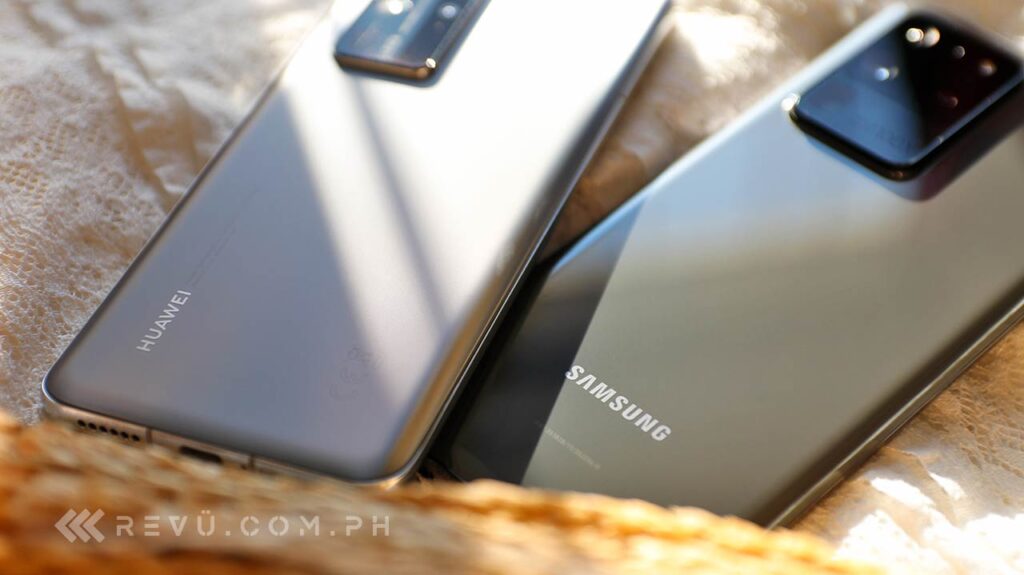 Huawei P40 Pro specs
6.58-inch OLED display, 2,640 x 1,200 resolution with 90Hz refresh rate
Octa-core HiSilicon Kirin 990 processor
5G connectivity
8GB RAM
128GB/256GB/512GB storage
Quad 50-megapixel, f/1.9 with OIS (main), 40-megapixel, f/1.8 (ultra wide), 12-megapixel, f/3.4 with OIS (telephoto with 5x optical zoom), 3D ToF camera (depth) rear cameras
Dual 32-megapixel front camera, depth sensor
Fingerprint reader (under-display)
4,200mAh battery with 40-watt fast charging, 27-watt fast wireless charging, and 27-watt reverse-wireless charging
EMUI 10.1 based on Android 10 with Huawei Mobile Services
Samsung Galaxy S20 Ultra specs
6.2-inch Dynamic OLED display, 20:9 aspect ratio, 120Hz refresh rate
Octa-core Exynos 990 processor (the one available in the Philippines)
5G connectivity
8GB RAM
128GB storage
Quad 108-megapixel, f/1.8 with OIS (main), 12-megapixel, f/2.2 (ultra wide), 48-megapixel, f/3.5 with OIS (telephoto), 3D ToF camera (depth) rear cameras
40-megapixel f/2.2 front camera
Fingerprint reader (under-display)
5,000mAh battery with 45-watt wired charging, 15-watt fast wireless charging, and 9-watt reverse-wireless charging
One UI 2.0 based on Android 10
---