Worldwide, Realme came out as the fastest-growing smartphone brand in the first quarter of 2020 with a 157% year-over-year increase. But apparently, that's not the only feather in its cap so far this year.
According to Counterpoint Research, Realme, up 173% YoY, also emerged as the brand that experienced the most rapid growth in Southeast Asia in the same period. That's a feat considering the company was incorporated only in May 2018.
SEE ALSO: Realme 6i review: A budget phone you should not miss
"With this growth, Realme continued to be among the top 5 smartphone brands in the SEA region," the market-research firm said. "Realme was able to achieve this growth even while markets were declining due to the COVID-19 pandemic; SEA declined 11%; and the global market declined 13% over the first quarter in 2019."
READ ALSO: Realme 6 Pro review: Gaming and camera beast for less and Realme 6 review: Affordable 90Hz powerhouse
Here in the Philippines, Realme entered the market in November 2018 with the C1 budget phone as its first offering. It's now among the top 5 handset brands locally. Its latest releases are the Realme 6i, Realme 6, and Realme 6 Pro devices, with the latter two meant to bring 90Hz screens within the reach of more consumers.
You can see the two-year-old brand's timeline for key Southeast Asian markets below.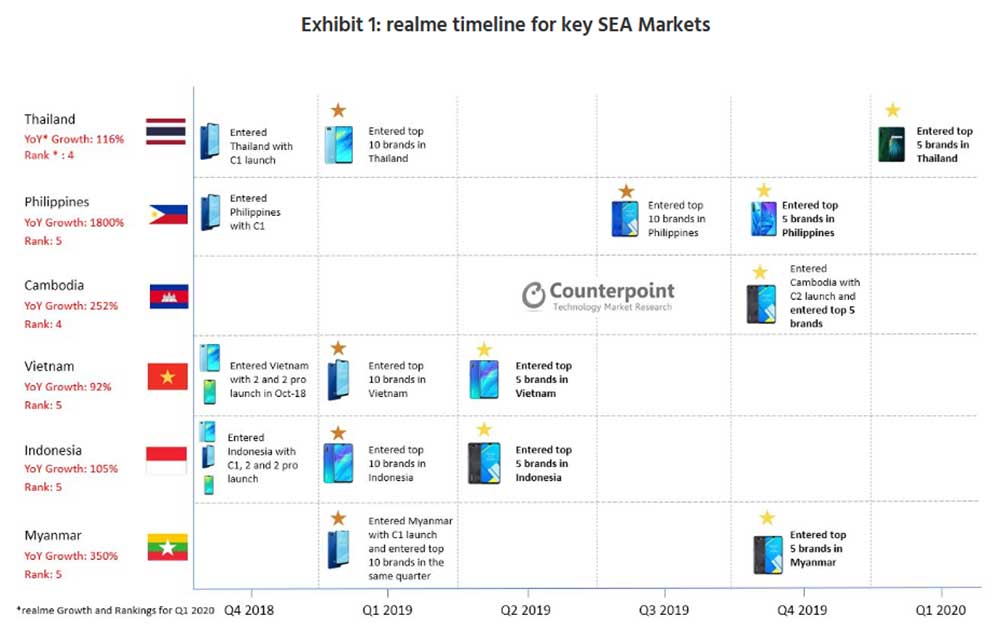 Realme is currently adopting a connected-ecosystem strategy, with the smartphone at the center of it all. Here are some of products we are referring to.
---