Priced at only P13,990, or roughly $281 converted, in the Philippines, the Huawei Nova 7i — also known as the Huawei Nova 6 SE and Huawei P40 Lite in other countries — is an affordable phone with compelling specs across the board, including the fastest wired charging we've seen on a midrange contender.
(Update, June 10: On the fence about buying this? Read Huawei Nova 7i: These images show why this phone is the one to beat in its category.)
The Huawei Nova 7i also packs five AI cameras, with four cameras on the back headlined by a 48-megapixel sensor and a single front-facing camera on a punch-hole screen for selfies. Speaking of the display, its 6.4-inch IPS LCD panel features small bezels running around the sides and the top of the phone, and even the chin isn't too pronounced.
And while the Nova 7i isn't heavily marketed as a gaming-focused device, did you know it can also play some of the most demanding games out there at high settings and 60 frames per second? Because it can. We've used it to play resource-intensive games like PUBG Mobile and Black Desert Mobile and saw some impressive fps numbers. We'd even argue that Huawei's latest midranger is the best-performing handset in its class for 60Hz, full-resolution gaming.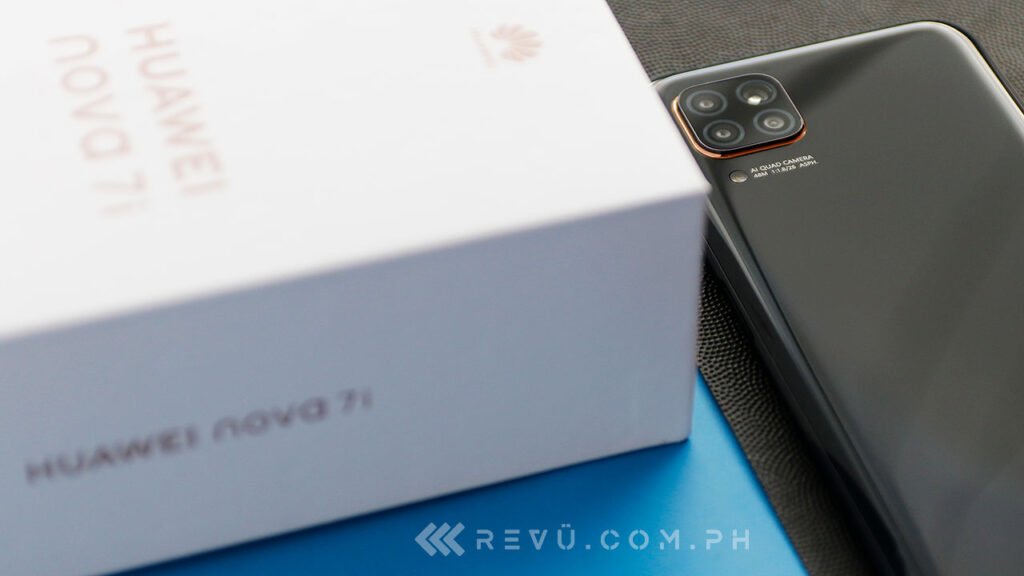 But before we dive into the gaming performance and fps tests, let's first discuss what makes the Nova 7i such a powerhouse, high-end device on a budget: the HiSilicon Kirin 810.
Announced in 2019, Huawei's in-house processor uses a 7nm process and is based on the ARM microarchitecture. It also includes two fast Cortex-A76 cores and six power-efficient Cortex-A55 cores operating at up to 1.88GHz. It integrates a six-core Mali-G52 for graphics, as well as an LTE modem for mobile data. Unlike the newly launched Kirin 820, the Kirin 810 doesn't support 5G data speeds.
Regardless, the processor is incredibly good for the price, as we found out in our gaming tests. When it comes to synthetic benchmarks, the Kirin 810 ranked the highest among top-performing midrange chipsets for April 2020, according to popular benchmark software Antutu.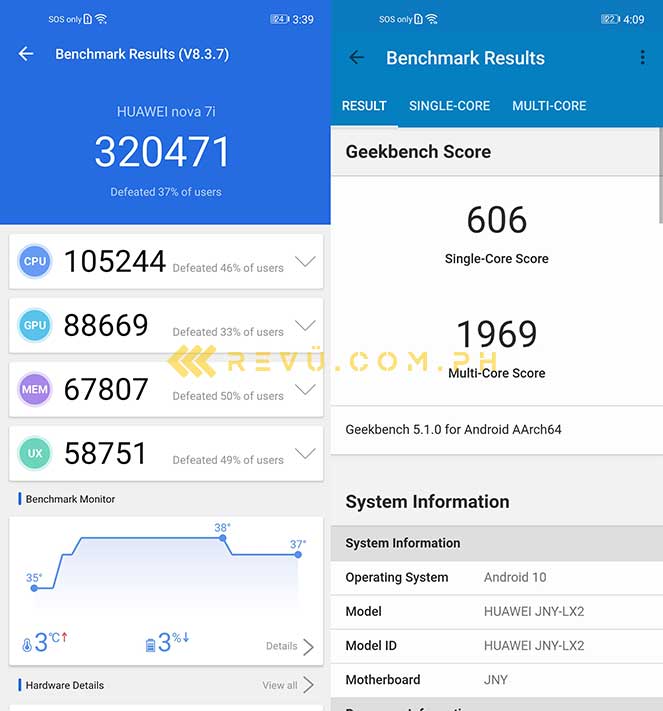 Our review unit posted a high score of 320,471 in the Antutu test, while the Geekbench 5 scores in single- and multi-core tests are 606 and 1,969, respectively. Those numbers are higher than the ones we saw on our Redmi Note 9 Pro and Realme 6 Pro units, which are powered by the Qualcomm Snapdragon 720G. At P16,990 ($341), the latter is more expensive than the Huawei Nova 7i, while the Redmi handset costs P13,990 ($281) for the version with 6GB RAM and 128GB storage.
With the benchmark scores out of the way, let's move on to the gaming tests.
Watch us play PUBG Mobile, Call of Duty: Mobile (5:00 mark), Mobile Legends: Bang Bang (10:00 mark), and Black Desert Mobile (12:30 mark) on the Huawei Nova 7i
PUBG Mobile
For PUBG Mobile, the highest graphics option available on the Huawei Nova 7i is HD, which is fine, as it doesn't support HDR content anyway. The frame rate settings goes all the way up to Extreme, but you'll have to lower the graphics to Balanced or Smooth to unlock it. Smooth is the lowest graphics setting in the game, but we found that it doesn't make much of a difference to fps, so we stuck with Balanced in our gaming test.
The highest median fps we recorded was 40 fps using the Balanced preset. Switching to HD produced a solid average of 30 fps, which is fine if you're not into competitive gameplay. The most important thing to note here is that the Huawei Nova 7i can maintain stable frame rates, so random slowdowns and stuttering shouldn't be an issue.
Another thing that shouldn't concern you is keeping the phone's thermals under check. Because unlike some other high-performing chipsets on the market, the Kirin 810 doesn't heat up all that much from gaming or video streaming.
Call of Duty: Mobile
The Kirin 810 inside the Huawei Nova 7i really flexes its muscle when playing Call of Duty: Mobile. This online shooter runs perfectly stable at 60 fps, even with the graphics set to Very High quality. Since the game is locked to 60 fps, you can't really ask for a better outcome than what the phone is capable of.
Mobile Legends: Bang Bang
The same can be said about Mobile Legends, arguably one of the most popular games around, especially in the Philippines. Like many high-end devices on the market, the Huawei Nova 7i can maintain 60 fps at Ultra detail settings. Mobile Legends currently doesn't support more than 60 fps, so the Nova 7i's 60Hz screen is perfectly suited for it.
Black Desert Mobile
Similar to PUBG Mobile, Black Desert Mobile is a visually striking game with the gameplay to match. We were able to average 30 fps using the game's High preset, but switching to Low should get you in the mid-to-high 40s during gameplay. While not very high, we're happy with the numbers we got considering how much the Nova 7i costs and the fact that Black Desert Mobile is a pleasing game to look at regardless of fast the screen you're viewing it on is.
Huawe Nova 7i gaming-test results
PUBG Mobile (HD, High frame rate): 30 fps
PUBG Mobile (Balanced, Extreme frame rate): 40 fps
Call of Duty: Mobile (Very High): 60 fps
Mobile Legends: Bang Bang (Ultra): 60 fps
Black Desert Mobile (High): Around 30 fps
Black Desert Mobile (Low): 45 fps
Final thoughts
Powered by Huawei's own HiSilicon Kirin 810, the Nova 7i has proven to be a particularly capable device not just with regard to taking pictures and wired charging but also when it comes to gaming. It delivers a solid 60 fps experience when playing Call of Duty and Mobile Legends, while games that require more graphics power, such as PUBG Mobile and Black Desert Mobile, will run at 30 fps — at least.
So while the Huawei Nova 7i may not be at the top of a budget gamer's to-consider list, it really should. Pass the word around.
Huawei Nova 7i specs
6.4-inch FHD+, 2,340 x 1,080 LCD screen with punch hole
Octa-core HiSilicon Kirin 810 processor
8GB RAM
128GB storage
Quad 48MP (main), 8MP (ultra wide), 2MP (depth), 2MP (macro) rear cameras
16MP front camera
Fingerprint sensor (side-mounted)
4,200mAh battery with 40-watt USB-C charging
EMUI 10 based on Android 10, Huawei Mobile Services, AppGallery
---