Huawei has saved the best for last in the P40 series, with the announcement of the Huawei P40 Pro Plus for the Philippine market. To recap, the P40 Pro Plus was first launched alongside the P40 and P40 Pro in March, before the government lockdowns and quarantines were widespread as a response to the coronavirus pandemic.

(Update, June 27: Just launched! Read Huawei P40 Pro Plus now in PH. Here's how much it costs here.)

(Update, June 19: It's up for preorder! Read Huawei P40 Pro Plus available for preorder from Globe Postpaid.)
Soon, the top-of-the-line model will finally be available here through Globe Telecom and Lazada Philippines. If you recall, the Huawei P40 Pro Plus shares most of its specs and features with the P40 Pro, including its design and dimensions (for the most part, anyway), 90Hz OLED screen, Kirin 990 5G chipset running the Android 10-based EMUI 10.1 custom overlay, and so much more.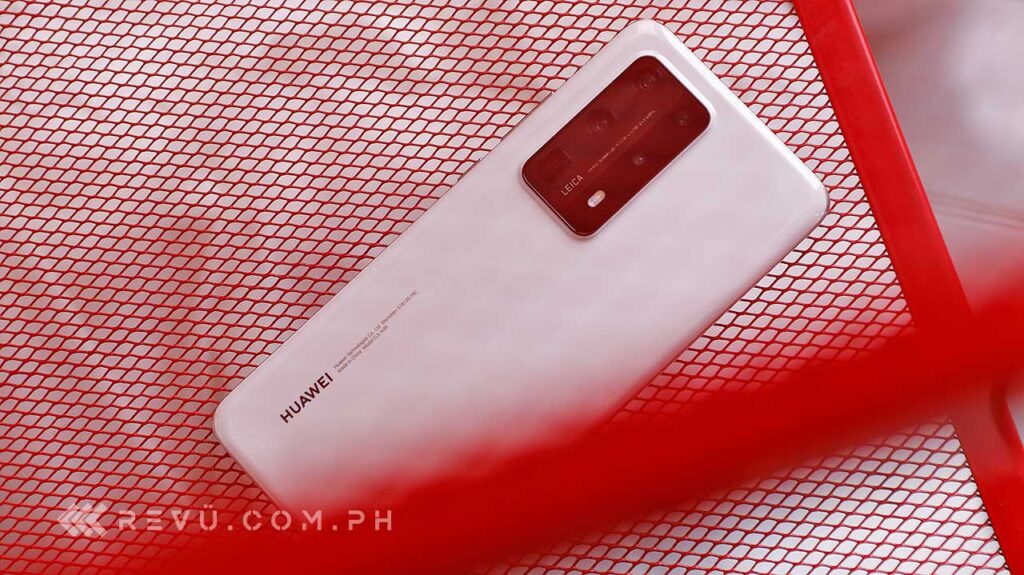 The most notable — and virtually impossible-not-to-spot changes — reside at the back, where Huawei opted for ceramic instead of your usual glass or metal and a rectangular camera module housing five sensors. The front of the phone still has the same 32-megapixel selfie camera paired with a secondary depth-sensing unit. So all in all, the P40 Pro Plus packs seven sensors for taking pictures and video, as well as face unlock that works just as reliably as a physical fingerprint reader.
In case, it isn't obvious yet — yes, this is absolutely the most powerful camera system you'll find on a modern smartphone, trumping even the super-huge and super-expensive Samsung Galaxy S20 Ultra. And like the Samsung flagship, the Huawei P40 Pro Plus can do 100x zoom, which is simply bonkers.
SEE ALSO: Blind camera test: Huawei P40 Pro vs Samsung Galaxy S20 Ultra
Of course, the burning question is, given how great the Huawei P40 Pro is, how much better is the Plus model, and should consumers pay the premium for it? We'll tackle those questions and more here in our full review. And if you're already sold and looking to purchase the phone regardless, it will be available at Globe Telecom stores and Lazada for off-contract units soon.
Although we don't know yet how much exactly the phone is going to cost in the Philippines, it is priced at €1,399 (around P78,671 or $1,572 converted) for European markets. It's possible that the Huawei P40 Pro Plus might be cheaper here than in Europe and run you between P65,000 ($1,300) and P75,000 ($1,499). Still a lot of money in any currency. Hopefully, the Philippines will get a lower price tag than we expect.
A build fit for a king
Coming from the P40 Pro, the first thing we noticed is how the Huawei P40 Pro Plus feels more premium and substantial while retaining the comfort and flattering fit in the hand of the former. This is, of course, due to the ceramic body and steel frame that were added to the Plus version to better justify its price tag.
The rear camera module is also larger on the Plus version, owing to the extra telephoto camera it has. Besides the extra weight and thickness on paper, the dimensions of the phone are identical to the P40 Pro.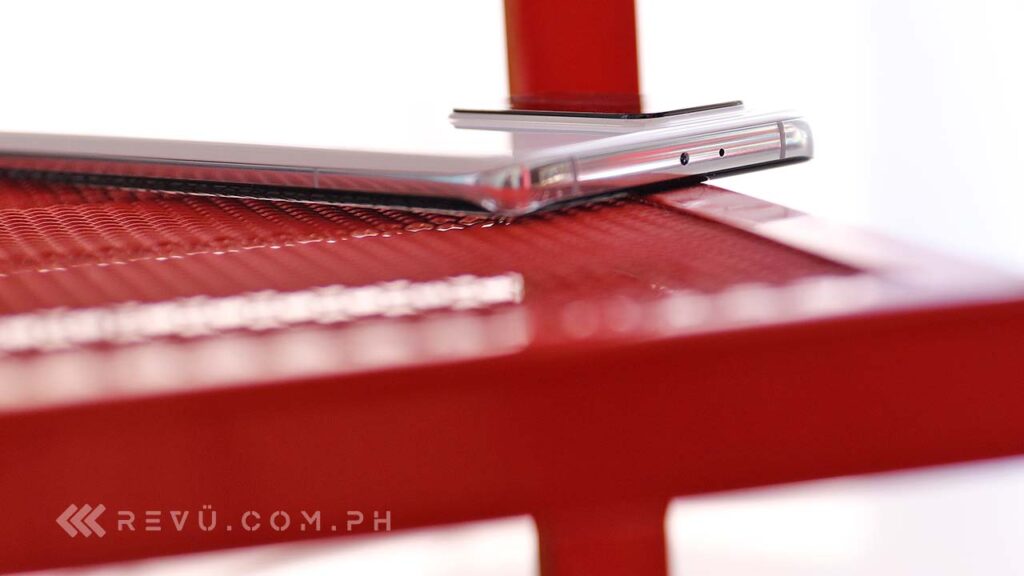 You can even purchase and use a case meant for the P40 Pro Plus to keep the P40 Pro protected, but not vice versa. Our P40 Pro Plus unit didn't ship with the usual silicone case Huawei bundles with its smartphones. You'll need one since the device is slippery and will easily fall off most inclined surfaces due to its all-glossy body.
The smartphone also gets the quad-curved screen the regular Pro has. It's the same size, resolution, and refresh rate and sports a dual selfie shooter in a shared punch hole on the upper left. Picture quality is similar to what the P40 Pro offers — which is good news — and, as a bonus, it looks slightly brighter at its peak brightness setting.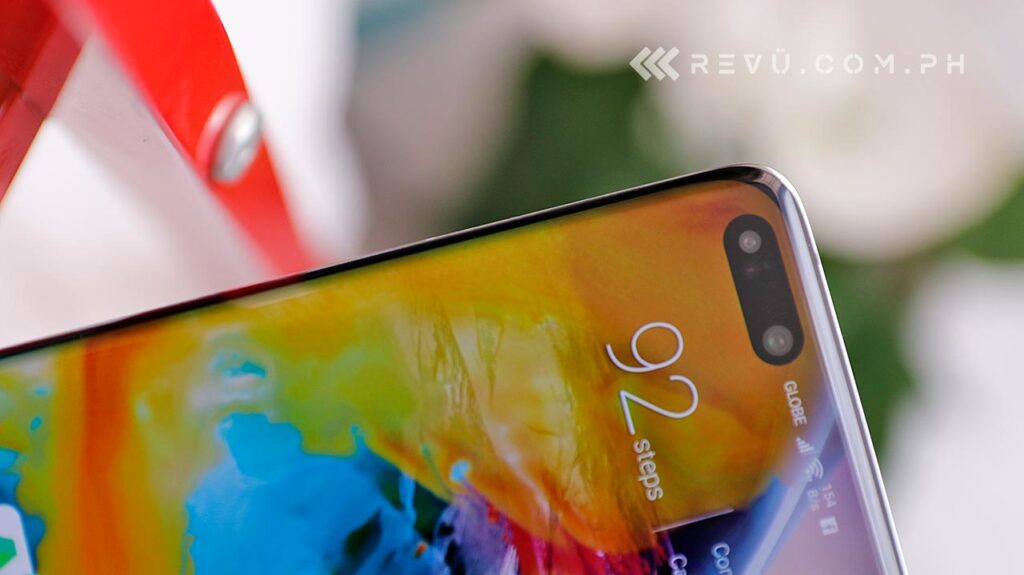 There's an optical fingerprint scanner built into the display assembly, and Huawei says it covers 30% more area than before and feels faster to unlock. We didn't use it a lot in our testing, but we found it to be quick and accurate when relied upon. Facial recognition works about just as well as a way to unlock the device, and it's even perfectly usable in low light.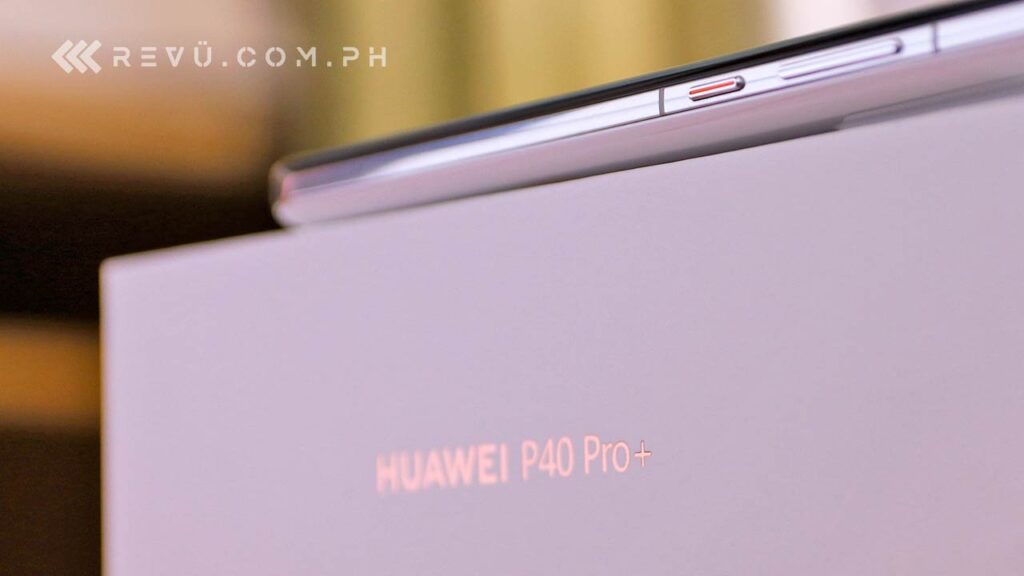 We know it's expected, but the P40 Pro Plus really does look and feel like an upgrade to the P40 Pro. It comes with an IP68 rating as well, so accidentally dropping the phone in a toilet, in a pool, or in a muddy puddle shouldn't cause a panic attack.
Best camera ever in a phone, period
When it comes to camera performance, the P40 Pro Plus is both unprecedented among Huawei devices and unmatched in the smartphone space. It sports the same 50-megapixel main sensor with the unorthodox RYYB pixel arrangement as the P40 Pro and has a similar 40-megapixel wide-angle camera for group and landscape shots and a Time-of-Flight sensor, which adds clean bokeh in portraits.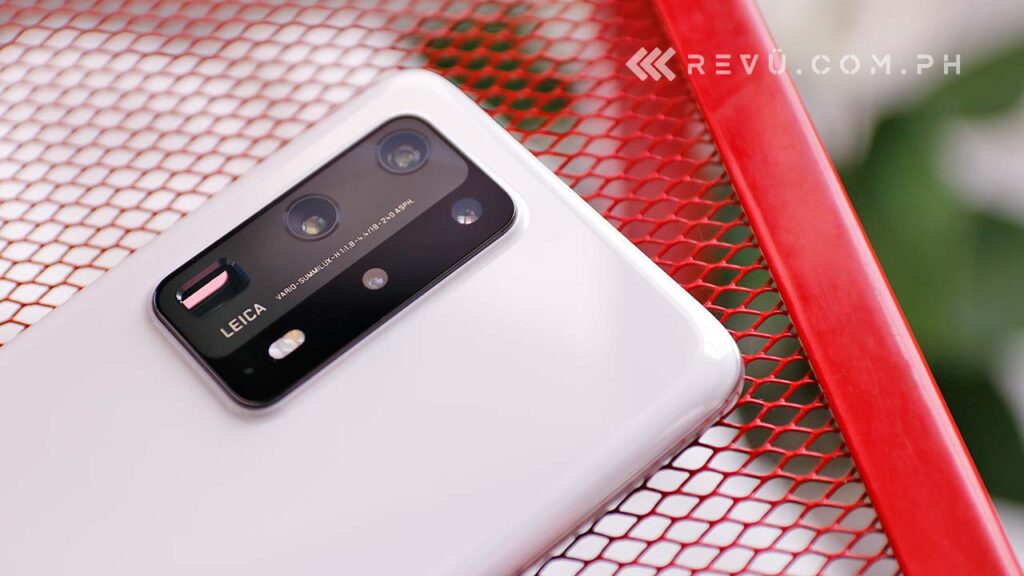 Instead of the P40 Pro's 12-megapixel periscope zoom, though, the P40 Pro Plus packs an 8-megapixel camera with an f/4.4, 240mm-equivalent periscope telephoto lens for long-range zoom, in addition to an 8-megapixel, 80mm-equivalent telephoto for midrange zoom. The new camera hardware allows for up to 10x optical zoom and 100x zoom using a combination of sensor cropping and software magnification.
It sounds gimmicky, like the Samsung Galaxy S20 Ultra's Space Zoom that also offers up to 100x zoom in digital. However, unlike the Samsung, the Huawei P40 Pro Plus provides sharper, more defined images in every setting we performed our camera test. Not only that, Huawei's latest flagship consistently outperformed the Galaxy S20 Ultra when it came to shooting low-light scenes, regardless of which camera was used.

Perhaps what's more surprising is that the P40 Pro Plus managed to take better pictures than the P40 Pro using its main and wide lenses. This despite sharing identical hardware with the latter.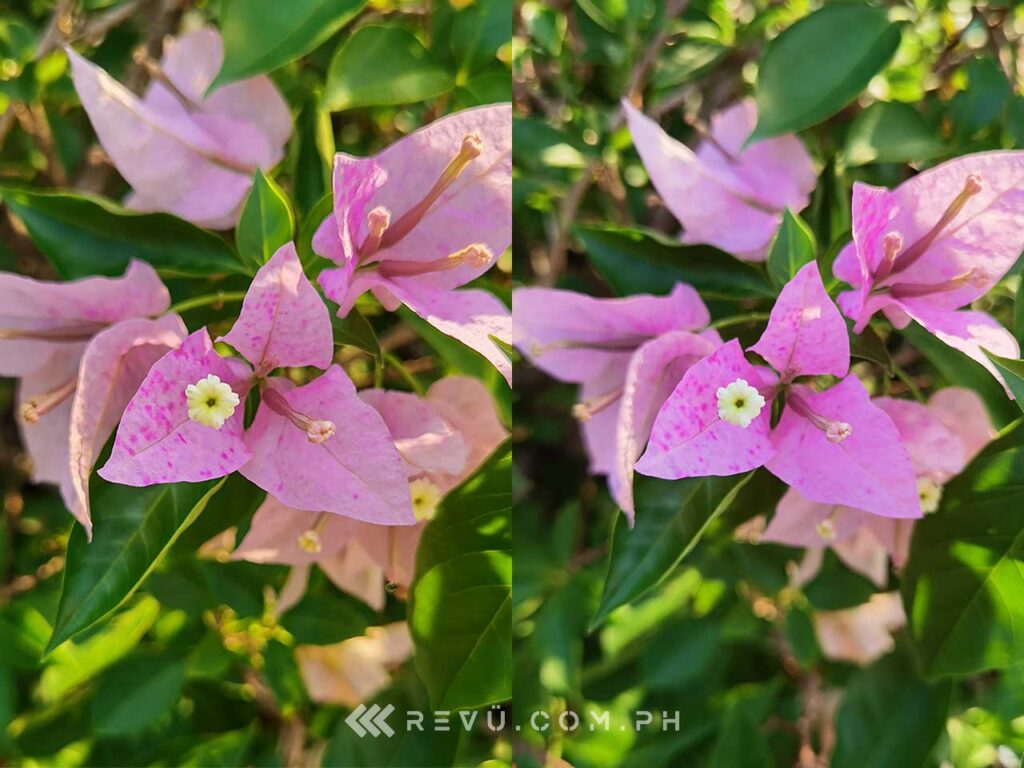 Other pictures captured on the Huawei P40 Pro Plus: Ultra-wide, Auto, Night, Auto, Pro
More in a separate article!
Selfies from the P40 Pro Plus' 32-megapixel selfie camera came out very good, too. Portrait-style selfies look great as well, thanks to the secondary infrared depth sensor that helps with the edge detection and background blur.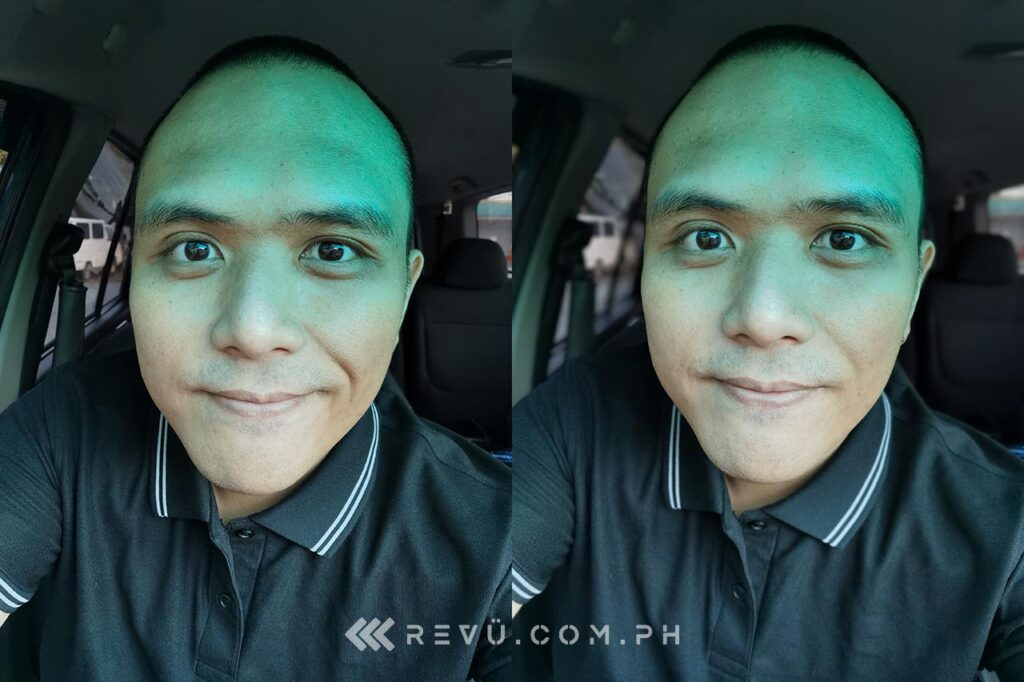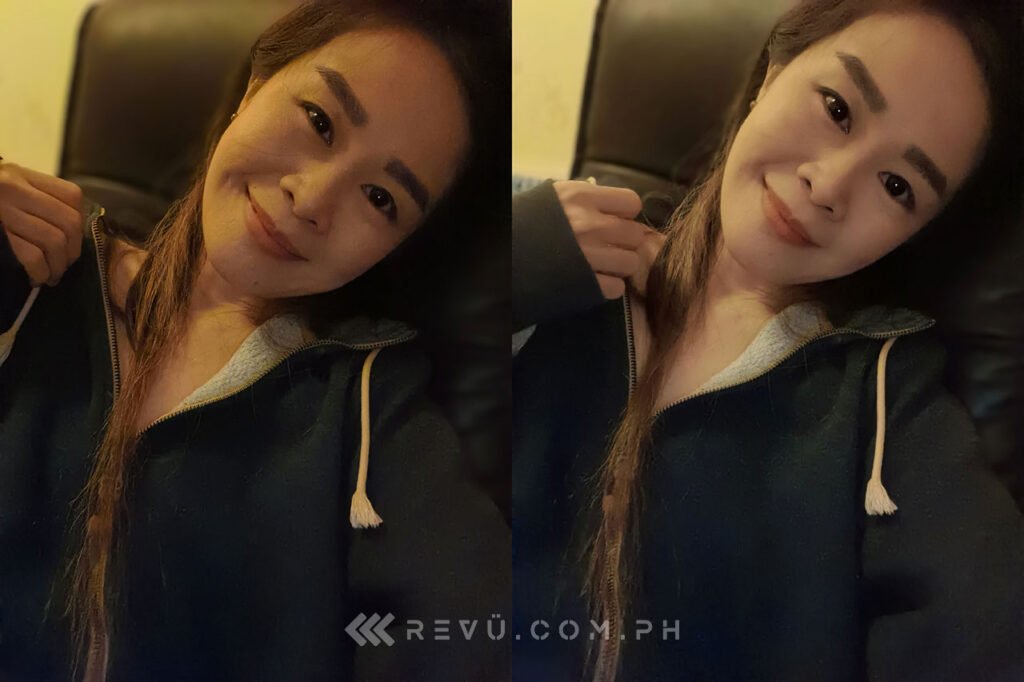 We'll touch more on camera performance in a separate article, so stay tuned for that.
Pro-grade performance with some pluses
The Huawei P40 Pro Plus gets the same HiSilicon Kirin 990 5G chipset as the P40 and P40 Pro. In case you're not familiar, the Kirin 990 5G is built on a 7nm+ EUV process, which allows Huawei to make the claim of not just superior performance, but also of better power efficiency. It combines four performance Cortex-A76 cores clocked at up to 2.86GHz with four smaller Cortex-A55 cores for less intensive tasks. Additionally, it integrates an in-house neural processor with three cores and a 16-core Mali-G76 GPU.
The LPDDR4x RAM in the P40 Pro Plus is 8GB, similar to the other P40 models. However, the storage has been expanded to 512GB, which will take forever to fill, although the phone only supports Nano Memory cards in the hybrid slot for additional storage. And unless you're always recording video at 4K resolution, the P40 Pro Plus' built-in memory should be more than adequate for most buyers.
The Kirin 990 5G chip inside the Huawei P40 Pro Plus also includes a Balong 5G modem, which supports local 5G networks where available
Of course, the Kirin 990 5G also includes a Balong 5G modem, which supports local 5G networks where available. Globe Telecom's consumer-ready 5G signal is expected to go live sometime in July, with select areas in Makati and Bonifacio Global City in Taguig being the first areas nationwide to officially get 5G from the telco.
If you own a compatible router, the Huawei P40 Pro Plus will let you enjoy Wi-Fi 6 speeds for home-internet connectivity. The phone is also equipped with dual-frequency GPS that allows for more precise location access and real-time smartphone mapping, perfect if you're often driving in unfamiliar cities and towns.
Can the camera king be a gaming pro as well? Watch us play Mobile Legends, Free Fire (5:00 mark), and Black Desert Mobile (10:00 mark) on the Huawei P40 Pro Plus
The resulting performance from the Kirin 990 5G inside the Huawei P40 Pro Plus is, as expected, worthy of its price tag. As far as mobile devices go, the performance here is about as fast as it gets. Our review unit runs every task like a champ, and, when enabled in apps and workloads that support it, the 90Hz screen really shows its buttery smoothness.
Gaming is another highlight. The handset can run heavy online games such as Free Fire and Mobile Legends at the highest settings while getting a solid 60 fps, whereas Black Desert Mobile, arguably one of the most visually stunning games ever made for mobile, maintains 45 fps in most environments — the highest allowed for our device.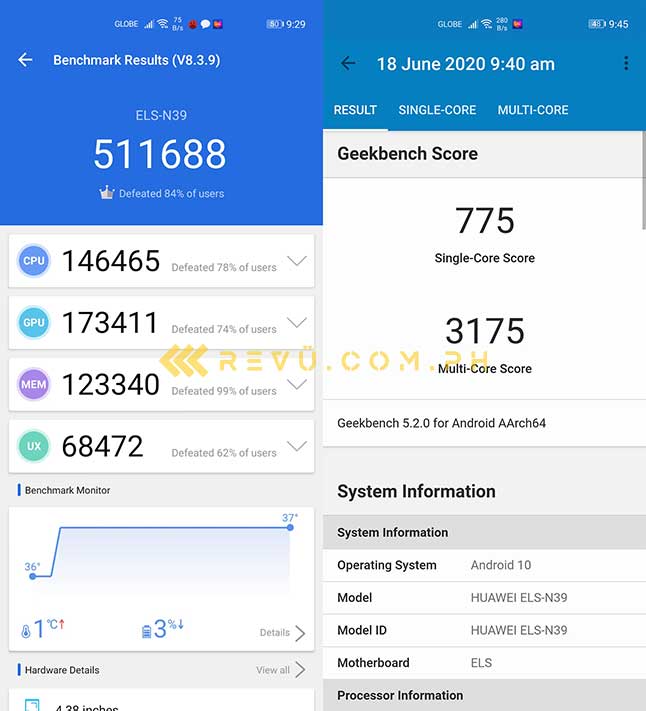 In terms of benchmarks, our P40 Pro Plus achieved 511,688 points in the latest Antutu app and 775 and 3,175 in the Geekbench 5 single- and multi-core tests, respectively. Its Geekbench results, in particular, are better than what we saw on our Samsung Galaxy S20 Ultra unit, while its Antutu score closely matches that of the Ultra mated to 12GB of fast LPDDR5 RAM.
Talking about the software, the latest EMUI 10.1 overlay packs many of the goodies that Google baked into Android 10, including a system-wide Dark mode with support for more third-party apps, better location and privacy tools, and improved parental controls.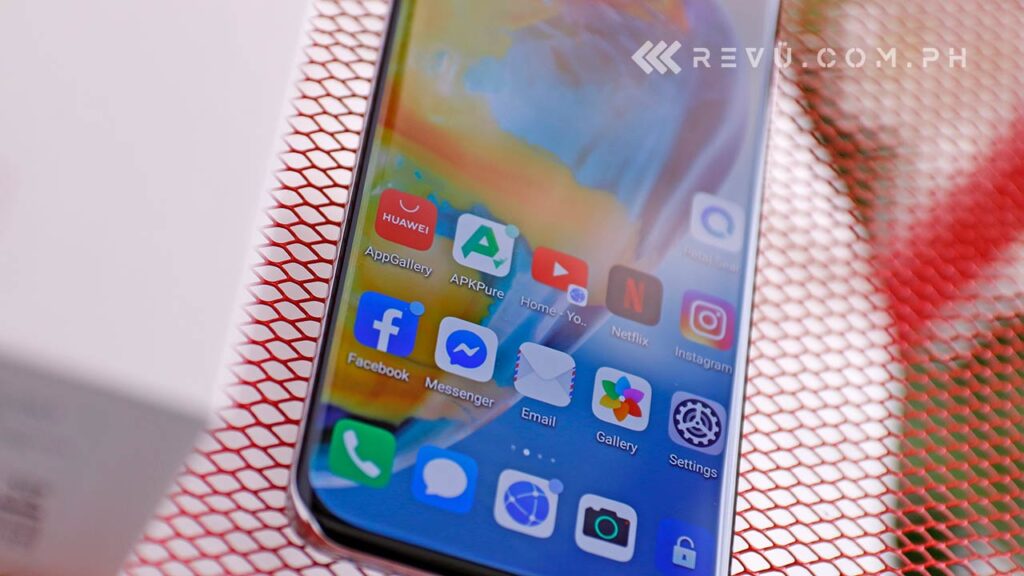 The new EMUI software on top of Android is great, but there's no Play Store, no Google apps, and apps that rely on Google services might not work properly, or at all. But honestly, we're okay with that. We've discussed this topic at length several times, but it's worth repeating: It's possible to have a smartphone life without Google by downloading apps through Huawei's own AppGallery or another third-party app-distribution platform.
Some popular apps that can be downloaded through AppGallery include TikTok, Foodpanda, Viber, Zoom, and Lazada. There's also an application called AppGo, which you can download and install to make searching for apps much easier.
The battery backup in the Huawei flagship is rated at 4,200mAh. While not the biggest around, it easily lasts a full day, thanks to Huawei's battery management as well as AI-based improvements in the software. Our review sample consistently delivers about seven hours of screen-on time in mixed usage with the resolution set to High (2,640 x 1,200) and refresh rate locked at 90Hz. Heavy users will likely see longer screen-on usage with a lower resolution and 60Hz.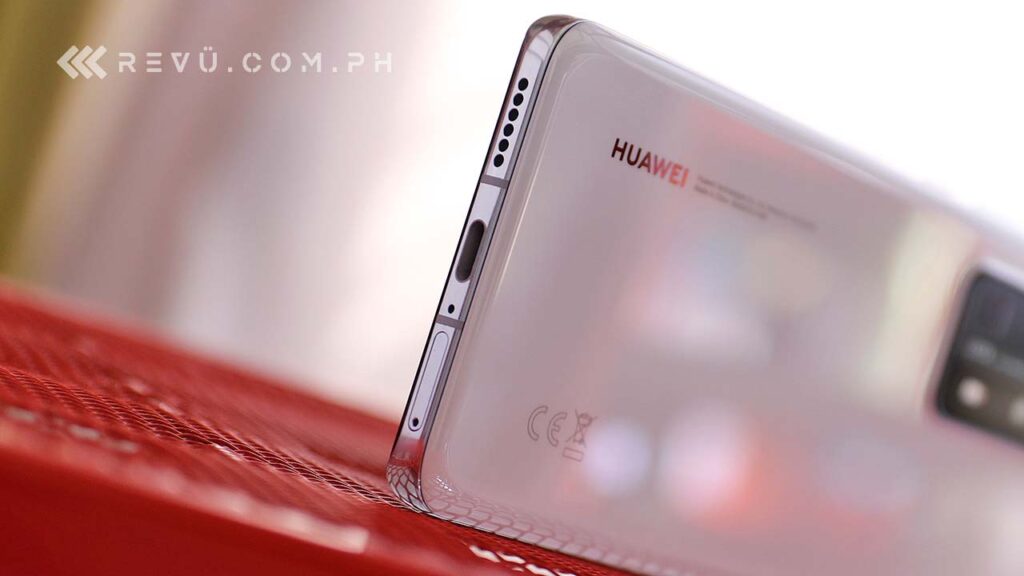 For charging, the P40 Pro Plus supports the company's proprietary 40-watt wired and wireless charging and fully recharges in a bit more than an hour using the bundled power brick and cable. We haven't tried the industry-leading wireless charging yet, as it needs a separate charger that can do 40 watts.
Take note that the wireless charger itself has to be powered by Huawei's own 65-watt power supply, which it ships with some laptops like the Huawei MateBook X Pro. Nonetheless, it's incredibly convenient that the P40 Pro Plus can top up its battery faster than most devices on the market without the hassle of wires.
Should you buy the Huawei P40 Pro Plus?
The P40 Pro Plus is the most impressive smartphone Huawei has made so far, there's no question about it. The ceramic back and steel frame add to the Pro version's already premium aesthetic, while its 100x zoom telephoto camera pushes camera boundaries even further.
Huawei's latest flagship is an unmatched camera phone for every situation. If you're really into mobile photography, the P40 Pro Plus will open up so many opportunities to capture great photos. And if you're not so serious about it, this could change your mind.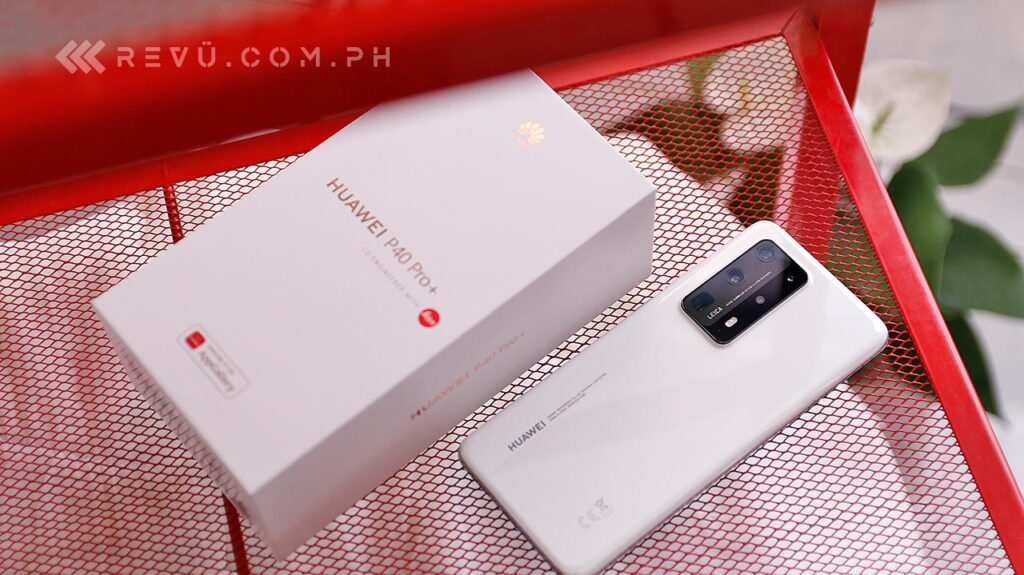 But should you pay the premium attached to it? Honestly, it depends on how much you want its unique feature set. Do you need a camera that can cover a great distance? Are you planning to take advantage of its ultra-fast wireless charging, which requires you to purchase a proprietary charger separately? If the answer is yes, then there you have it. Though not perfect, the Huawei P40 Pro Plus has pretty much everything you'll want in your next smartphone.
Huawei P40 Pro Plus specs
6.58-inch OLED display, 2,640 x 1,200 resolution with 90Hz refresh rate
Octa-core HiSilicon Kirin 990 processor with 5G (works in the Philippines)
5G connectivity
8GB RAM
256GB/512GB storage
Penta 50-megapixel, f/1.9 with OIS (main), 40-megapixel, f/1.8 (ultra wide), 8-megapixel, f/4.4 with OIS (telephoto with 10x optical zoom), 8-megapixel, f/2.4 with OIS (telephoto with 3x optical zoom), 3D ToF camera (depth) rear cameras
Dual 32-megapixel front camera, depth sensor
Fingerprint reader (under-display)
4,200mAh battery with 40-watt fast charging, 40-watt fast wireless charging
EMUI 10.1 based on Android 10 with Huawei Mobile Services
Colors: White Ceramic and Black Ceramic
---