The Nova 7 SE is easily one of Huawei's best handset releases in the midrange to date. It's also the most affordable 5G phone on the market, with a suggested retail price of P19,990 (or roughly $405 converted) in the Philippines.

(Update, August 22: The phone gets a price cut in the Philippines!)
And yet we've read complaints about the phone's "high" price. So, is the Huawei Nova 7 SE 5G really expensive? Perhaps more importantly, if your budget allows, should you consider it as your next smartphone? Check out what we think of the phone here.
Oh, yes, it does look expensive
One of the most attractive features of the Huawei Nova 7 SE 5G is its design, especially the Space Silver color variant we have here that has a mixture of blue, silver, and pink hues from top to bottom. It also comes in a Crush Green option, which sports a huge Nova branding at the bottom of the back to give the device a bit more flair and individuality and really make it stand out.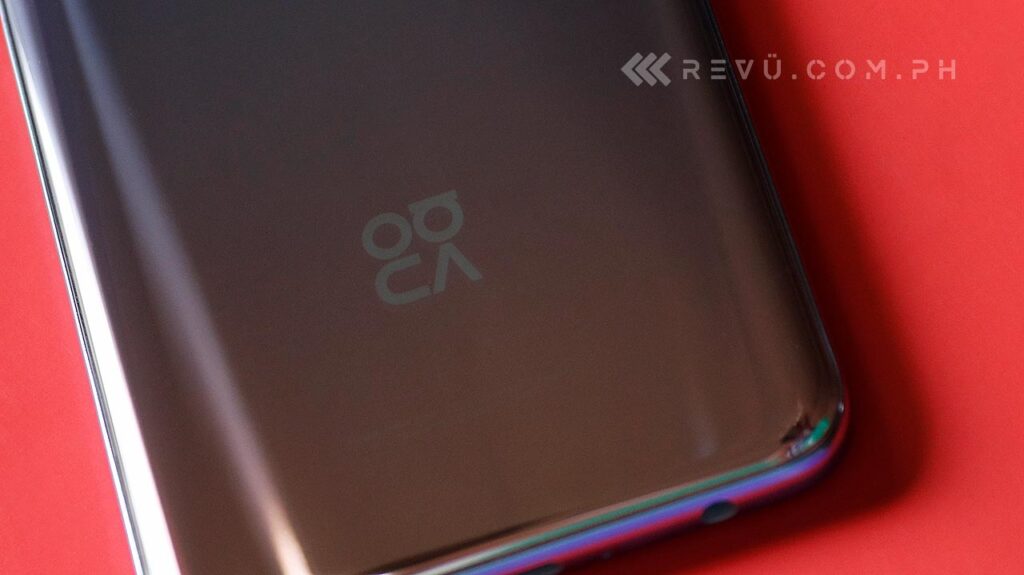 Besides its unique and identifiable design, the Nova 7 SE 5G is also designed to look more expensive than it actually is, with its glossy, glass-like rear panel and metallic frame with a matte finish. And despite its shiny exterior, the way it reflects light makes it appear a lot less greasy than you might expect.
The back doesn't have a fingerprint scanner, which gives it a cleaner look; the fingerprint sensor can be found on the right, embedded in the power-slash-sleep button, for easier unlocking, at least for us right-handed people.
Another design choice we like: The punch-hole LCD that houses the selfie camera. It works better than having a notch at the top bezel and helps the tall, 6.5-inch display deliver a more immersive experience.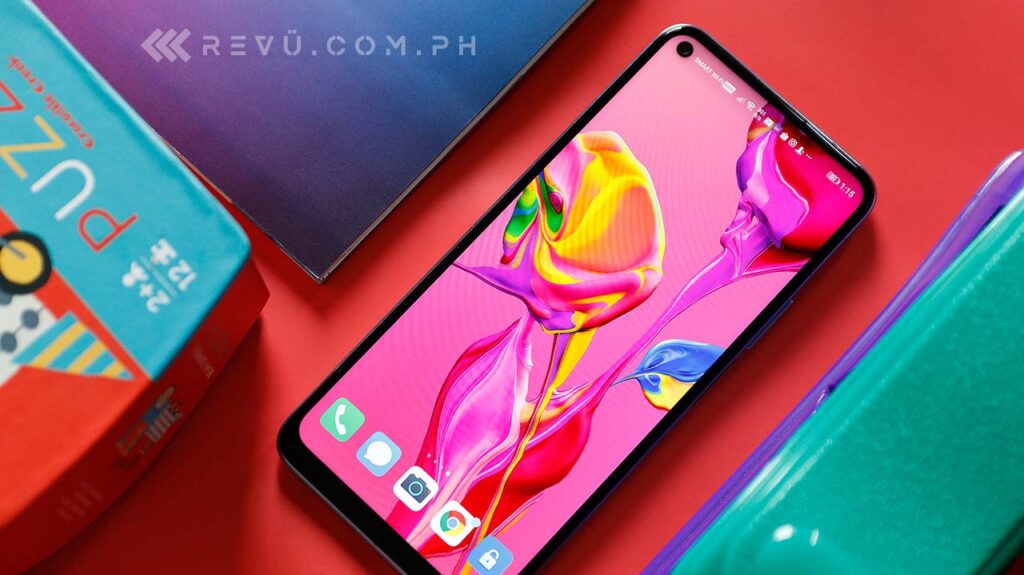 Naturally, it helps that the bezels on the Huawei Nova 7 SE 5G's sides and along the top and bottom are about as small as they can physically get on a mid-tier offering. The punch hole is small, too, and shouldn't obstruct your view while you're watching a video or playing a mobile game. Digging through the settings, you can also hide the front camera hole if you find it too distracting.
The feel of the phone adds to its premium vibe, and the curved edges — which are more pronounced than we've seen in earlier Nova handsets — make the unit easier to carry and operate single-handed. Holding it in your hand, it strikes you that Huawei has done a great job of putting this smartphone together; the build quality is excellent for the price. All in all, Huawei has built an impressive hardware.
READ ALSO: Huawei Nova 7 5G launching in PH July 30
The Nova 7 SE 5G looks and feels like a high-end device. But here's the thing: It doesn't cost like one. So, yes, the phone indeed gives you the impression it fetches more money than others in the segment, even though it probably costs less than others with similar or slower performance and less powerful specs.
Powerhouse specs with next-gen 5G support
5G is arguably one of the biggest buzzwords in the industry today. Why wouldn't it be? Who wouldn't want faster-than-fiber actual downloads and more stable internet with much lower latency? There are only a few phones in the Philippines that support the technology, though; now, the list includes the Huawei Nova 7 SE 5G.
It is the first — and only — midrange phone in the Philippines powered by Huawei's new HiSilicon Kirin 820. The chipset integrates a dual-mode (standalone/non-standalone) 5G modem for super-fast data in 5G locations, including some parts of the country, in the initial rollout. Globe Telecom previously announced that its 5G network will go live in select areas sometime this month. Smart Communications' 5G base stations are said to go operational later this year, too.
The addition of 5G connectivity to a midrange chipset like the Kirin 820 is huge for consumers, as now those who have no budget for a flagship device like the Huawei P40, Huawei P40 Pro, Huawei P40 Pro Plus, or Huawei Mate 30 Pro 5G to enjoy 5G speeds where available.
SEE ALSO: 5G on the Huawei P40 series: The future is here
It's an even bigger deal when you consider that most locally available flagships, including those that were released this year, don't support 5G data. Outside of the Huawei Mate Xs, Mate 30 Pro 5G, and P40 series, the only phone we know that will fully support Globe's 5G network at launch is a P69,990 ($1,413) model. That's it! The list is incredibly short.
As it stands, 5G is more of a future-proofing feature than anything else. But a 5G-capable handset like the Nova 7 SE 5G will still work perfectly on existing standards. Eventually, when 5G does arrive in your area — and it will soon enough — you'll have access to internet speeds you never thought possible on a smartphone.
Watch these videos that showcase what a 5G phone like the Huawei Nova 7 SE can do when connected to a 5G signal, taken from our article, Tested: Smart 5G network on PH's most affordable 5G phone.
5G speed test
5G gaming test
5G video streaming
Yes, 5G is coming soon. Local telcos Globe Telecom and Smart Communications are expected to roll out their 5G services for both prepaid and postpaid customers later this year. When that time comes, you won't need to switch to a 5G SIM card, because your current 4G SIM should work just fine. Obviously, you'll need a compatible 5G phone like the Huawei Nova 7 SE to enjoy faster-than-4G speeds in certain areas.
When it comes to computing and gaming performance, the Kirin 820 inside the Huawei Nova 7 SE 5G is second to none. The benchmarks tell the story: In the latest version of Antutu Benchmark, our review unit scored over 380,000 points in the overall tally and registered 131,351 and 117,380 points, respectively, in the CPU and GPU tests. Not only are those scores impressive, they're the highest among midrange devices we've tested and higher than the benchmarks for some older flagships we have.
Comparing the comprehensive Antutu score of the Huawei Nova 7 SE to last year's Kirin 980-powered Huawei P30, it's clear that the new Nova handset performed better in all scenarios. Its day-to-day performance is comparable to the P series phone as well, especially running the latest EMUI 10.1, which is based on open-source Android 10 and comes with new features such as Huawei's MeeTime video-call application and additional Multi-Screen Collaboration options.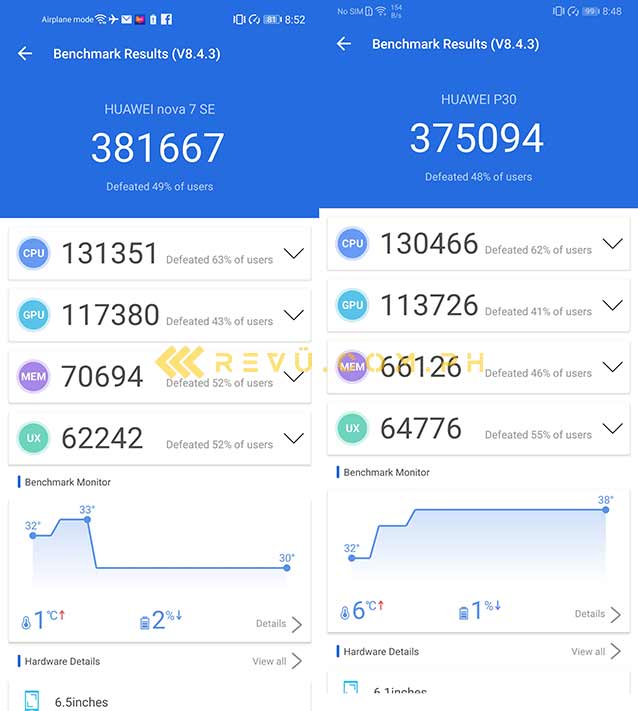 The software overlay also comes with Huawei Mobile Services or HMS and the company's own AppGallery baked in. Google apps are not preinstalled, but there are workarounds and alternatives available if you are happy to do some research.
And even though they're not listed on the AppGallery, you can still install apps like Facebook, Messenger, Instagram, Twitter, Netflix, and many more on the Huawei Nova 7 SE 5G via third-party sites and app stores. Some of the most popular Android games will run perfectly fine on the smartphone as well.
The AppGallery is a great source for localized apps and content, and more should be available soon as a growing number of developers publish their software on Huawei's growing app-distribution platform for Android apps. It is now the world's third-largest, with over 1.3 million developers onboard and more than 400 million monthly active users around the world.
The Kirin 820 can handle demanding games, too, like PUBG Mobile and Black Desert Mobile, at the highest graphics settings. If you're a fan of Mobile Legends, you'll be happy to know that the chipset supports High Frame Rate mode and maintains a rock-solid 60 fps at Ultra detail.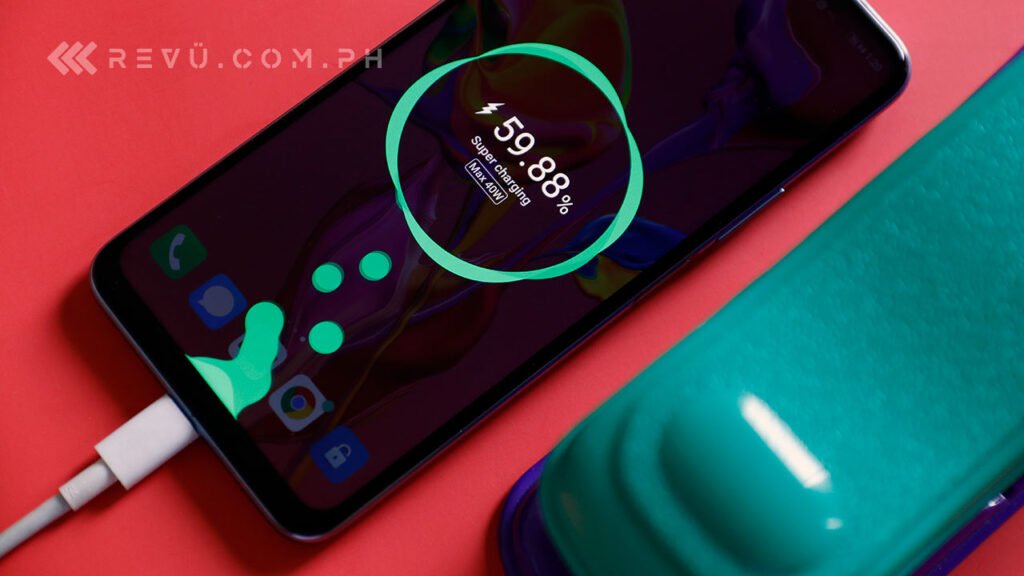 When the battery level drops to 5% or lower, you can rely on the phone's 40-watt SuperCharge fast-charging standard to quickly replenish the battery using the included charger and USB-C cable. In our test, it only took an hour to fully recharge a dead battery. That's faster than those of a lot of other devices with a much higher price tag.
The Samsung Galaxy S20, Galaxy S20 Plus, and Galaxy S20 Ultra, for example, all ship with a 25-watt power brick out of the box. So even though the Ultra boasts a maximum charging speed of 45 watts, you'll need to buy a charger separately in order to enjoy the feature. The vanilla S20 and S20 Plus will only get up to 25 watts of power.
A camera that can outshoot the Galaxy
Regardless of price, the camera is a big highlight of many smartphones these days. The Huawei Nova 7 SE 5G is no exception and packs four cameras on the back, with a 64-megapixel primary sensor as well as dedicated lenses for ultra wide, macro, and portrait. The main camera sensor, in particular, is the highest we've seen in a Huawei phone and gives sharp still images, even in poor lighting.
However, we've seen other midrange handsets sporting a similar sensor size, so a 64-megapixel camera is really nothing new or surprising in the category. Where the Nova 7 SE shines, though, is in taking low-light pictures using Huawei's famed Night mode.
Huawei Nova 7 SE 5G vs Samsung Galaxy S20 Ultra
Now, compare the two pictures above; one was shot on the Nova 7 SE 5G (the one with a watermark, obviously) while the other was taken with Samsung's Galaxy S20 Ultra, which costs more than thrice as much. We think the Nova did a better job in the setting than Samsung's pricey Galaxy — and that's ridiculous considering the price difference between the two. You'd think given the S20 Ultra's 108-megapixel sensor, it would easily outclass the Nova 7 SE in a point-and-shoot contest, but no.
So, is the Huawei Nova 7 SE 5G 'expensive'?
Going back to our initial question, our answer is: No, the Huawei Nova 7 SE 5G is not expensive for what it is. If anything, it's incredible value for money considering everything it offers. It looks and feels more expensive than its actual retail price, and the screen provides a near-borderless view.
The Kirin 820 inside makes the new Nova the most affordable 5G-capable handset on the local market and is powerful enough to run everything you can throw at it. The rear quad cameras are no slouch either.
The Huawei Nova 7 SE 5G justifies its price with powerhouse components and real-world performance that punches above its segment
Expensive? Well, it's not as affordable as some other phones in Huawei's stable, but it certainly justifies its price with powerhouse components and real-world performance that punches above its segment.
There is nothing under P20,000 ($404) that outperforms it, even if we include the likes of the Xiaomi Mi Note 10 Lite and Realme 6 Pro that are aimed squarely at budget-conscious shoppers looking for a premium experience in the midrange. The Xiaomi phone officially costs P18,990 ($383) for the 8GB/128GB storage variant, and the Realme unit will run you P16,990 ($343) for the same configuration.
---