The OPPO Reno series has always been an experimental line. OPPO continues to tweak its design to offer an eye-catching device combined with a compelling feature set.

As with other Reno handsets, the OPPO Reno 4's camera capabilites are the star. Its particular focus is on its cameras' portrait, night, and video features, giving mobile photographers and videographers more tools to create the best pictures and videos with ease.
But, of course, the Reno 4 isn't just banking on its photo features. It also has the potential to be a powerful smartphone. And that's what we want to explore in this full review of the OPPO Reno 4 below.
Price and availability
Unfortunately, we aren't getting the 5G version of the OPPO Reno 4. The local model is the 4G option, which is priced at P18,990 (around $390). Available in Space Black and Galactic Blue, it will be up for preorder starting tomorrow, August 15, until the 21st, with availability scheduled for August 22.
Each preorder comes with a free pair of wireless Rock Space earphones worth P2,899 ($59).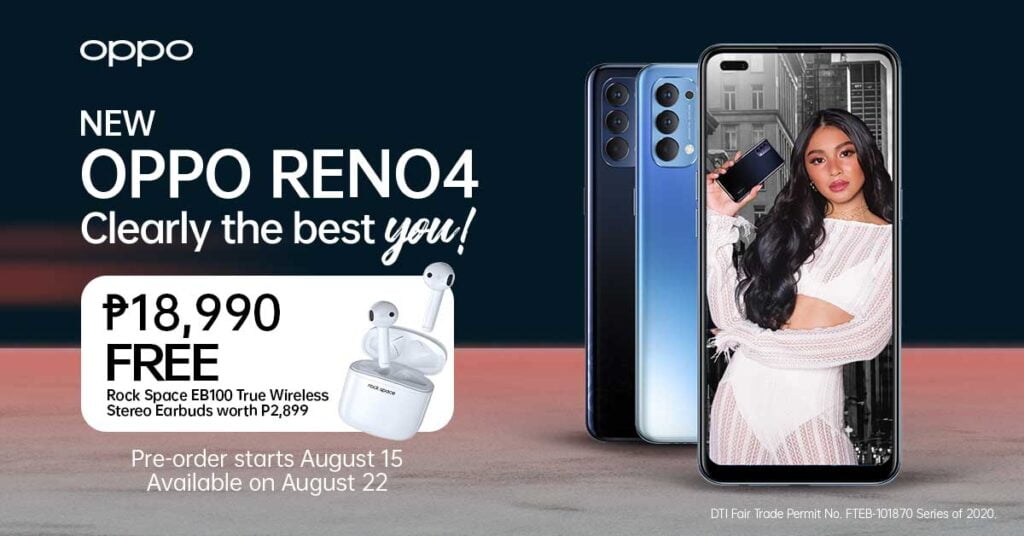 Hardware
OPPO tries out a different look for the Reno 4, which is something we appreciate in a sea of lookalike devices. It's not too far out there to be too polarizing, but it's trendy enough to attract style-conscious users.
We already gave you a glimpse of the Space Black variant we're testing, which has a black finish with a slight blue tint. A 3D pattern on the bottom half reveals a stylized version of the OPPO logo we haven't seen before. It's a subtle design element that only shows up when light bounces off the surface. It's a bit of a smudge-magnet and slightly slippery, though, so you might want to use the included silicone case.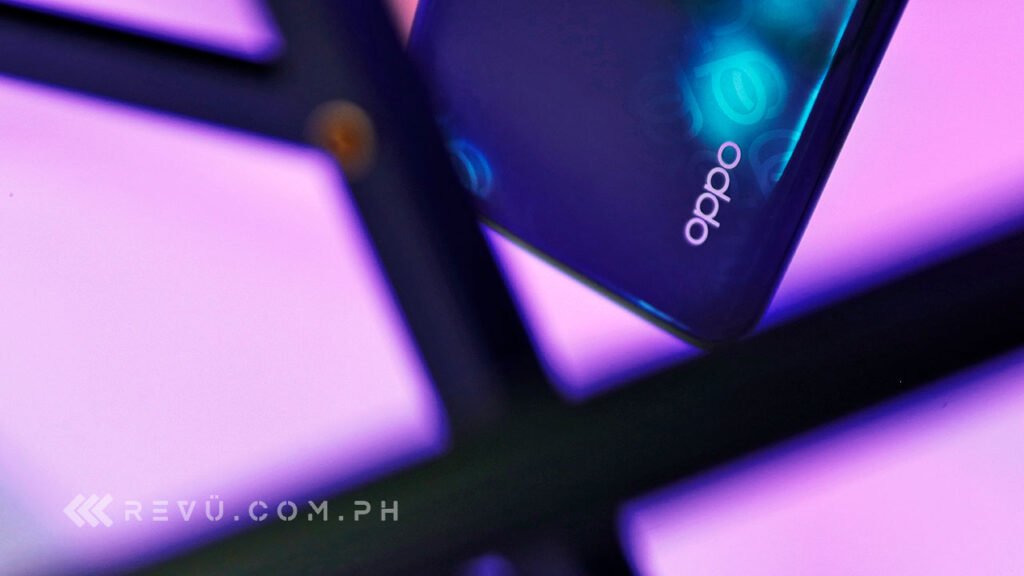 The Galactic Blue variant doesn't have that same design element. In its place, OPPO applies a new technique it's calling the "Reno Glow," which offers a "matte finish with subtle glittering details." You can't go wrong with either option.
Otherwise, the OPPO Reno 4's rear panel remains clean with just its logo on the bottom right and a rectangular camera module on the top left that houses bigger lenses for the main, ultra-wide, and portrait cameras. The company reveals a new vertical design for bigger lenses on this unit. The camera module design reminds us of the Apple iPhone 11 and the Samsung Galaxy Note 20.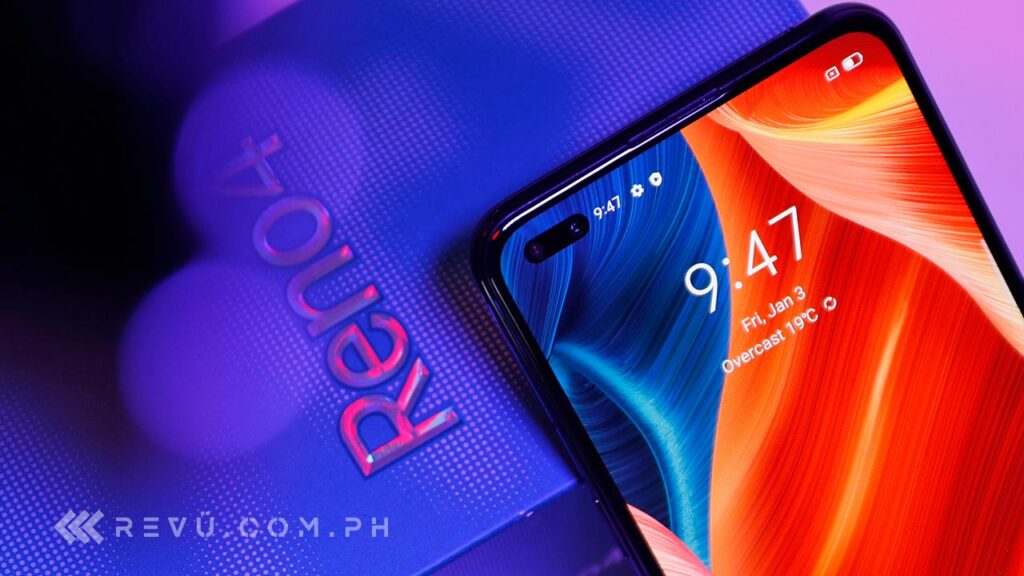 The flat AMOLED screen in front has thin bezels surrounding it, with the chin portion slightly thicker than the rest. The only other interruption is a surprisingly small, pill-shaped hole for the front cameras on the top-left corner. It's out of the way enough that we don't really pay attention to it.
The display hides a relatively responsive fingerprint sensor underneath. And if you want the face-unlock option, it's available here, too.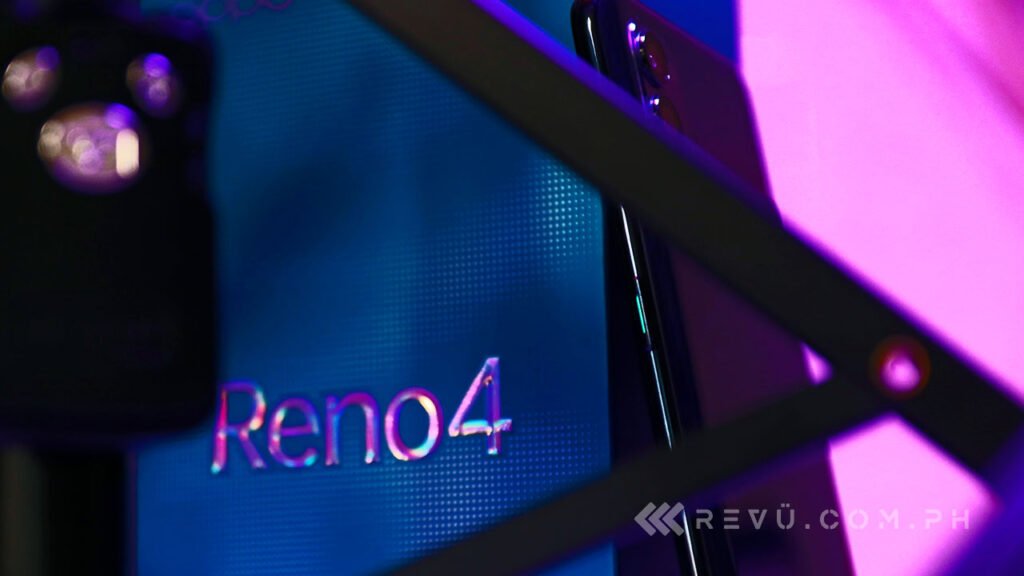 The right side of the phone has the power button, while the left side has the volume rocker and a triple-card tray for two SIMs and a microSD card. The bottom has a headphone jack and a USB-C port for charging and file transfer. There is also a single speaker grille there. And while it doesn't have the loudest smartphone speaker we've heard, it does provide ample, full sound. Placing it at the bottom means you will accidentally cover it while playing, though.
The Reno 4 is designed to be thin and light. It comes in at just 7.7mm thick and weighs 165g. It feels sturdy, but it's so slim that it's easy to handle. Even with our reviewer's small-ish hands, this Reno works as a one-handed smartphone. And it's comfortable enough for extended use.
What's in the box
OPPO Reno 4
USB-C cable
Wall charger
Earphones
SIM-eject tool
User guide
Warranty card
Screen
The OPPO Reno 4 has a sizable 6.4-inch AMOLED display with an FHD+ 2,400 x 1,080 resolution, 90.7% screen-to-body ratio, and 20:9 aspect ratio. It's a large panel you can enjoy watching content or reading text on.
It isn't the brightest screen we've used, so you'll struggle a bit under direct sunlight. But with how long we're spending indoors these days, it might not be much of an issue. Viewing angles and color reproduction are decent on this phone. Plus, OPPO offers options to tweak settings like screen-color temperature and screen color mode to suit your taste.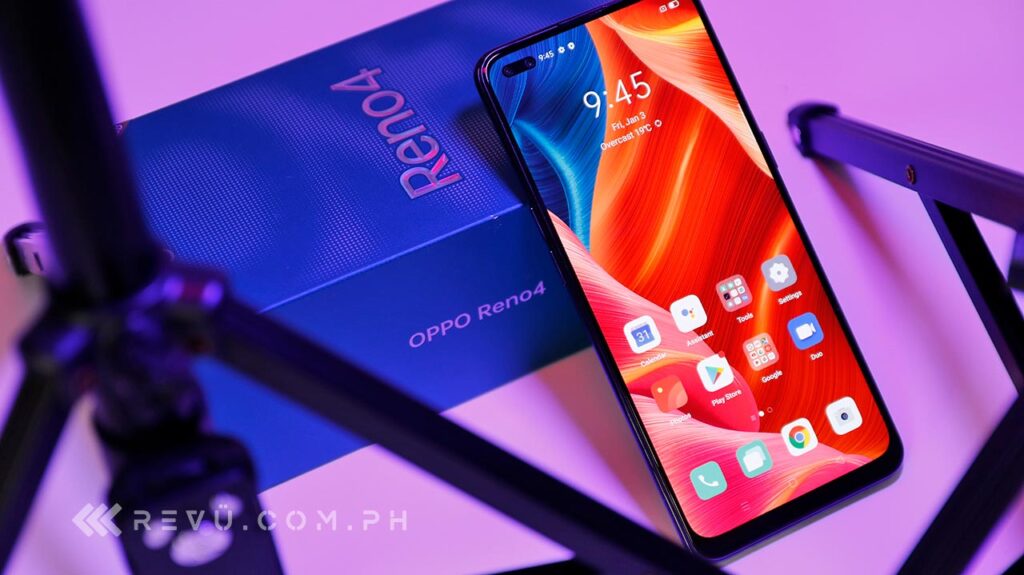 There are also other options like an always-on display, system-wide dark mode, and Eye Comfort. The last reduces the blue light emitted by the screen to help prevent eye strain.
The Reno 4 also comes equipped with the OPPO Screen Image Engine Ultra Clear Vision Effect. OSIE Vision Effect is the company's independently developed visual-optimization technoloy to improve video quality and visual effect for apps like Instagram and TikTok.
If you're big on better quality videos and use Netflix, then you'll be pleased to hear that the OPPO Reno 4 supports 1080p streaming on the service. And with Dolby Atmos, you're given an approximate cinematic experience with or without earphones.
Camera
The Reno 4 is a video-centric phone, but that's not all it offers. With five cameras, it gives you tons of flexibility for photography, too.
There are four cameras on the back and one in front. The rear shooters include a 48-megapixel Sony IMX586 primary, 8-megapixel ultra-wide-angle, 2-megapixel macro, and 2-megapixel mono lenses. Meanwhile, the selfie camera is a 32-megapixel Sony IMX616 sensor.
Photos shot in Auto are clear and pretty color-accurate in good lighting. It will wash out the highlights when it's too bright, but that's to be expected. If you want an instant color boost, the Reno 4 offers Dazzle Color mode. It might oversaturate pictures sometimes, so make sure to check if you're happy with the final product.
[sciba leftsrc="https://www.revu.com.ph/wp-content/uploads/2020/08/OPPO-Reno-4-sample-picture-in-review-by-Revu-Philippines_macro.jpg" leftlabel="Macro" rightsrc="https://www.revu.com.ph/wp-content/uploads/2020/08/OPPO-Reno-4-sample-picture-in-review-by-Revu-Philippines_macro-dazzle.jpg" rightlabel="Macro with Dazzle Color enabled" mode="horizontal" width=""]

Macro vs Macro with Dazzle Color feature enabled
When you want more detail, the OPPO Reno 4 can produce images in full 48-megapixel resolution and in Pro Mode, in 108-megapixel resolution. (By default, the Reno 4 takes 12.1-megapixel photos.)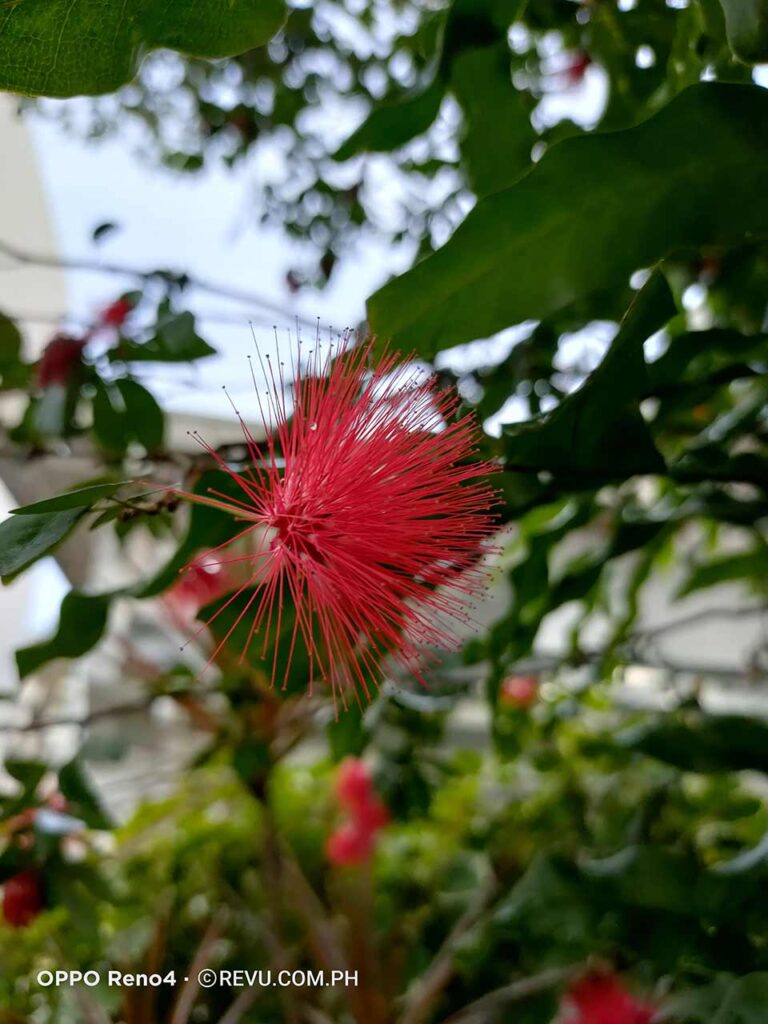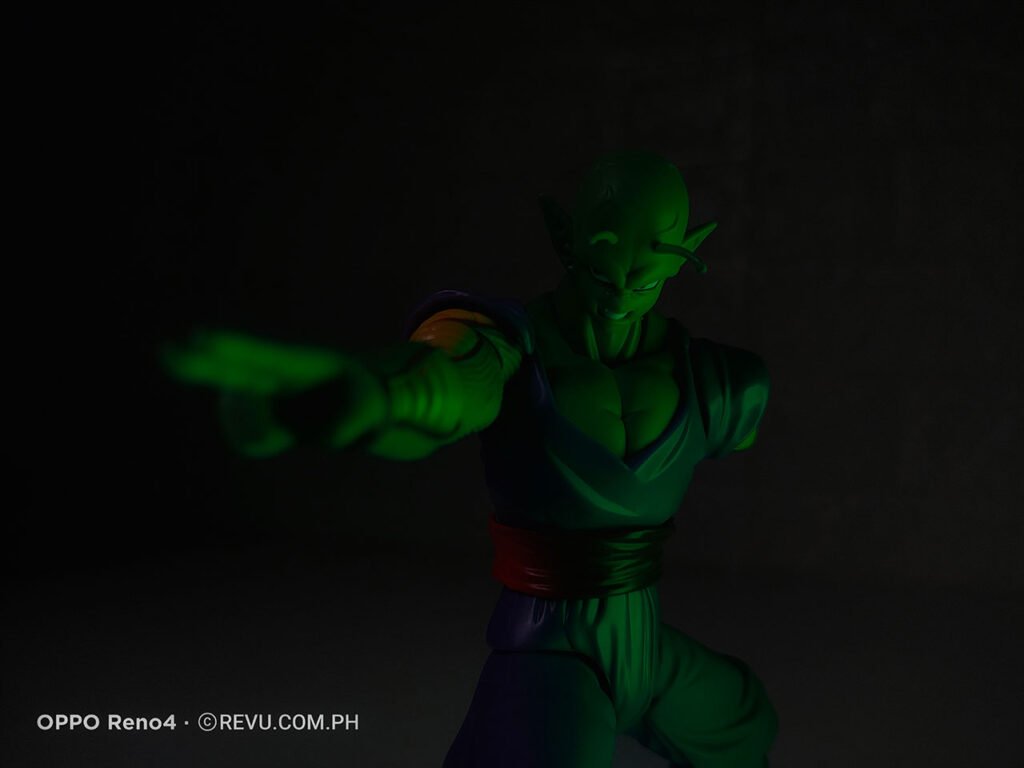 As expected, your selfies will come out flattering, bright, and have a good amount of detail. The unit offers different beautification features for those who want to enhance their appearance. The ultra-wide lens works best in daylight or well-lit environments. You get that bit of a fish-eye effect, but OPPO manages to tame that a bit. Its macro capabilities are decent, giving your closeups as much detail and clarity as possible.
Selfies captured on the OPPO Reno 4: auto, auto: AI Beauty, portrait, portrait, AI Beauty
[sciba leftsrc="https://www.revu.com.ph/wp-content/uploads/2020/08/OPPO-Reno-4-sample-picture-in-review-by-Revu-Philippines_auto-5.jpg" leftlabel="Auto" rightsrc="https://www.revu.com.ph/wp-content/uploads/2020/08/OPPO-Reno-4-sample-picture-in-review-by-Revu-Philippines_ultra-wide-1.jpg" rightlabel="Ultra-wide" mode="horizontal" width=""]

Auto vs Ultra-wide

Toy-photography samples. Auto Mode: 1x, 2x, 5x; Pro Mode: 2x, 5x
Other pictures shot in Auto Mode on the OPPO Reno 4
Now, if you find yourself in dark rooms or areas with less lighting, the Reno 4 has a Night Mode, which is a staple camera feature from OPPO. And the company executes this feature well. It's available for both the rear and front cameras.
The back cameras have Ultra Dark Mode, which is triggered automatically when it detects you're in a dimly lit area. It impressively gets a lot of detail, even when there's just one lux of light. We tried it out in a dark backyard and a somewhat-lit driveway, and it could capture more details. It's advisable to use a tripod in Night Mode. But if you have really steady hands, you can still get some decent shots with this handset.
OPPO Reno 4 vs Samsung Galaxy S20 Ultra: A comparison of night shots. Auto and night modes
The front camera's Night Mode needs a bit more light to get a usable shot, but we like that it's a tool in our arsenal. Photos come out grainier here, but there's a definite improvement from using Auto mode in the dark.
OPPO builds on the Night Mode feature with a new Night Flare Portrait Mode. It's not something we were able to test, but what it does is combine Low Light HDR and bokeh algorithms to create night portraits that put the focus on the subject and blur light spots in the background.
Another compelling Portrait Mode option is the new AI Color Portrait, which highlights the subject with just one tap and mutes the background color into black and white. It's available for both the rear and front cameras. It works well and quickly identifies the subject to help you create some eye-catching photos.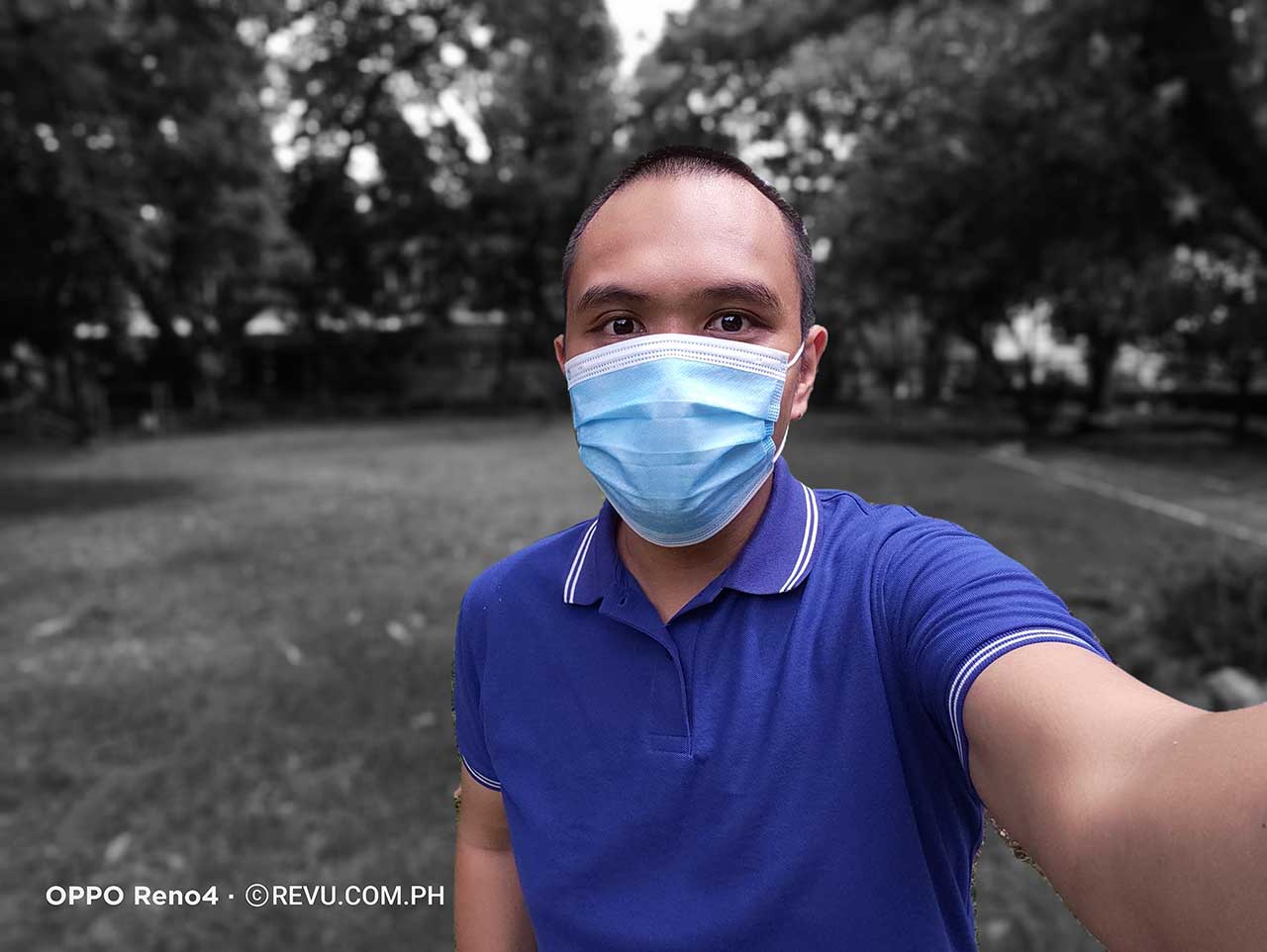 AI Color Portrait is also available for videos to help your subject stand out from the background. It works well even when you move the camera around. It easily identifies your subject and isolates them from the environment.
Related to this feature is a new Monochrome Video Mode, where you can choose to highlight red, blue, or green objects in a video. It's another fun video mode we enjoyed playing around with, which could stretch your creativity a bit more.
On top of those modes, the OPPO Reno 4 also offers a Slow-Motion feature. Slo-Mo lets you shoot up to 960 frames per second. It even provides motion detection for 960fps and 480fps modes, which allows the handset to start recording when a moving subject is caught in the frame. Slow-motion video recording is also available in 240fps and 120fps.
Compilation video of raw clips shots on the OPPO Reno 4
The Reno 4 can record videos up to 4K resolution at 30fps. It can even utilize the ultra-wide-angle lens. Video quality is excellent. Even when you're moving around, there seems to be some stabilization in play.
But if you want smoother videos but don't have a gimbal on hand, you can enable Ultra Steady Video modes. There's the Ultra Steady Video Pro mode, which offers a wider-angled shot than the regular Ultra Steady Video mode. It's a fun feature to play around with, especially if you like recording physical activity.
Its use extends to the selfie camera. For the first time, the OPPO Reno 4 brings Electronic Image Stabilization to the front-facing shooter, which will be perfect for those who vlog while walking or moving around. It works with most of the filters as well as with bokeh and beautification modes.
If you want to do quick video editing, the video-editing app Soloop is preloaded into the new ColorOS 7.2 version available on the Reno 4.
Performance
The OPPO Reno 4 is powered by a Qualcomm Snapdragon 720G chipset with 8GB of RAM and 128GB of expandable storage. It isn't our first encounter with this midrange processor. And it still holds up as well as it did when we tested the Realme 6 Pro and the Redmi Note 9 Pro. Made on an 8nm node, it allows the processor to reach higher clock speeds while avoiding thermal throttling. And the Reno 4 can take advantage of that.
It ran smoothly throughout our test and achieved passable benchmark scores. There were no crashes, no concerning heating issues, or any of the sort. It worked like a well-oiled machine, whether used for watching videos, listening to music, conducting video chats, or working.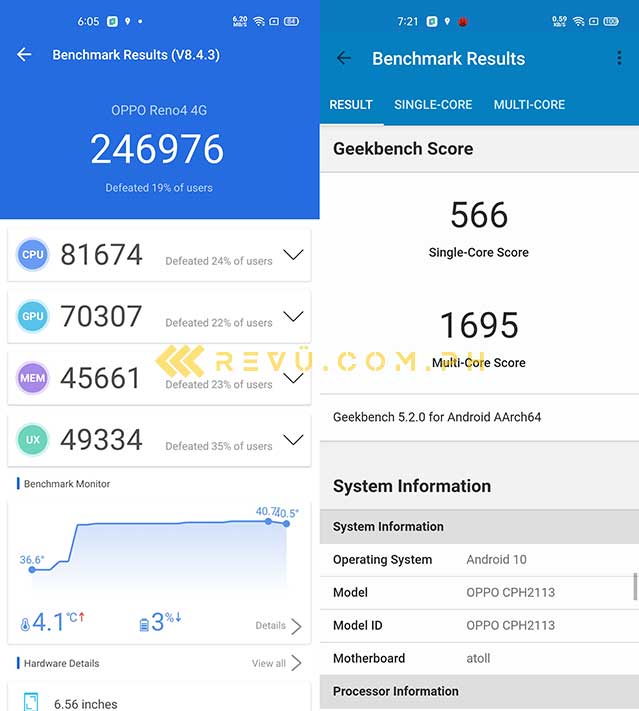 The Reno 4 can handle even graphics-intensive games. We played Asphalt 9 and Marvel Super War in their highest settings without any problems. We also played copious amounts of Cooking Battle in 60fps mode, and it ran buttery smooth.
OPPO throws in some new features to help differentiate this model (and its other new handsets) from the competition. This Reno comes with new artificial intelligence-enhanced features using the latest smart sensor in front of the phone.
One of the features that take advantage of this sensor is Air Gestures. It's not a new idea. We've seen other manufacturers attempt touch-free gestures. And as well as it worked on different devices, that's pretty much the same case here. In concept, it makes it easy to scroll Facebook, YouTube, and Instagram (the apps the feature works on) or to answer a call when your hands are otherwise preoccupied. But it's simply easier to just pick up the phone than to use it.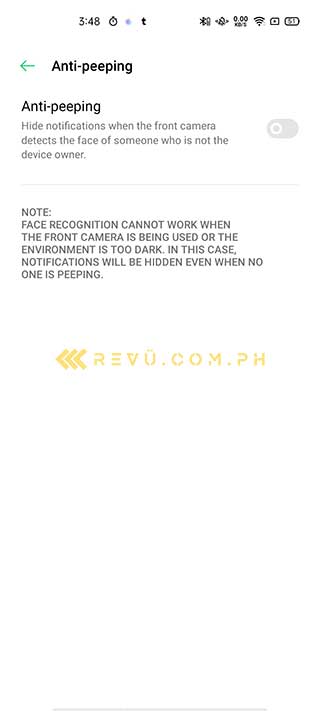 The AI smart sensor also works for a feature OPPO introduces as Smart Spying Prevention, which is like what Huawei introduced last year. It's meant to stop other people from peeking at the notifications on your screen. It's supposed to use a smart-recognition algorithm that automatically detects if someone else is looking at your phone. It will then hide detailed content about your notification. It's useful for commutes and being out in public, even though we aren't really doing a lot of that lately.
The sensor can also detect the position of your face, rotate the screen accordingly, and keep the display from dimming as long as you're looking at it.
With ColorOS 7.2, the OPPO Reno 4 can take advantage of some features that further optimize its performance. It has functions like AI app preloading and an anti-fragmentation engine.
As the name suggests, AI app preloading will predict and then preload what app you might use next so it will load faster and more efficiently. The great thing about this feature is it won't affect battery consumption.
As for the anti-fragmentation engine, it's designed to optimize the fragmentation of physical and virtual memory to ensure you get a smooth experience with no lag, even after using the Reno 4 for a long time.
There are still some preloaded apps on the Reno 4 that you may not rather have on there, but at least you can remove these. ColorOS 7.2 is also a relatively clean interpretation of Android 10, which offers an app drawer for those like us who still want to hide away the many apps they use.
There are two notable, preinstalled OPPO apps we enjoyed using. One is the OPPO Relax app, which offers different comforting nature sounds and music to help relax your mind. Some even take advantage of Dolby Atmos tech for better audio. You can use the app to help you relax before sleep, provide background sounds while you work, or use them for breathing exercises and during meditation.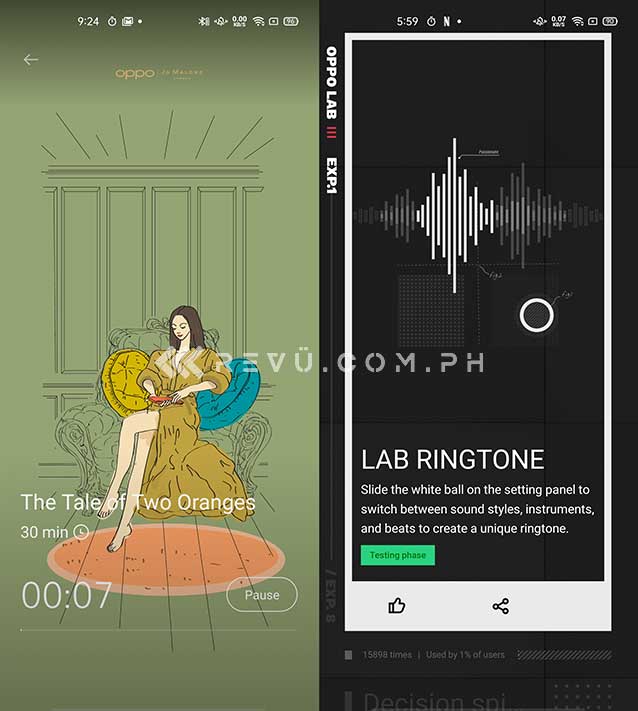 The other is the new OPPO Lab, which launched with ColorOS 7.2. It's the company's experimental platform where you can experience fresh, fun features. You can even upvote and downvote the features to let the OPPO product team know you they like.
Right now, the app showcases Lab Ringtone and Decision Spinner. Lab Ringtone lets you create unique ringtones or notifications sounds for up to 10 different personalized tones. Remember those days when you would go out of your way to create your ringtone? This feature feels like an ode to those days. Decision Spinner can help indecisive people make choices using a personalized decision roulette.
We're expecting the company to follow through and add more features to test in OPPO Lab because it's a straightforward way to let them know what features are worth your time.
Battery
Battery performance is something we were confident the OPPO Reno 4 would do well. And this handset didn't disappoint.
During our regular use — which involved music streaming, time spent on social media, light work, and some gaming — we consistently got around 12 to 13 hours. It isn't far off the 14 hours 57 minutes we got off our PCMark battery test.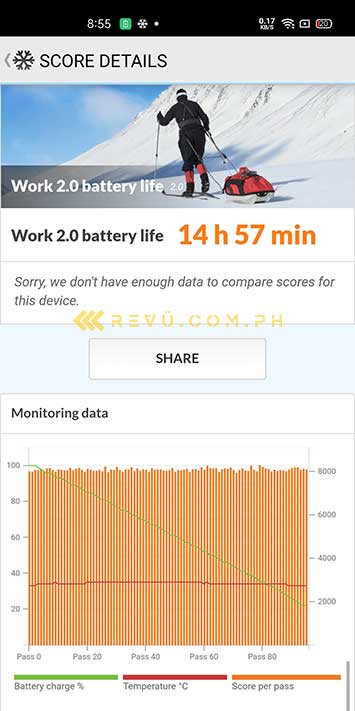 OPPO equips the Reno 4 with a few power-saving modes to help you get more out of the handset before you need to charge it. Using Super Power Saving Mode, you're promised an hour and a half of WhatsApp chatting with just 5% of the battery or over an hour on a phone call. There's Super Nighttime Standby mode or Sleep Standby Optimization that makes sure the phone only uses around 2% of the battery while you're asleep.
And when you do need to charge, it doesn't take that long. With USB-C and VOOC 4.0 support of up to 30W charging, you can charge the 4,015mAh battery from 0% to 100% in under an hour. True to OPPO's claims, it's possible to get around 50% in just 20 minutes of charging, which is a pretty impressive charging time.
Final thoughts
While it's geared towards a younger, content-focused user, the OPPO Reno 4 ticks the right boxes we've come to expect from the series and the company itself. It offers a broader range of photo and video features and pairs that with an eye-catching design, a decent overall performance, and a long-lasting battery. There's not much you can fault with it, making it a worthy investment (if you can afford it).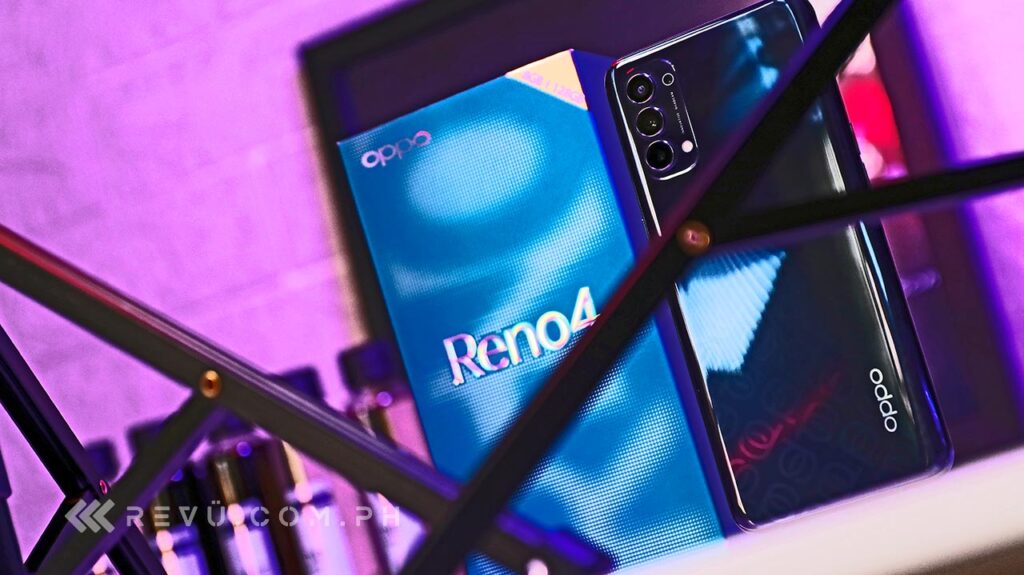 OPPO Reno 4 (global variant) specs
6.4-inch AMOLED display with punch hole, 2,400 x 1,080 resolution (20:9)
Qualcomm Snapdragon 720G processor
8GB RAM
128GB expandable storage
Quad 48-megapixel, f/1.7 (main); 8-megapixel, f/2.2 (ultra-wide); 2-megapixel, f/2.4 (mono), 2-megapixel, f/2.4 (macro) rear cameras
32-megapixel, f/2.4 front camera
Fingerprint reader (under display)
4,015mAh battery with 30-watt fast charging
ColorOS 7.2 based on Android 10
Colors: Galactic Blue and Space Black
---