Huawei is establishing itself as a strong contender in the personal-computer category.
(Update, October 20: Here are the top features of the Huawei MateBook 14 2020 with Ryzen 5 4600H!)

(Update, October 9: And it's launched in the Philippines! See our unboxing of the laptop here.)
In the Philippines, it started with the MateBook 13, which debuted locally in April 2019. The technology giant has since released many variations of its MateBooks. Come October 9th, at 4 p.m., it will launch another one — the Huawei MateBook 14 2020 Ryzen Edition — as teased by the brand on its official Facebook page.
Recall that the laptop was first announced in China in August. And it was unveiled on the global stage at the Huawei Seamless AI Life New Products event in September.
SEE ALSO: This is the Huawei MatePad T 10s tablet, up for preorder till Oct 9
Why are we excited about this Huawei MateBook 14? Because it is the first ultra-slim laptop to be powered by AMD Ryzen 4000 H-series chips — a Ryzen 5 4600H and a Ryzen 7 4800H, specifically, which are built on the same Zen 2 7nm process. What's more, it boasts a 2K FullView Display and supports smart features such as multi-screen collaboration.
We're guessing both Huawei MateBook 14 2020 Ryzen Edition models will become available in the Philippines. Just so you know, these are their prices in China:
Ryzen 5 4600H with 16GB RAM/512GB SSD: ¥4,999 (around P35,154 or $724 converted)
Ryzen 7 4800H with 16GB RAM/512GB SSD: ¥5,699 (P40,076 or $825)
Hopefully, Huawei will sell the other products that it launched worldwide in September here. So far, we already have the Huawei Watch Fit. Stay tuned.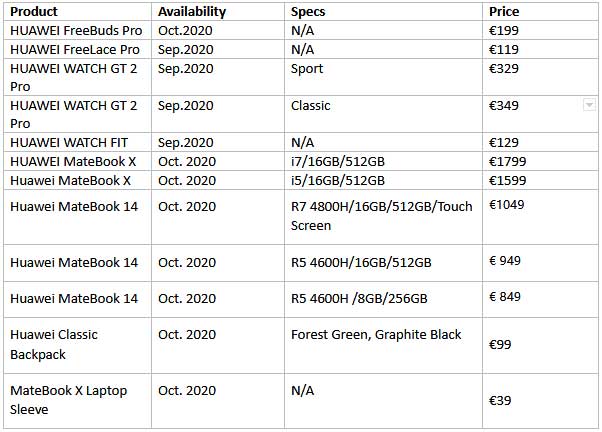 Huawei MateBook 14 2020 Ryzen Edition specs
14-inch IPS-LCD display (touch/non-touch), 2,160 x 1,440 resolution (200 ppi, 3:2 aspect ratio)
Fingerprint reader (power button-mounted)
AMD Ryzen 5 4600H/Ryzen 7 4800H processor
Radeon RX Vega 6/RX Vega 7
16GB LPDDR4 RAM
512GB SSD
USB Type-C (1), USB 2.0 (2), HDMI port, and microphone + headphone jack
720p webcam
Dual speakers
Quad microphones
56Wh battery
Microsoft Windows 10 Home OS
---