Be it in the flagship range or the budget market, competition between smartphone OEMs is fiercer than ever. That's good news for us consumers, because we get better products at more competitive prices out of it.

The Huawei Y7a, Samsung Galaxy A21s, and Realme 6i are three popular, similarly priced options in the local bargain segment. So we put them to the test to see which phone would be the right fit for your smartphone needs without emptying your wallet.
All three phones are available in the Philippines online and offline, with the Huawei Y7a being the most recent addition to the company's local smartphone roster. There is only one variant of the Y7a in stores, and it comes with 4GB RAM and 128GB of native storage. The variant of the Realme 6i we tested, on the other hand, offers 4GB RAM and 128GB storage, while the Samsung A21s has a 6GB/64GB memory configuration.
Screen
Screen is an all-important spec, as it affects almost every smartphone function — from picture quality, camera experience, to how smooth the phone is in daily tasks. In terms of technical features and actual image output, the winner here is clear.
Not only does the Huawei Y7a's screen bigger at 6.67 inches, it's also sharper, coming in with a resolution of 2,400 x 1080 that translates to 395 dots per inch. By comparison, the Samsung A21s and Realme 6i share a 6.5-inch panel with a below-par 720p resolution and a pixel density of around 270 pixels per inch.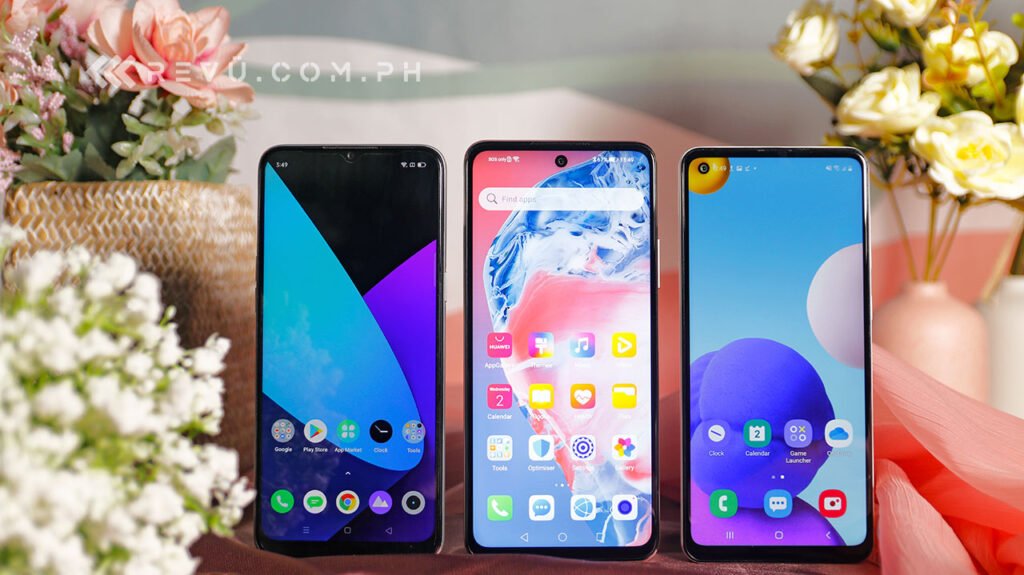 The aspect ratio across all three phones is 20:9, which is optimal for watching wide-screen movies and scrolling documents as well as web pages.
However, a bigger and denser display naturally brings a more pleasant viewing and gaming experience especially in landscape mode where the phone is titled horizontally. The Huawei Y7a's larger screen makes it better suited for watching videos and playing graphically intensive mobile games, while providing more room for your fingers to move around the panel.
Games that rely heavily on touchscreen controls, such as Mobile Legends: Bang Bang, League of Legends: Wild Rift, and Call of Duty: Mobile, greatly benefit from a smartphone that offers more screen real estate like the Y7a. A higher-resolution panel also makes for a comfortable browsing and typing experience, as text and images appear visually sharper and there's more space to accommodate a larger onscreen keyboard.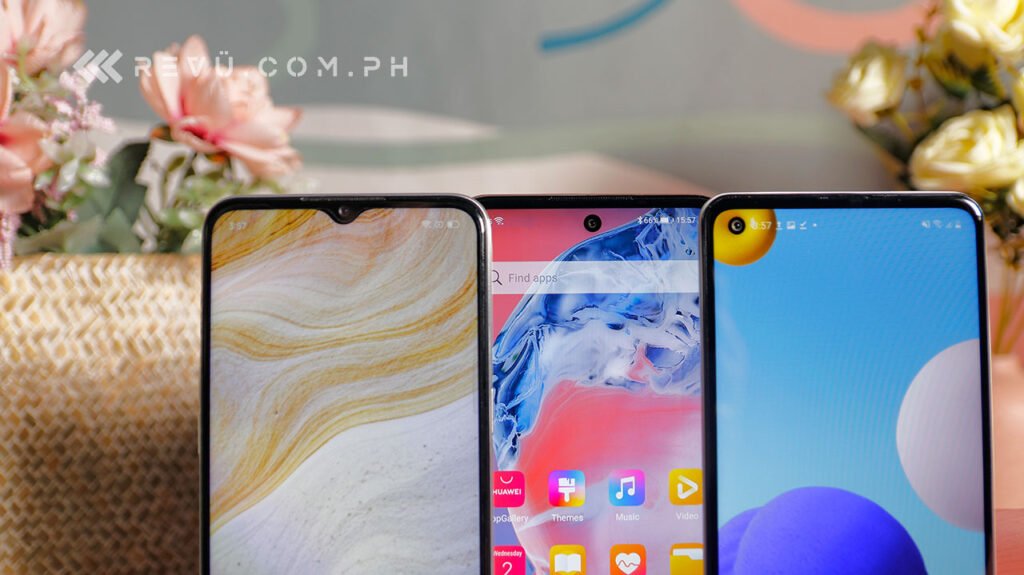 Additionally, the Huawei Y7a flaunts slimmers bezels and a smaller cutout where the front-facing camera sits, allowing for an immersive indoor-entertainment and gaming experience. All this is not to say that the Samsung A21s and Realme 6i are bad for media and mobile games; they're actually decent, if noticeably lacking in resolution. But their smaller displays with larger bezels and lower native resolution result in a less desirable way of enjoying content.
Processor
All three devices have octa-core chips that deliver decent performance and enough memory for everyday tasks and a passable multitasking experience. If you're after raw computing power, the Realme 6i with its MediaTek Helio G80 processor and better Cortex-A75 and A55 cores is the phone that impresses the most, while the Samsung A21s' Exynos 850 is the slowest but most-efficient performer, owing to its smaller 8nm fabrication process.
The Huawei Y7a checks out as a middle-of-the-pack offering both in terms of benchmarks and real-world use. It uses a HiSilicon Kirin 710A, which has a quad-core graphics chip that supports Huawei's GPU Turbo feature to ensure a smooth gaming experience on the smartphone's sizable display.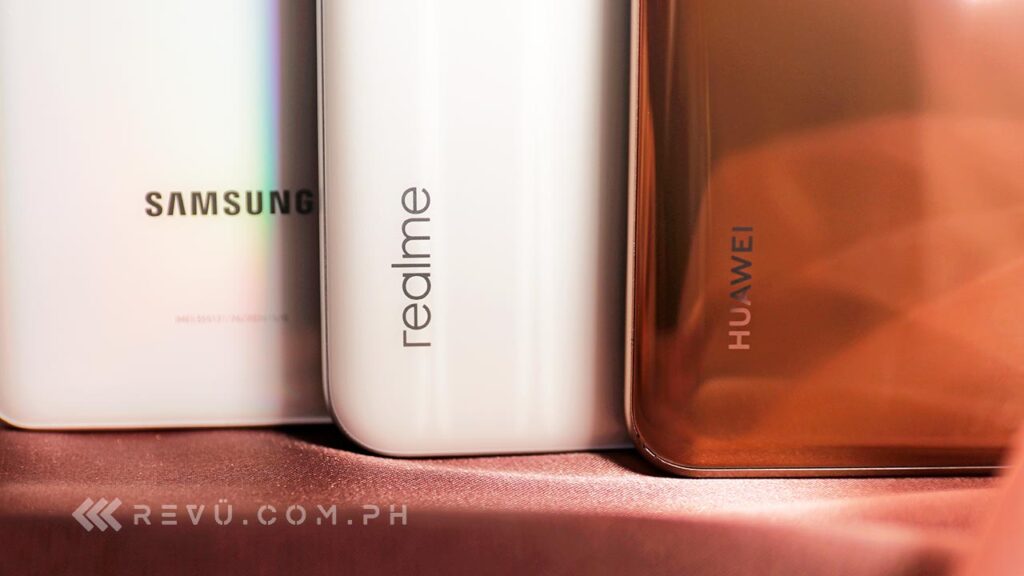 We tested a couple of resource-heavy games on all three devices and saw reasonably smooth frame rates at medium graphics settings. The Realme G80 provides more upside if you're into better-looking textures and effects, but the overall gaming experience it can deliver isn't significantly better than what the competition brings to the table.
Neither phone heats up to the point where it becomes uncomfortable to hold while running intensive apps or during long gaming sessions. Obviously, it helps that they have all-plastic casings, as opposed to sporting a glass rear panel, which will likely generate more heat at the back.
Camera
Many smartphone users give prominence to camera quality, especially since they often use their phone as their main and only camera. If this particular spec is important to you, you'll be happy to know that the Huawei Y7a, Samsung Galaxy A21s, and Realme 6i are equipped with a quad-camera setup featuring a 48-megapixel primary sensor and dedicated lenses for ultra-wide, macro, and portrait shots.
The Realme includes a mono sensor, though, as opposed to sporting a depth sensor like the one found in the Y7a and Galaxy A21s. All three share an 8-megapixel ultra-wide camera, plus the option to shoot up to 1080p video. The camera interface is largely similar across the different models, although the presence of quick toggles for zoom and HDR make the 6i a bit more intuitive for camera work.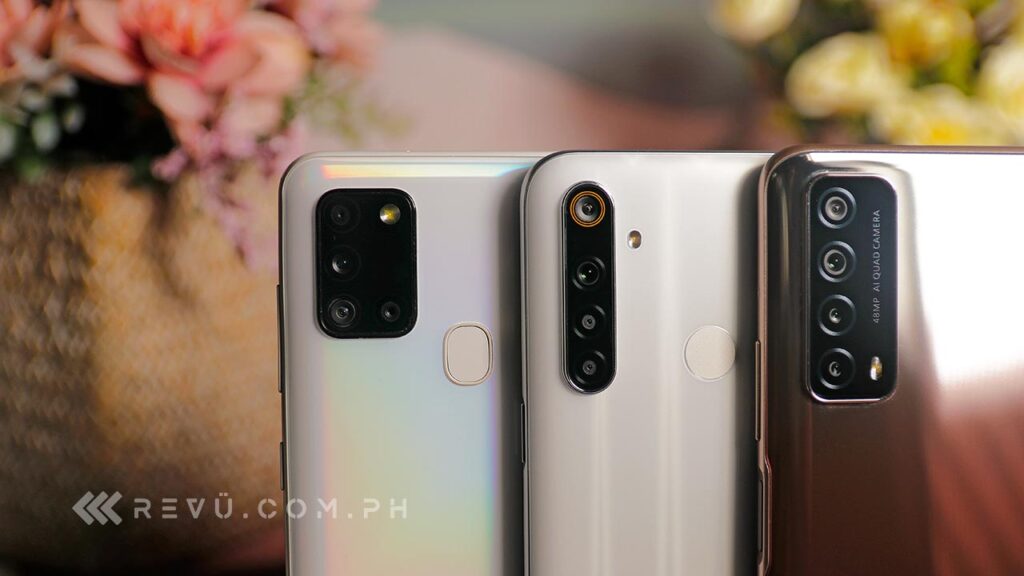 Night mode is present on the Huawei Y7a and Realme 6i, but, unfortunately, isn't available on the Samsung Galaxy A21s. This is hardly surprising, as both the higher-end Galaxy A31 and Galaxy A41 lack a dedicated shooting mode for low light as well. Another glaring omission on the Samsung is 60fps video recording at 720p and 1080p resolutions. There's also no 48MP mode on the A21s, even when shooting using the Pro setting in the camera app.
Using the three phones, we have had zero problems with daytime shots in both 1x and ultra-wide settings. Most of the pictures turned out great — vibrant and detailed, with well-exposed scenes.
Portraits are decent, too, and we found the Realme 6i to be slightly faster at locking onto a subject's face than the Y7a and A21s. We're not so sure macro shots look better with the 2-megapixel macro sensor engaged. We think Huawei's Aperture mode in the camera app does a much better job when it comes to taking dramatic pictures of small objects.
The first three sets are all the respective best night shots captured on the Realme 6i, Huawei Y7a, and Samsung Galaxy A21s, in that order. Unfortunately, Night mode isn't available on the Galaxy
But where the Y7a does its best work is in low light, thanks to an impressive Night mode that not only manages to increase brightness by a lot, but also restores blown-out areas and reduces noise levels to make pictures look sharper overall. If taking pictures is your priority and more of your thing, we think Huawei's latest entry into the Y lineup would more than meet your needs for less than what the other phones featured here are selling for.
Battery and charging
All three handsets pack a larger-than-usual 5,000mAh battery and can last up to two days — or maybe even a bit more with light usage — on a single charge. Suffice to say, you won't have problems with battery life regardless of which model you choose, although it should be pointed out that the Exynos 850 in the Samsung A21s is designed to deliver better power efficiency compared with the HiSilicon Kirin 710A and MediaTek Helio G80, courtesy of its 8nm manufacturing process.
The Huawei Y7a, Samsung Galaxy A21s, and Realme 6i have a modern USB-C port for fast charging and file transfer, but it's the Y series phone that enables the quickest wired charging of the three. It supports Huawei's SuperCharge standard up to 22.5 watts using the included power brick. By contrast, the Samsung A21s maxes out at 15 watts, while the Realme 6i comes with 18-watt charging. The Y7a is the only device among the three that has the SuperCharge feature.
The Y7a, which supports Huawei's SuperCharge standard up to 22.5 watts using the included power brick, enables the fastest wired charging of the three
All three devices, owing to higher charging voltages and currents, can charge from flat to full capacity in under two hours, but we noticed that the Y7a managed to get to 100% in less time because of 22.5-watt fast charging.
SuperCharge on the Y7a allows for two hours of video playback after a 10-minute charge, while the battery is rated for 38.2 hours of 4G voice calls; 16.6 hours of video streaming; and 12 hours of web browsing over 4G. As a bonus, we're pleased to report that the device doesn't get too hot after charging, so you can use it immediately when you need it.
Design
We don't usually see a lot of attractive options at this price range, but these phones are exceptions rather than the rule. The Blush Gold variant of the Huawei Y7a we have looks particularly exceptional and premium, a rectangular stunner from all angles.
The Realme 6i has a nice design, too, and the matte finish on the back picks up fewer fingerprints and smudges. Samsung's A21s features a rainbow-like finish that makes an otherwise uninspired design stand out, especially up close.
Design is subjective, of course, but you really can't deny that the Y7a in a pink-gold gradient looks grand and opulent, unlike most other phones in the category. The camera module of the Y7a also has a bit more polish with its dual-tone design and subtle engraving on the side. It looks like the newer, more premium Nova phones.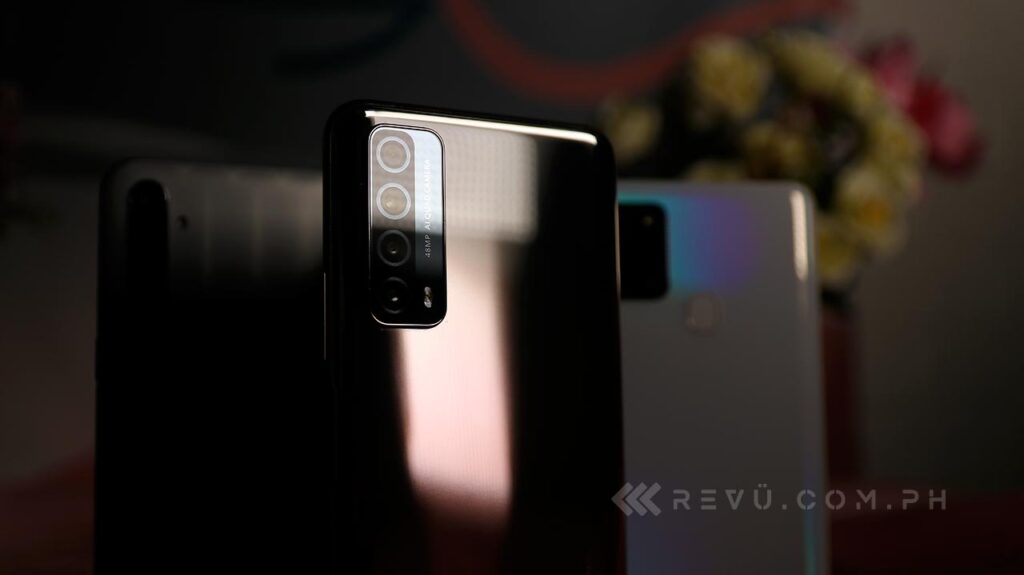 Another thing we like about the Huawei Y7a is the side-mounted fingerprint reader built into the power/wake button. It's more accessible and easier to reach for us right-handed users. It performs reliably in any lighting condition (unlike face unlock) and is quick to unlock the handset as well. Both the Galaxy A21s and 6i are equipped with a rear-mounted fingerprint scanner that works well, although the placement does make things feel a little awkward at times.
All three phones have a single speaker and a headphone jack for good measure. However, do note that the Realme 6i doesn't ship with a wired headset, so you'll have to purchase one separately, or use a pair you already own.
And the winner is?
All things considered, we think the Huawei Y7a wins this comparison, in large part thanks to its bigger and better screen, superior low-light image quality, more attractive design with smaller bezels up front, and faster charging. The fact that it ships with wired earphones, something the Realme 6i lacks, is welcome, too.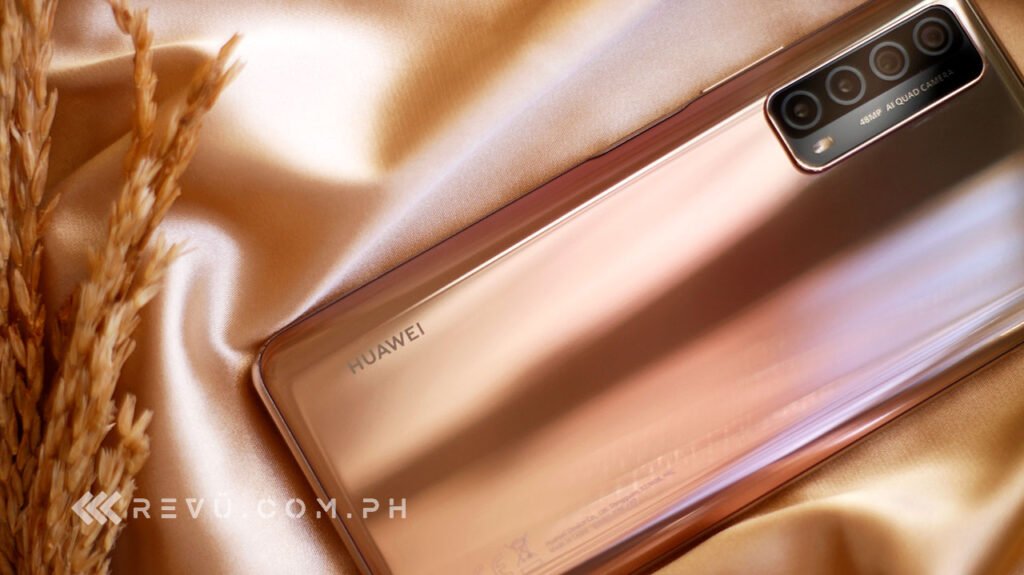 If you want faster all-around performance and smoother gameplay when playing heavy games, get the Realme 6i.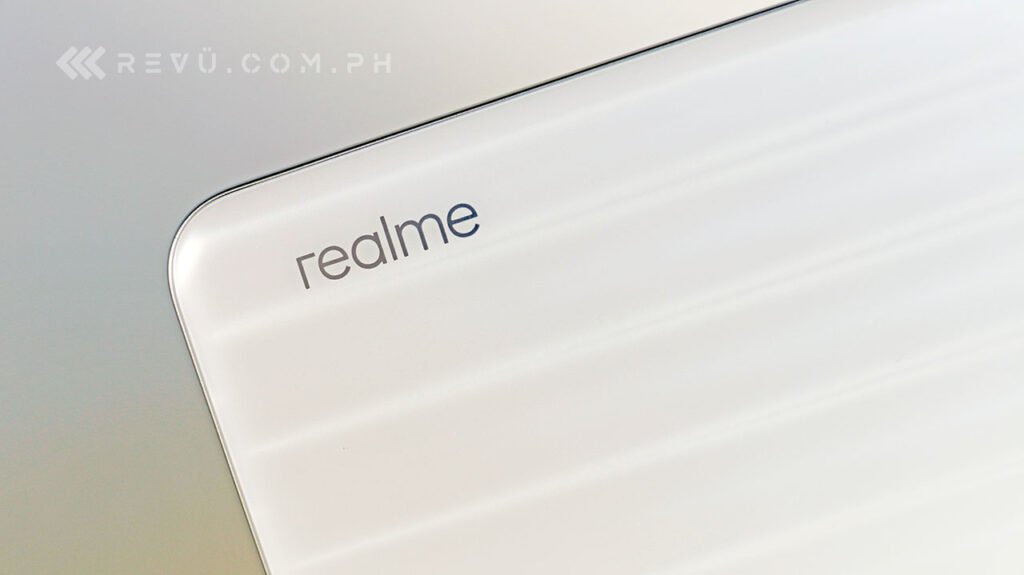 But the Samsung Galaxy A21s? It is our least preferred choice of the three; there are plenty of other phones on the local market that you should consider before settling on this budget Galaxy.
The Huawei Y7a costs less than the Samsung Galaxy A21s and the 4GB/128GB model of the Realme 6i we tested. In the Philippines, the Y7a has a suggested retail price of P8,999 (around $187) for 4GB RAM and 128GB of onboard storage. Meanwhile, the 6GB/64GB version of the Galaxy A21s was priced at P11,990 ($250) at launch and the Realme 6i with 4GB RAM and 128GB storage we tested arrived with a P9,990 ($208) price tag some months ago.
Considering the Y7a does many things better than the A21s and 6i at a lower price, it's quite easy to tell which device gives you better value for your money.
And then there are the exclusive features that add value to the Y7a that runs Android 10-based EMUI 10.5 with Huawei Mobile Services out of the box. There's the Huawei MeeTime app, which is a video-call application that enables crisp, high-quality calls on the device. It's perfect for catching up with friends and family during the holidays.
How Huawei's MeeTime works. Related article: Huawei MeeTime in action & how to access it for after-sales support
Additionally, you get Dark mode, which makes the usage experience better in dark areas or during the nighttime, as well as Multi-Window for seamless split-screen multitasking when using certain apps. Think watching a livestream while combing through social media and news sites, something we actually did during the recent virtual launch of the Huawei FreeBuds Pro in the Philippines.
Finally, there's the Huawei AppGallery, which is currently the third-largest app marketplace in the world and boasts more than 1.4 million registered app developers globally. Suppose the app you're looking for isn't listed on the AppGallery yet, you might have a far easier time finding it using the included Petal Search widget on the Y7a's home screen.
SEE ALSO: How to easily install, update apps on Huawei devices with HMS using the new Petal Search widget
Now, to address the elephant in the room: Yes, we're aware that the Y7a lacks Google apps and services, which are present on the Samsung Galaxy A21s and Realme 6i. But as long as you're not dependent on Google software to get school or office work done, you should be fine.
Besides, there are plenty of fantastic Android apps out there that don't rely on Google Mobile Services. Some Google services like Gmail even work on the Y7a via Huawei's native Email app or through the Gmail website using the Huawei Browser.
---