Well, we can't say we didn't expect it. Back in October, we argued that Apple's 2020 iPhones would be a big hit, with or without a charger in the retail box. Now, there's a report revealing that it went on to become the world's bestselling 5G phone in October.

(Updated, January 28: As expected… Apple takes No. 1 spot as biggest smartphone vendor in Q4 2020.)
According to market-research firm Counterpoint Research, the Apple iPhone 12 captured 16% of the sales market share two months ago. It was followed by another handset from the big A, the iPhone 12 Pro, which got 8% of the global market. What's more, the base model landed seventh on the "top 10 bestselling 5G devices from January 2020 to October 2020" list.
SEE ALSO: iPhone 12 series' A14 Bionics chip beats Qualcomm Snapdragon 888 in benchmarks and Best-performing flagship, midrange phones in Nov 2020
The sales performance of the two iPhones was nothing short of amazing, considering that they became available only in mid-October. They had roughly two weeks to catch up, so to speak. In the Philippines, the lineup was released just this December.
Counterpoint attributed the early success to factors like the huge pent-up demand for 5G upgrade, "complemented by strong carrier promos, especially in the United States, which accounted for over one-third of the iPhone 12 and iPhone 12 Pro sales for the month." The iPhone 12 series, as you know, is Apple's first 5G-ready lineup.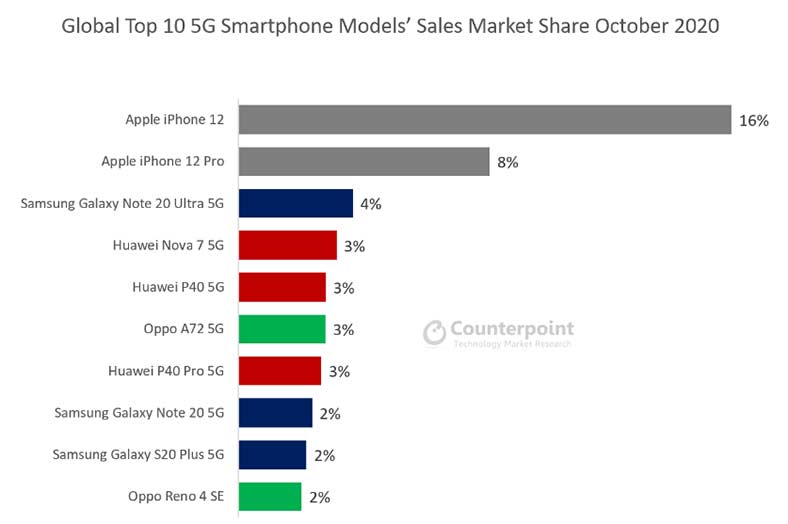 In third place was the Samsung Galaxy Note 20 Ultra, which had 4% of the market share. Two other Samsung smartphones got into the top 10: the Galaxy Note 20 in eighth and the Galaxy S20 Plus in ninth.
Three Huawei 5G handsets also joined the top 10 rankings. The Huawei Nova 7, Huawei P40, and Huawei P40 Pro took the fourth, fifth, and seventh spots, respectively. OPPO, on the other hand, had two phones that did well in October: the OPPO A72 and the OPPO Reno 4 SE.
---