The OPPO Reno5 5G, which we reviewed earlier this year, was an underrated Android phone. It had style and a fast AMOLED display; it offered powerful cameras on the front and back; and its wired-charging performance was at the top of the charts at the time of its release. It was a great midrange option if budget wasn't a huge concern.
The follow-up, the newly announced OPPO Reno6 5G, brings several improvements across the board, including the biggest design overhaul since the original release and a 5G-enabled MediaTek Dimensity 900 chipset.
In the Philippines, the smartphone is priced at P26,999 (around $534 converted) for the lone 8GB/128GB storage configuration. If you need a data plan, you can get the handset for free at Globe Telecom's GPlan 1999, which comes with 15GB of data and unlimited calls and SMS to all networks, in addition to 3GB of GoWiFi access monthly.
Give our review of the OPPO Reno6 5G a read to help you decide if it's worth the cost and whether it has what it takes to go head on with the competition at the top.
New look, same glow
There's no denying that the OPPO Reno6 5G has taken inspiration from Apple's latest smartphones for its design. Out goes the profile curvature of the Reno6 Z 5G and previous Reno models; instead, the standard Reno6 features a flat metal frame with multiple antenna bands along the edges for 5G.
The back is also flushed with the main body, just like the front panel, and has a smooth sandblasted finish that makes holding the phone a treat and far less tricky in many instances. It gives the OPPO a more premium feel, something you'd expect given the price tag this model fetches.
And while we can't say the dramatic design change is for everyone, we can't deny that the latest Reno iteration looks great and is refreshing to come across in a modern smartphone space that is increasingly moving towards curved panels and rounded edges.
The Reno Glow effect is more obvious on the Aurora color variant Filipina celebrity Nadine Lustre uses in the video than on the Stellar Black unit we (and James Reid) have
Another feature of the back is what OPPO refers to as Reno Glow, which uses an "exclusive Diamond Spectrum technology" to give the handset an iridescent glow when viewed from different angles. It looks pretty in person, though the effect is far less obvious on the Stellar Black unit we have.
In true OPPO fashion, the power button on the right sports a metallic-green accent for added flair and to make it easier to spot in darkness. The Reno6 5G also includes separate volume up and down keys on the left. All the hardware buttons provide particularly solid tactile feedback when you push down on them, and we expected no less from OPPO's upscale Reno variant.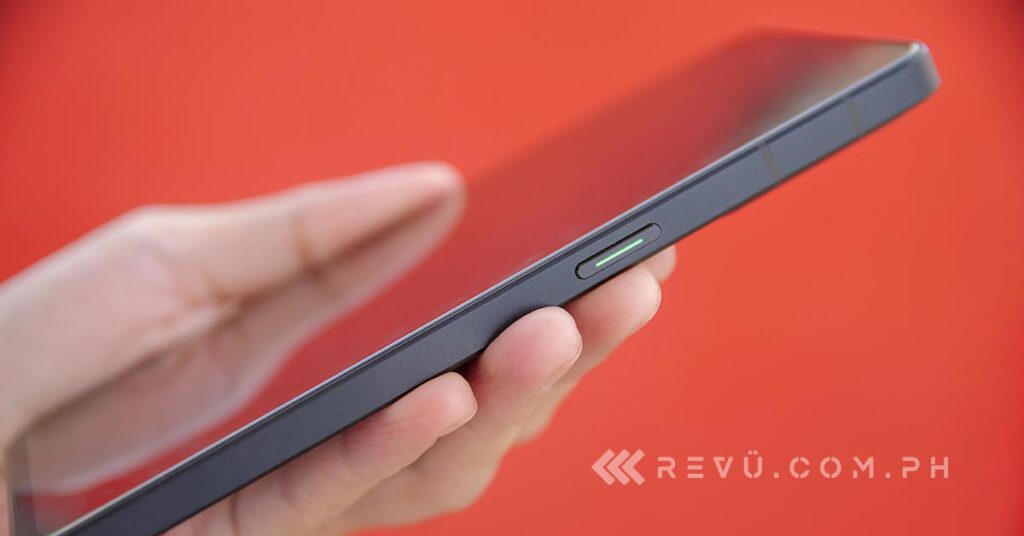 Expandable storage is not an option at all, unlike in other phones, so you won't find a hybrid SIM slot here. Not only that, you're limited to 128GB of built-in storage, which isn't a lot for a phone being touted for its video capabilities. There's no headphone jack either. But that's hardly surprising given the OPPO Reno6 5G's smartphone inspiration.
You get two SIM slots, though, and both support 5G, meaning you don't need to worry about which slot to use if you're only using one network for 5G data. Speaking of 5G, we can confirm that the latest Reno is compatible with Globe and Smart's 5G networks in our location. Of course, your experience will vary depending where you live, but we found the Reno6 to have better coverage than the POCO X3 GT in the same area at the same time.
That's actually surprising, because the Reno6 5G's Dimensity 900 chipset is categorically inferior to the flagship-grade Dimensity 1100 inside the POCO and is therefore supposed to offer a poorer experience. Perhaps its antenna design is doing wonders for the Reno's terrific 5G performance.
Like previous-gen models, the OPPO Reno6 5G features an AMOLED display with FHD+ resolution, a 20:9 aspect ratio, and always-on function. It has a high standard brightness, typically measuring 430 nits, though that value can go up to 750 nits of peak brightness using the default auto-brightness setting. The screen-to-body ratio is listed at 91.7%, and the bezels do look extremely slim, even the ones on the chin and up top.
The 90Hz refresh rate, coupled with 180Hz touch sampling, makes the handset feel very responsive, particularly when gaming. We would have wanted to see a higher refresh rate to make the user interface feel more snappy, but we don't think this phone would have enough power to play many games at higher than 60 fps, anyway. Dead Cells, for example, is locked to 60 fps on our unit despite the rogue-like game allowing frame rates well above that.
Coming to the sound, the OPPO Reno6 5G gets a single speaker grill at the bottom. Sound quality is decent and doesn't distort too much at high volume levels. This speaker can be considered above average.
Fast internals, faster charging
The OPPO Reno6 5G is the first smartphone on the market powered by the new MediaTek Dimensity 900. This processor is built on an efficient 6nm process and pairs an octa-core processor with quad-core Mali-G78 graphics. It has two Cortex-A78 cores running at 2,4GHz and six Cortex-A55 cores clocked at 2.0GHz for less intensive tasks.
And although the dual performance cores don't stand out, they are enough to run all the games we tested at high or max settings. Mobile Legends is smooth and stable at 60 fps using the High preset. Unfortunately, the game's Ultra preset is not available on our unit, likely because Mobile Legends hasn't been optimized for the Dimensity 900 yet.
Genshin Impact, we're happy to report, runs at around 25 fps to 30 fps with the graphics cranked all the way up. Those numbers are quite impressive, considering most Android phones struggle with its console-quality visuals even at Low to Medium settings. That being said, the Reno6 5G should deliver a great gaming experience within the usual frame-rate options for years to come.
Gaming test: Genshin Impact, Mobile Legends: Bang Bang (4:00 mark), and Dead Cells (8:00 mark)
On the software side, the OPPO Reno6 5G has a Games app, which replaces Game Space and acts as a hub for your installed games. You can choose to launch your games from here, as well as view recent game data and captures, enable Vibration Enhancement, apply filters for games, and many more. Games also introduces a smaller sidebar interface, which includes an option for displaying your in-game frame rate and CPU and GPU usage.
As for battery life, the 4,300mAh dual cell inside the Reno6 5G is enough for a full day's use. During our battery test, which involves browsing the web and social media over 5G at half brightness, the phone lasted 10 hours and 23 minutes. This is with 90Hz refresh rate enabled all the time, by the way. An hour of playing Genshin Impact at the highest graphics settings available drained our phone's battery level by 28%.
Can the Reno6 5G give you two straight days of normal usage? Well, that's a tough ask. But thankfully, this device offers one of the fastest wired-charging solutions on the market in OPPO's 65-watt SuperVOOC 2.0. In our tests, we were able to fully charge our unit in as fast as 35 minutes; 22 minutes plugged in was enough to get the battery percentage to 75%. We also noticed after that neither the phone or charger ever gets too hot to hold while charging.
Say 'bokeh'
The OPPO Reno6 5G sports three cameras at the back, including a 64-megapixel primary camera, an 8-megapixel ultra-wide snapper, and a 2-megapixel unit for macro shots. You won't find a dedicated zoom shooter here. The lone selfie camera has 32 megapixels, impressively sharp as usual.
For high-res video, the phone can shoot 4K footage at 30 fps from the rear camera, as well as 1080p at up to 60 fps. Video recording is limited to 1080p at 30 fps on the front. Just like OPPO's flagship Find X3 Pro, the Reno6 5G has Movie mode for shooting with the standard and ultra-wide lenses at an extra-wide aspect ratio that fills the viewfinder with content from edge to edge. There's the latest iteration of OPPO's Ultra Steady video stabilization, too, but you'd need to downscale video capture to 1080p.
Pictures captured on the OPPO Reno6 5G
When taking pictures or shooting video, you'll probably spend most of your time with the main and ultra-wide cameras. The former is categorically a far better choice for most occasions, and low-light performance is obviously much improved on the brighter and sharper sensor. As far as results go, it's above average. However, don't expect the quality to be on a par with serious camera phones like the OPPO Find X3 Pro and Apple iPhone 12 Pro.
Shot on the OPPO Reno6 5G
OPPO is touting the ability of the Reno6 5G to capture portrait-style videos with plenty of "cinematic" bokeh or blur around the subject using the company's Bokeh Flare Portrait Video feature. This relies on AI algorithms to pinpoint real light sources in the background and create bokeh light spots at different depths of field, similar to how a professional camera turns strong light sources into soft, diffused orbs. The background blur in Bokeh Flare Portrait Video looks pretty good, but the edge detection and facial recognition while wearing a mask could be better.
Final thoughts
The OPPO Reno6 5G impresses with a refreshing design; a nice AMOLED display that supports high refresh and touch sensitivity; super-fast charging over modern USB-C; and a competent 5G-capable chipset complemented by many on-screen gaming features.
The latest Reno improves on an already-impressive smartphone series and easily ranks among the best sub-flagship devices we've tested this year in terms of the overall package. It won't win you over with its price, but if you're willing to pay a premium, it may be worth the extra money.
OPPO Reno6 5G specs
6.43-inch AMOLED display, 2,400 x 1,080 resolution (20:9) with 90Hz refresh rate
Octa-core 6nm MediaTek Dimensity 900 processor with 5G
Mali-G68 MC4 GPU
8GB RAM
128GB storage
Triple 64-megapixel (main), 8-megapixel (ultra-wide), 2-megapixel (macro) rear cameras
32-megapixel front camera
Fingerprint reader (under-display)
4,300mAh battery with 65-watt fast charging
ColorOS 11.3 based on Android 11
Colors: Stellar Black and Aurora
---