Realme's GT series has been the practical choice for consumers wanting high-end hardware at a reasonable price. The GT Neo lineup takes the concept further by using slightly slower processors for an even lower price.

The Realme GT Neo 3 is the newest model to hit the Philippines with a performance-to-price ratio that would send chills down the spines of its competitors. It's selling for a reduced price of only P25,999 (around $465) at launch in spite of its flagship-level specifications.
The GT Neo 3 is clearly targeted at younger individuals who care about mobile gaming but can't afford the likes of the ASUS ROG Phone 6 Pro. At the same time, this Realme smartphone has features which could satisfy other sorts of users, which we'll discuss in this review.
A design to match the speed
The Realme GT Neo 3's front provides a large 6.7-inch 1080p AMOLED panel with a punch-hole camera situated at the top-center. The sides are less interesting with a plastic frame that isn't as durable as metal but keeps the weight just below 190 grams.
It's the rear glass panel that steals the show. The Nitro Blue and Sprint White color options have twin stripes that run from the camera bump to the phone's chin. It doesn't offer any functional purpose, but it's a nice touch for a youth-centric device. Alternatively, Asphalt Black eschews the lines in favor of a plain look.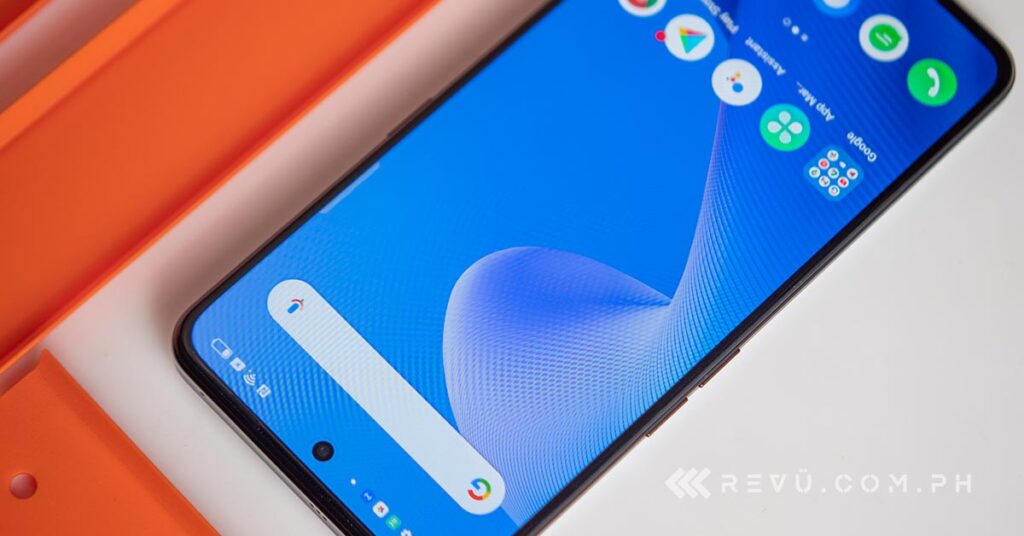 We were happy to notice relatively thin bezels around the display. It exudes a uniform design free of distractions while watching movies or playing games. We didn't like the placement of the under-display fingerprint reader, however. It's placed too low on the screen, forcing us to stretch our thumbs to an uncomfortable position while unlocking the phone.
Bright on the outside, bloated on the inside
As we'd expect from a smartphone of this caliber, the display runs at a dynamic refresh rate of up to 120Hz. You may opt to let the software choose the refresh rate for you or force it to run full time at maximum at the expense of faster battery drain. The AMOLED panel is bright enough for outdoor use when you raise the slider to its limit. Colors are punchy as well, making it ideal for all sorts of media consumption.
Although not obvious at first glance, the Realme GT Neo 3 has stereo loudspeakers. One of the two is tucked inside the earpiece and doesn't get as loud as the downward-firing loudspeaker. To our dismay, there's no 3.5mm audio port on board or even an adapter in the box for the lone USB-C port. If you plan to play games on this device, you should invest in wired earphones to avoid the latency issues of Bluetooth alternatives.
There's only one configuration sold in the Philippines: 8GB of RAM and 256GB of storage, which we consider to be an ideal amount for both, especially since it has no microSD slot for expansion. On the upside, the Realme GT Neo 3 offers 5G connectivity for faster data transfer on the move. In addition, its haptic motor feels crisp while tapping the screen or receiving notifications — close to what you'd get from a more premium smartphone.
We once again see Realme UI 3.0 layered on top of Android 12. It owns multiple customization options to spice up your home screen and streamline your quick settings and notifications. As we've experienced before, Realme pre-installs loads of bloatware ranging from unnecessary app stores to duplicate apps. You may uninstall or disable some apps, but you're forced to live with most of them.
More power, less compromise
Realme went for a MediaTek processor this time around. The GT Neo 3's Dimensity 8100 is a step up from the Qualcomm Snapdragon 870 of last year's GT Neo 2. In fact, the Dimensity 8100 matches the performance of the Snapdragon 888, which was a top-of-the-line chipset in 2021. The former's advantage is in heat management; it can sustain its maximum output for longer periods without throttling.
Some benchmarks
We proved this with the benchmark and gaming apps we tested. Genshin Impact was stable on high visual settings at 60fps. It would dip to 40fps during action-heavy moments, but settling for medium-level graphics helped maintain the maximum 60fps. Diablo Immortal was a walk in the park for the Realme GT Neo 3. The highest settings at 60fps was possible even when there was a lot going on at once. More interesting, however, was how the phone kept moderate temperatures throughout our playtime. The same can't be said for Qualcomm's newest flagship chips.
An optional GT Mode can be turned on to boost performance, but we didn't notice a significant improvement. It drained more battery power as well, leading us to stick to Balanced mode for better efficiency. The Realme GT Neo 3 pulled off only 13 hours and two minutes in PCMark's battery benchmark. While not bad for the performance you get, it lags behind other smartphones in this market segment. Mixed usage gave us up to six hours of screen-on time on a single charge when the screen refresh rate was set to automatic.
It takes about 35 minutes to fully charge the 5,000mAh battery using the bundled 80-watt charger. In some regions, Realme offers another GT Neo 3 variant with 150-watt charging and a smaller 4,500mAh. We personally prefer the unit we tested, because it provides longer battery life and only marginally slower charging.
Best for daytime photography
A 50-megapixel main camera headlines the rear, followed by 8-megapixel ultrawide and 2-megapixel macro sensors. A single 16-megapixel front camera occupies the punch-hole of the display. All that's lacking is a telephoto camera, but even pricier phones lack this focal length.
We were impressed by the Realme GT Neo 3's daylight photos. The main camera produced high dynamic range and didn't blow out areas with lots of lighting. The ultrawide camera was close in quality, albeit with lower contrast and sharpness, especially around the edges of the photos. The macro camera was decent. Its color reproduction gave justice to the subjects we captured up close. Unfortunately, nighttime photography was disappointing, as you can tell by some of our sample photos. Strong light sources would ruin otherwise fine photos, and the ultrawide sensor clearly had worse image processing compared to the main camera's.
Sample shots
The selfie camera had more consistent output. No matter where or what time we took photos, the results were always great. We were also happy with the background blur. Any unwanted distraction was easily blurred out by the camera's algorithm. The front camera can handle 1080p video recording, but only up to 30fps. For comparison, the rear cameras are capable of up to 4K resolution at 60fps. Both sides had decent video stabilization no matter which resolution we shot with.
Final thoughts
The Realme GT Neo 3 has everything we want out of a performance-first smartphone. Its Dimensity 8100 pairs perfectly with the generous 8GB + 256GB config for all sorts of demanding tasks. Its eye-catching design and fast AMOLED display add more layers to the phone's allure.
We wish we could've gotten more out of the cameras and battery life, especially after what we've seen from Realme's other budget-friendly options. It's clear the focus here is raw performance, but improving these downsides through software updates would make a great handset even better.
The best alternatives are last year's flagships at discounted prices. They have the performance to match, and provide software support for years to come. If you prefer something new, POCO always has competitive smartphones with the best specs at this price range. The POCO F4 and X4 GT instantly come to mind.
Realme GT Neo 3 specs
6.7-inch 1080p AMOLED display, 120Hz refresh rate
MediaTek Dimensity 8100 processor with 5G
8GB RAM
256GB storage
50-megapixel main, 8-megapixel ultrawide, 2-megapixel macro rear cameras
16-megapixel front camera
Under-display fingerprint reader
5,000mAh battery
80-watt SuperDart charging
Realme UI 3.0, based on Android 12
Color options: Nitro Blue, Sprint White, Asphalt Black
---