Antutu Benchmark has just released its most recent global lists of best-performing Android smartphones for the flagship and midrange categories.
And the verdict? The ASUS ROG Phone 2 and Xiaomi's Redmi Note 8 Pro still topped the February 2020 rankings.
No other premium handset was able to beat ASUS' gaming handset, which has been the No. 1 flagship model since its launch last year. It garnered an average score of 507,284 in Antutu version 8 this time.
SEE ALSO: Cheaper ASUS ROG Phone 2 Strix Edition arrives in the Philippines and Apple, Samsung, Xiaomi phones dominate 2019 rankings
Another consistent player in the high-end category is the OnePlus 7T with 8GB of RAM and 256GB of storage, which has held the second spot for five consecutive months.
The two were followed by mostly units powered by Qualcomm's Snapdragon 855 Plus and Snapdragon 855 processors, including the Realme X2 Pro. Only the Samsung Galaxy Note 10 Plus and Galaxy Note 10 are using other chips — Exynos 9825 SoCs.
You can see the complete list of top 10 best-performing flagship smartphones in February below.
The Redmi Note 8 Pro, on the other hand, was still the chart-topper in the midrange segment last month. This bodes well for MediaTek and its Helio G90T chipset.
New to the list were the Samsung Galaxy A71 Snapdragon 730 and Samsung Galaxy A51 Exynos 9611 devices, which recently became available in the Philippines. They ranked second and 10th, respectively.
Check out the latest ranking for mid-level Android phones below.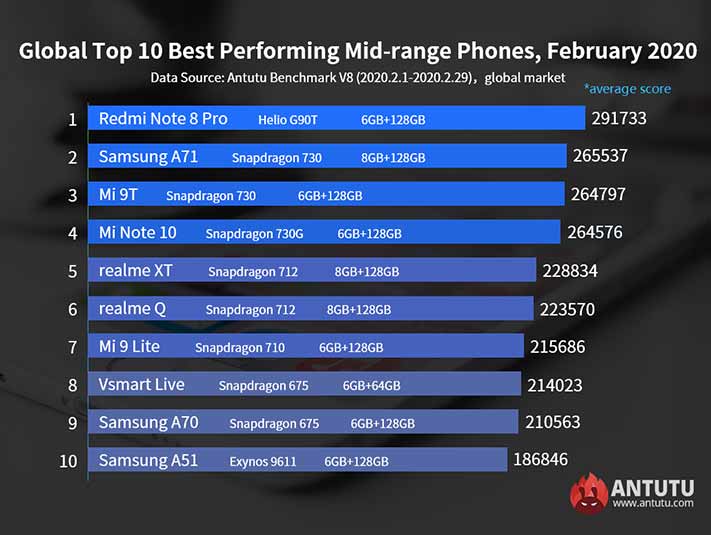 Expect to see new first-placers next month, with the recent — and upcoming — release of models using more powerful, 5G-enabled processors, such as the Qualcomm Snapdragon 865.
---