As telcos worldwide continue to ramp up their 5G deployment efforts, we're seeing more affordable 5G devices hit the global stage, including the Philippines.
Huawei recently announced the Nova 7 5G for the local market. The phone brings some improvements over the Huawei Nova 7 SE 5G, which is currently the most affordable 5G handset in the Philippines, retailing at P19,990, or around $407 in U.S. currency.
SEE ALSO: Huawei overtakes Samsung as biggest smartphone brand in Q2 2020
The Huawei Nova 7 5G, on the other hand, is priced at P23,990 ($489), not too far from its stablemate's price point. You can also get it with a Globe Telecom data plan starting at P599 ($12) per month. It is available in Space Silver and Midsummer Purple colors.
Huawei's latest Nova handset ups the ante by replacing the SE's LCD panel with vibrant OLED and adopting a capable camera for zoom. More importantly, it's the first device in the country that ships with a flagship-level HiSilicon Kirin 985 chipset that has a 5G modem built-in.
So, is the Huawei Nova 7 5G worth the extra P4,000 ($81)? Just how good is it really? Read our full review to find out.
Hardware
The apple doesn't fall from the tree, they say. In the case of the new Nova, it looks a lot like the Nova 7 SE 5G, which was announced in the Philippines earlier, and the Huawei Nova 5T released last year. It's pretty; feels solid in the hand, thanks to the aluminum frame; and the ergonomics at the back make using the 6.53-inch OLED screen more pleasant than what the spec might suggest.
Huawei even uses the same name for the silver and purple color variants of the new Nova — Space Silver and Midsummer Purple. This may cause some confusion between the Nova 7 series phones, especially when you look at them from a distance, or from the front. It doesn't help that the Nova 7 and Nova 7 SE are about the same size, although the vanilla version is a teensy bit thinner and weighs less.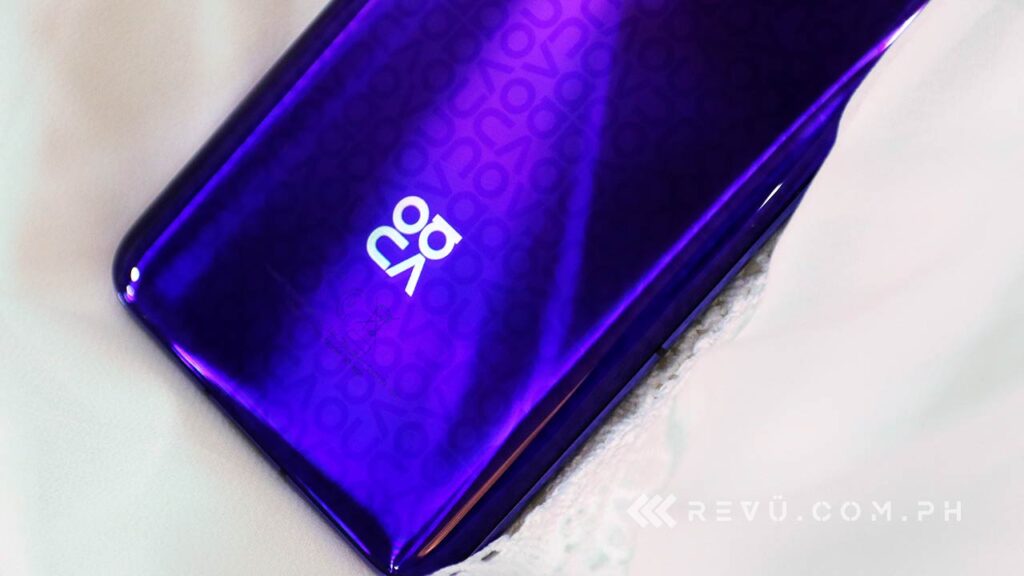 The easiest way to distinguish them is by the fingerprint reader. The Huawei Nova 7 5G doesn't have a physical biometrics sensor; instead, there's an optical fingerprint scanner embedded underneath the panel, which is to say it's practically invisible on the body of the device.
It also means the Nova 7 unlocks from the front, so you can rest it down with the display facing up on a flat surface and glance at messages and notifications while working on a computer or watching television. The in-screen reader is fast and accurate, although some users might find the fingerprint area a tad small and located too close to the bottom bezel. We don't mind both.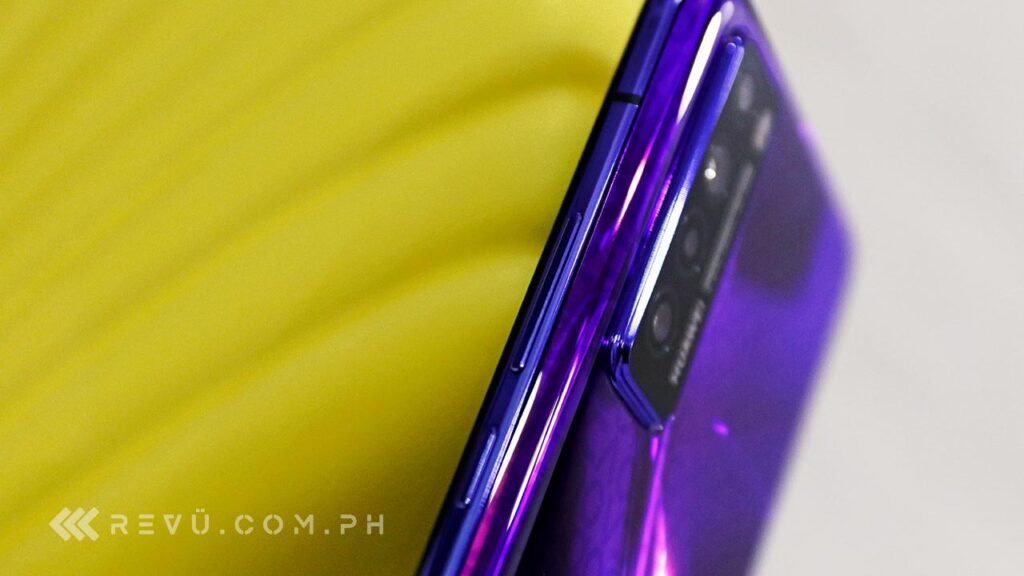 Checking for incoming alerts is also much more convenient here since the OLED supports always-on function, which can be enabled in the Settings app. When turned on, a small portion of the screen will stay lit, allowing you to conveniently see the time and date as well as alerts for calls and messages while the phone is locked. Personally, we don't leave it on all the time; we set a daily schedule (which can also be done in the Settings) to limit battery drain.
Curiously, the latest Nova doesn't have a headphone jack for wired audio, even though the handset doesn't come with an IP rating for water and dust resistance. The Nova 7 SE has a 3.5mm port, and we can't help but think that Huawei should have added one here, if only to please the purists who are interested in the higher-end model. As a workaround, the Huawei Nova 7 5G comes bundled with a USB-C-to-3.5mm dongle to make wired listening possible.
READ ALSO: Huawei Philippines announces One Price Repair for phones, tablets
You also don't get a memory card slot for expanding the storage. But to be fair, this 256GB model with UFS 3.0 storage should be okay for most users' needs. We've stored a boatload of high-resolution images and videos on our review unit (570 files that are around 35GB), yet we still have 180GB of space to fill.
The Nova 7, like other high-end Huawei devices, has an infrared port at the top. This allows the handset to pull double duty as a universal remote for televisions, air conditioners, and other basic appliances.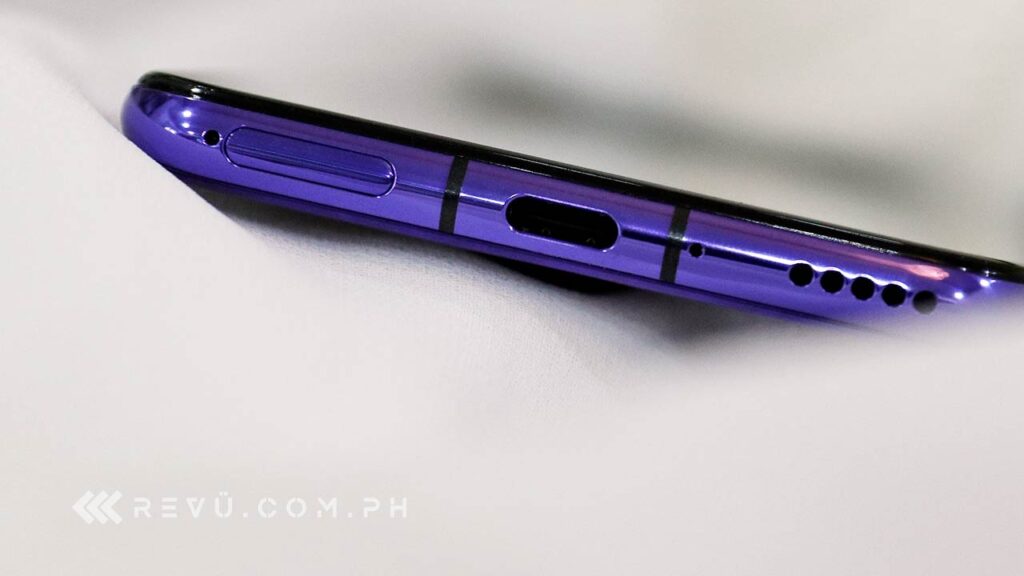 The single speaker at the bottom is a bit awkward for landscape mode, but loud enough for conference calls and streaming music indoors. The audio quality is pretty good, and there's Bluetooth 5.1 if you're looking to hook up to a pair of wireless earphones. Dual-band Wi-Fi is available as well as NFC.
What's in the box:
Huawei Nova 7 5G
Silicone case
40-watt SuperCharge charger
USB-C cable
SIM tool
3.5mm earphones
USB-C to 3.5mm headphone adapter
User guide
Warranty card
Screen
The Huawei Nova 7 5G flaunts a pretty sizable 6.53-inch OLED screen with a 2,400 x 1,080 resolution and a 20:9 aspect ratio. The bezels are mostly small all the way around, especially at the top and along the sides, while the chin is reasonably slim as well.
The smartphone also supports DCI-P3 color space for a better viewing experience. However, for some reason, the Nova 7 doesn't support HD playback on Netflix and Amazon Prime despite the presence of Widevine L1 certification on our review unit. We're not sure why, but it probably has something to do with the lack of Google services.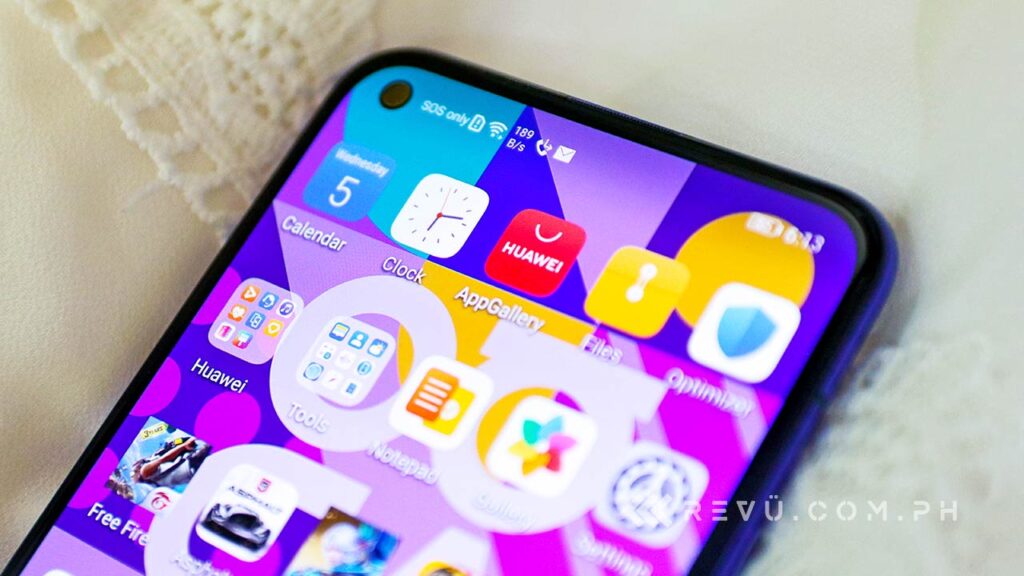 It's a shame, since the Nova 7 has a nice, punchy OLED display, and users will appreciate the deep blacks while watching content, as well as the panel's outdoor visibility and unobtrusive camera hole in the upper left.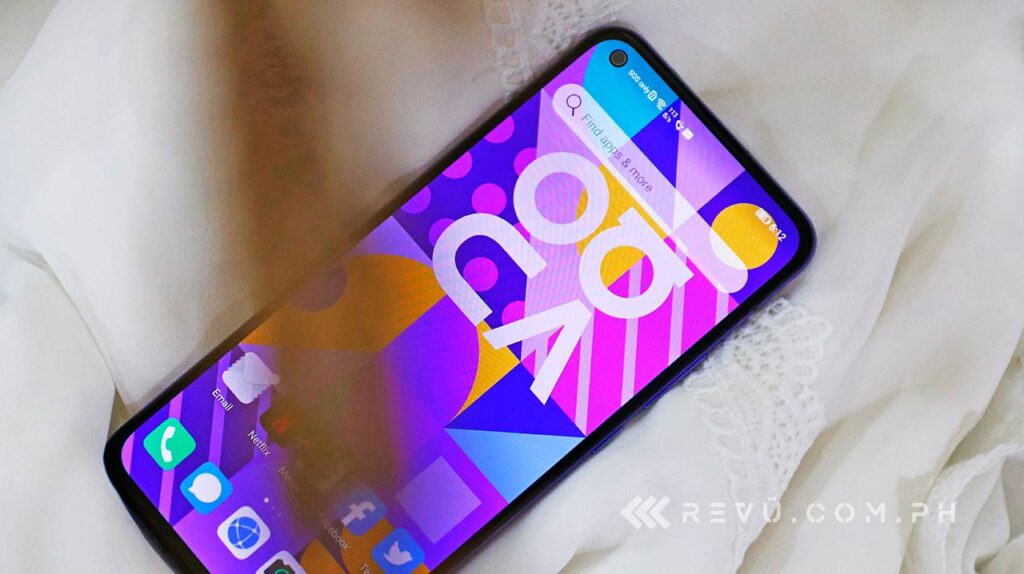 If you don't mind watching in standard definition, both Netflix and Amazon Prime will run fine without problems. For voracious readers, Huawei has included eBook mode, which gives the screen a paper-like quality to make it easier and more comfortable to read long text, especially in a dimly lit environment.
For many, the screen is just about as important as any component on the specs list. Thankfully, the Huawei Nova 7 5G delivers in this department for the most part and boasts a good, well-sized OLED while throwing in additional useful features, such as eBook mode, always-on functionality, and in-screen fingerprint unlock.
Camera
The new Nova includes a rectangular quad-camera module at the back consisting of a 64-megapixel primary sensor, 8-megapixel sensors for ultra wide and telephoto, and a 2-megapixel camera for macro shots. "Tap to focus" is available all across the different camera modes, which is unusual but welcome nonetheless, and Huawei's impressive Night mode — which takes several pictures at different exposure levels and combines them to create a single better image — is here, too.
[sciba leftsrc="https://www.revu.com.ph/wp-content/uploads/2020/08/Huawei-Nova-7-5G-sample-picture-Revu-Philippines_auto-with-night-mode-disabled.jpg" leftlabel="Auto" rightsrc="https://www.revu.com.ph/wp-content/uploads/2020/08/Huawei-Nova-7-5G-sample-picture-Revu-Philippines_night-mode-enabled.jpg" rightlabel="Night" mode="horizontal" width=""]

Auto Mode vs Night mode
The Huawei Nova 7 5G can shoot up to 4K resolution using the front and back cameras, but expect some aggressive cropping and a max recording duration of 10 minutes each. It also comes with Dual-View mode that lets you simultaneously record footage on the cameras from both sides. The rear setup even offers slow-motion recording at up to 960 fps at 720p. More impressively, electronic image stabilization is available for both cameras even while shooting at ultra-high definition.
Compilation of videos shot on the Huawei Nova 7 5G
Another impressive spec is the secondary telephoto camera, which provides up to 3x optical zoom and uses both hardware and software to push digital zoom all the way up to 20x. We found the 3x zoom especially useful when shooting toys and other suitable subjects for macro photography and more suited for closeups than the dedicated macro camera.
Ultra-wide, 1x, 3x zoom, 5x zoom, and 20x zoom
Similar to what you can do on Huawei's higher-end handsets, you can switch to Pro mode to capture 64-megapixel RAW stills with more information and greater detail. A Pro mode is always a huge advantage for those who edit their pictures after the fact. Whenever possible, we suggest that you enable 64-megapixel RAW as well to preserve more detail in an image and get the most out of the main sensor.
Pictures taken in Pro mode
Other photos captured on the Huawei Nova 7 5G's rear camera setup
For selfies, there's a 32-megapixel front camera fitted with f/2.0 lens. It's sharper than what the Nova 7 SE ships with, though both are good secondary cameras.
The Huawei Nova 7 5G also offers several AI beautification features baked in that let you take prettier pictures in low light. Night and Portrait modes are available here to help users snap more professional-looking selfies in different settings.
The portrait mode delivers great depth of field and accurate edge detection on the Nova 7. Face detection is spot-on at different distances, too, allowing you to move the smartphone around while shooting a video without worrying about losing focus.
Selfies shot on the Huawei Nova 7 5G: AI Portrait, Portrait, Auto, Auto, Portrait, Auto, Portrait
Performance
Powering the Nova 7 5G is Huawei's own 7nm HiSilicon Kirin 985 chipset. This is the first device on the local market that uses the company's latest 5G-enabled silicon, which includes a modem with dual-mode 5G (standalone and non-standalone) and a CPU architecture with one Cortex-A76 prime core and three big (also Cortex-A76) and four small (Cortex-A55) cores.
The Kirin 985 also packs Mali-G77 graphics with Kirin Gaming+ 2.0 technology for better performance in supported games. Meanwhile, Android 10-based EMUI 10.1.1 on the Nova 7 feels buttery smooth. Apps open quickly and feel responsive to operate, and multitasking is handled flawlessly. Every game we tried ran with very little stuttering.
Gameplay: Mobile Legends: Bang Bang, Black Desert Online (5:00 mark), and Creative Destruction (10:00 mark)
The Huawei Nova 7 5G feels just as fluid as the Kirin 990 5G-powered Huawei P40 series phones in most day-to-day tasks, and it runs demanding games at high graphics settings just as smoothly as well. In Antutu, our unit scored higher than the P30, which uses a Kirin 980 chip.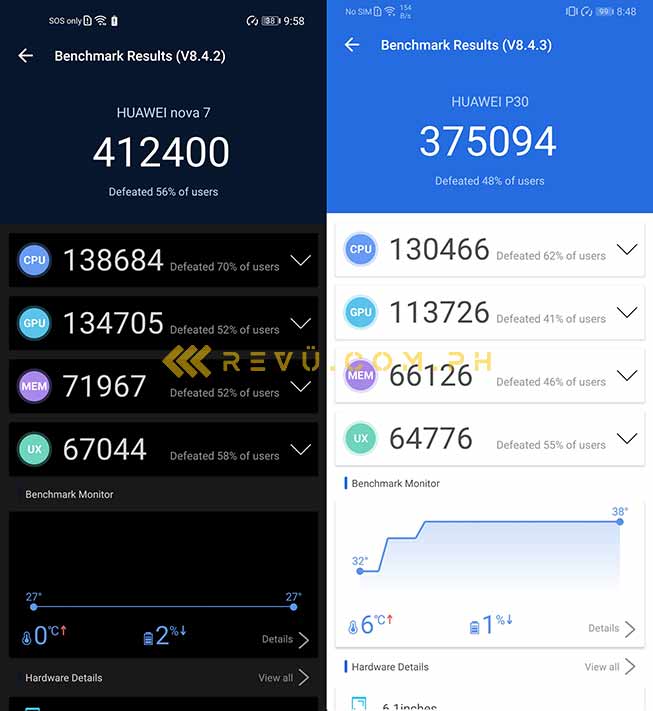 Having said that, if you're looking for a reason or two to skip Huawei's Kirin 980-based flagships from last year, look no further than the Nova 7 and its SoC. Not only is the Kirin 985 faster than the Kirin 980, it also supports 5G data on local networks, something that can't be said about most modern high-end chipsets, including the Kirin 980.
On the 5G front, the phone supports up to 1.2Gbps downloads and a maximum theoretical upload speed up to 173Mbps, though, of course, it is compatible with existing 2G, 3G, and 4G networks as well.
SEE ALSO: Tested: Globe 5G on the Huawei P40 series and Tested: Smart 5G network on the Philippines' most affordable 5G phone
Besides fiber-fast speeds, the next-gen standard promises better coverage and less lag than 4G and 3G connections. For mobile games that require a rapid response from the server, such as Mobile Legends, PUBG Mobile, and Fortnite, a lower latency can mean the difference between winning and losing.
Like other 5G devices from Huawei that launched in the Philippines, the Nova 7 works with 5G networks powered by both Globe Telecom and Smart Communications. And if you're curious about 5G and what it brings to consumers, check out our previous 5G coverage and speed tests.
Battery life and charging
Huawei has fitted the latest Nova with a 4,000mAh battery backup that supports fast charging over a USB-C interface. Like the Nova 7 SE (and Nova 7i and P40 phones), the maximum charging rate supported here is 40 watts, with Huawei claiming a 75% charge level could be achieved in approximately 30 minutes.
With a 4,000mAh battery that supports 40-watt fast charging over a USB-C interface, the Huawei Nova 7 5G can go from 0% to 100% in a little over an hour
In practice, the claim is pretty accurate if you leave your phone alone while juicing up. A full charge from zero usually takes a little over an hour. What's also important to note is that Huawei ships a 40-watt power brick in the box, so you don't have to purchase one separately. If you own a Huawei MateBook, you can use the laptop's 65-watt charger to quickly top up the phone up to a max of 40 watts, too.
The battery life is good, enough for a full work schedule even when the always-on feature is active throughout most of the day. The idle battery drain is particularly low, almost negligible, and Huawei's aggressive software optimizations do their part to stretch usage times by automatically putting unused apps to sleep. Those planning on using this device a lot to binge Netflix or read an ebook will be happy with the mileage they get.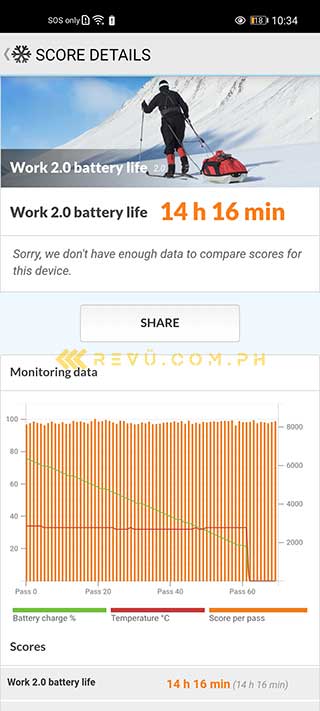 Intensive gaming doesn't seem to put a huge toll on the battery as well. We played a few matches in Mobile Legends and got a battery drain of about 10% after playing for one hour and 14 minutes. Unless you're a heavy gamer or a demanding user, the 4,000mAh battery will likely suffice. In the PCMark battery test, our unit logged 14 hours and 16 minutes. That's a very favorable result considering the not-so-large battery.
Final thoughts
The Huawei Nova 7 5G can be described as a worthy upgrade to an already exceptional product. The price difference between the Nova 7 and Nova 7 SE is just a couple of thousands of pesos apart, yet the higher-end model offers a much more suitable OLED display for content and gaming, while the secondary telephoto camera delivers strong 3x optical zoom and usable zoom up to 20x.
All this, plus Huawei's HiSilicon Kirin 985 chipset — essentially a flagship-grade processor with local 5G compatibility. The Nova 7 series is undoubtedly the best in the line in recent memory. And at the top of the heap, we have the Huawei Nova 7 5G that stands as the pinnacle of cost-effective performance in this particular bunch.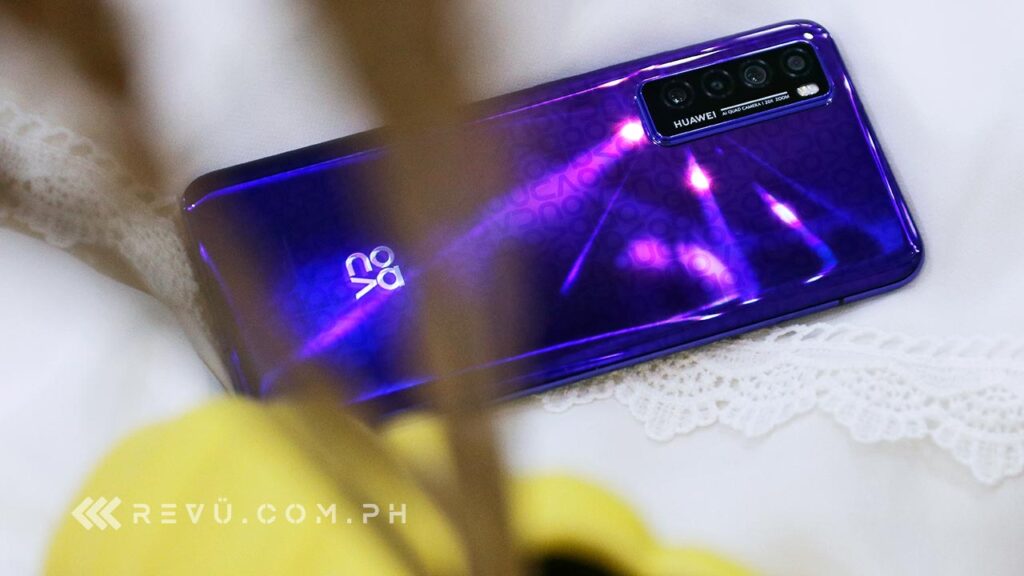 Huawei Nova 7 5G specs
6.53-inch OLED with punch-hole display, 2,400 x 1,080 resolution (20:9), 60Hz refresh rate
Octa-core HiSilicon Kirin 985 processor with dual-mode (SA/NSA) 5G
8GB RAM
256GB storage
Quad 64-megapixel, f/1.8 (main), 8-megapixel, f/2.4 (ultra wide), 8-megapixel, f/2.4 (telephoto, up to 20x zoom), 2-megapixel (depth) rear cameras
32-megapixel, f/2.0 front camera
Fingerprint reader (under-display)
4,000mAh battery with 40-watt fast charging
EMUI 10.1 based on Android 10, AppGallery
---