For years, Vivo has refused to throw its hat into the ring of flagship smartphones in the Philippine market, despite being well-regarded in the country for some time.  
That changed with the launch of the Vivo NEX 3, a true contender in the high-end space with an incredibly rich feature set and stunning screen to match. It is easily the company's most desirable phone to date, but should you buy it?
We've put the NEX 3 through its paces. Twice — and for almost three months, actually. Once during a trip to China to cover the global launch of the NEX 3 and another time after we arrived back in the Philippines. Here's our full, long-term review.
Vivo NEX 3 price and availability
The NEX 3 is now available in the Philippines online and offline for P39,999 (around $787). You can get the phone in just one color (Glowing Night, which looks predominantly black) and configuration — 8GB RAM and 128GB of storage. The unit sold here doesn't have 5G capabilities, which is expected considering no telco has rolled out 5G service for mobile devices in the country.
Design
In terms of design and build, there's no denying the Vivo NEX 3 is the most impressive commercial smartphone the company has ever produced. It incorporates curved glass on the front and back, and the sleek frame that fuses with the screen seamlessly is made of aluminum.
There's no notch, screen cutout, or physical fingerprint sensor that gets in the way of this beauty. More impressively, there are no buttons along the phone's edges, but there is a ridge on the right side to help you locate the pressure-sensitive power and volume keys that use a haptic feedback system. They feel good to press and are easy to distinguish by feel alone.
SEE ALSO: Watch: Our Vivo S1 Pro first impressions
The exterior is indeed quite minimalist, although nothing much else about this Vivo is conservative. Our initial impression, in fact, is that the NEX 3 is literally a handful, coming in with an extra-tall 6.89-inch waterfall display that bends sharply to almost a 90-degree angle.
We can wrap our fingers around the entire width of the front, in case you're wondering. However, the length or height of the new NEX makes it almost impossible for us to reach the top edge of the display without using both hands. This phone is just imposingly tall. That has its good points, too, and we'll get to them in a moment.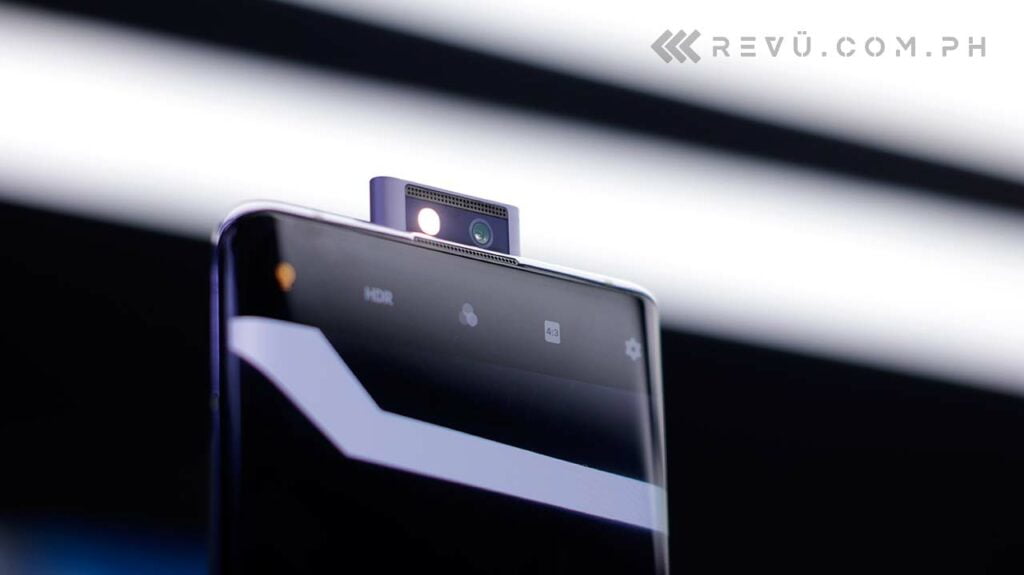 The body weighs 217 grams, which is heavy but also completely understandable given its massive display and extra internals that allow the selfie camera to move up when activated and down when not being used. The NEX 3, just like other Vivo handsets in the premium segment, has a motorized front camera. Except this time, the camera module includes a fill light to let you take better selfies in poor lighting conditions.
The back of the phone has a triple-camera setup, with lenses perfectly arranged in a circular module, each one equidistant from the other. The camera bump is minimal, almost negligible, which is always nice to see.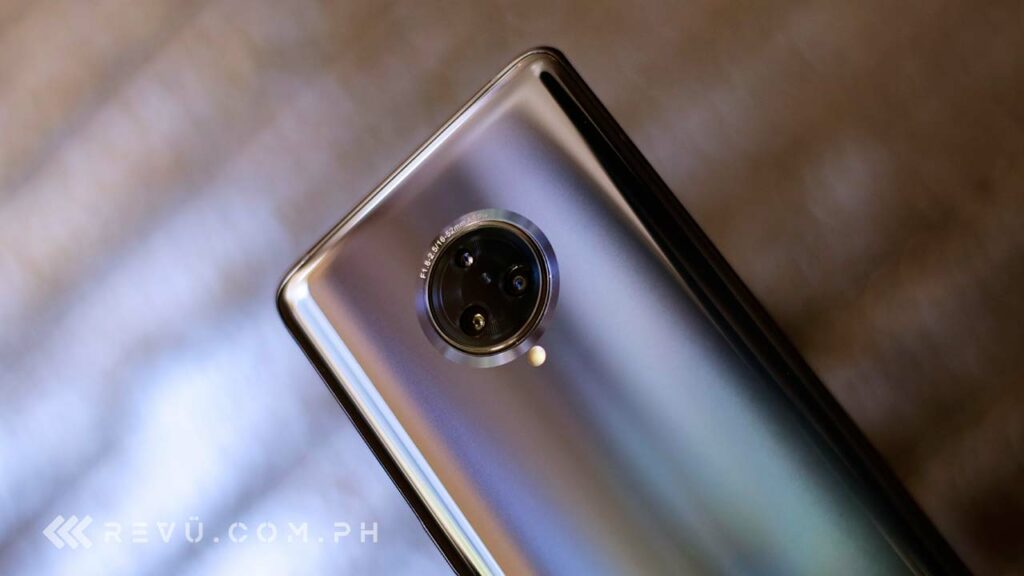 Up top, there's a headphone jack, a mic hole, a cutout for the pop-up camera, and a secondary power button that lies flat along the edge and may be too small to be of any real use. At the bottom, you'll find a single loudspeaker of the downward-firing kind, a USB-C port, plus a SIM tray that can hold two nano-SIM cards.
The speaker can get fairly loud at high volume and even offers a bit of bass and detail. But while the sound quality is good enough for casual listening, the loudness and richness are not on the same level as flagship phones with stereo speakers. Using the included earphones, the audio port provides a nice, clean output with an external amplifier and some software tuning.
Screen
The Vivo NEX 3 is only one of two phones on the market right now with a waterfall OLED screen, the other being the Huawei Mate 30 Pro. The curves on the new NEX are more prominent, though, and this makes it better to look at and hold.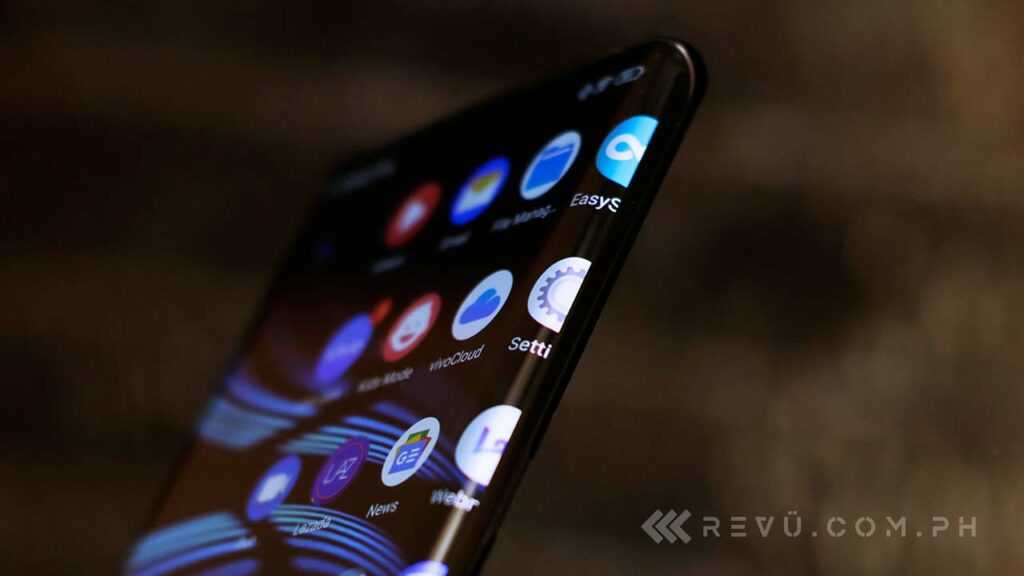 By incorporating a pop-up camera, Vivo has managed to avoid notches and display camera holes altogether. Meanwhile, the bezels on all four sides are wonderfully skinny.
And because the 6.89-inch surface area includes the curved sides of the display, Vivo claims a screen-to-body ratio of 99.6%. It's the highest we've seen on a smartphone yet, higher than that of any Apple, Samsung, or Huawei handset.
READ ALSO: Vivo V17 Pro review: 6 cameras, 1 solid all-rounder
The resolution is 2,256 x 1,080, resulting in an 18.8:9 aspect ratio. The display also features HDR10 support, 610 nits peak brightness, and a minimum brightness of 2 nits, which is great for nighttime viewing.
The panel is perfectly suited for videos and games that can fill up all the available screen real estate, if you want them to. At brighter settings, it's good enough for outdoor use, too. The black levels are about as rich and deep as most OLEDs can show.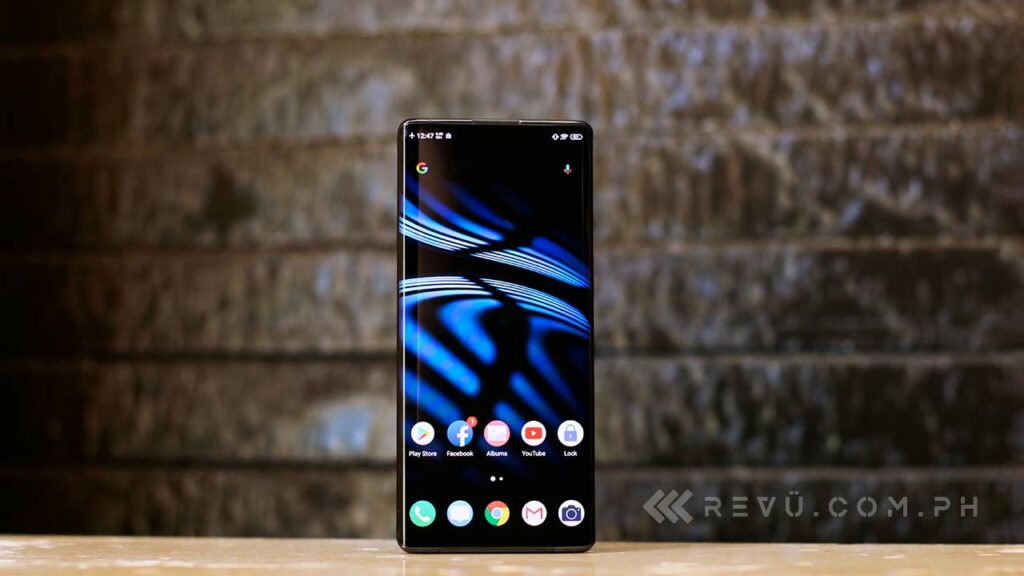 The Vivo NEX 3 offers three color modes: Standard (which is the default option), Normal, and Bright. The first one leans towards the cool side of the spectrum and will require you to use the slider in the settings menu if you want a more accurate color reproduction. Normal mode is tuned for properly showing sRGB content, while Bright mode blows out colors more vibrantly but doesn't make for a brighter picture as the name suggests.
There's Widevine L1 certification onboard, which means this phone can stream HD-quality videos on Netflix and other similar platforms. However, for whatever reason, the NEX 3 can't play HDR content off Netflix.
Camera
The other major highlight is that the Vivo NEX 3 has a 64-megapixel primary camera, alongside a 13-megapixel telephoto camera and another 13-megapixel shooter, this time for taking ultra-wide pictures.
The main camera is the one on the left and packs a Samsung ISOCELL Bright GW1 sensor that's 1/1.7-inch in size. Which is to say, it has a higher surface area than your average smartphone cam. A larger sensor will gather more light, and this makes for brighter and higher-quality images. The sensor sits behind an f/1.8 aperture lens for better low-light performance.
The 64-megapixel camera uses pixel binning to combine four pixels into one to reduce noise and improve dynamic range, so the default output is 16 megapixels. No worries, because just shooting in automatic setting is good enough in most situations, including in dark areas.
You can get 64-megapixel pictures by moving the slider to 64MP mode in the NEX 3's camera app, while Pro mode lets you snap RAW photos at full resolution
You can get 64-megapixel images by moving the slider to 64MP mode in the camera app, while Pro mode lets you snap RAW photos at full resolution. The size of a RAW file may exceed 100MB, though, which is an awful lot for a single picture. On the software end, too, there's Night and Portrait modes, and more.
Meanwhile, the zoomed camera has an f/2.5 lens and offers 2x optical zoom and 20x digital zoom. The ultra-wide option has f/2.2 auto-focus lens and provides a 120-degree field of view to capture pretty much everything surrounding the subject. It also supports macro distance, letting you take sharp photos of objects placed as close as 2.5cm from the lens.
SEE ALSO: ROG Phone 2, NEX 3 5G top list of best-performing Android phones
The implementation is similar to what Huawei has done with its recent flagships, where the ultra-wide camera pulls double duty as a macro shooter.
The front-facing camera is a pop-up unit, as we've mentioned earlier, with 16 megapixels, f/2.0 lens, and a fill light right next to it. It performs as advertised and captures crisp selfies with accurate skin tones and exceptional dynamic range for a selfie cam.
We've shared the first set of sample pictures here. Feast your eyes on 20 more — from ultra-wide-angle shots to selfies
The Vivo captures excellent images in daylight, offering fine detail and sharpness that goes all the way to the corners of the frame. Colors look vivid without being overly saturated, too.
In low light, the phone continues to take pleasing pictures with decent noise handling and dynamic range, particularly with its 64-megapixel camera. And with Night mode, you'll see better detail, lower noise, and enhanced colors and shadows.
For video capture, the Vivo NEX 3 does up to 4K at 60 frames per second and slo-mo at up to 480 fps in HD. The camera app also gives a choice between h.264 and h.265 codecs for better compression. Videos shot on the pop-up camera videos max out at 1080p and 60 fps.
Collection of videos captured on the Vivo NEX 3
Performance
For a true flagship experience, Vivo has equipped the NEX 3 with Qualcomm's latest and greatest — the Snapdragon 855 Plus. The 7nm processor combines eight Kryo 485 cores operating in different clusters at varying clock speeds to bring the right mix of power and efficiency. It also features Adreno 640 graphics, which is 20% better than the previous generation and can run any game you throw at it at the highest frame rates possible, especially on a 1080p display.
Gameplay: Mobile Legends, Call of Duty: Mobile (5:32 mark), and NBA 2K20 (10:19 mark)
The resulting performance is exemplary. The Vivo NEX 3 is a fluid beast that delivers ample power for even the most demanding workloads and games; there's no task out there that it can't handle with ease, period. PUBG Mobile, Call of Duty: Mobile, Mobile Legends, NBA 2K20 — you name it, all handled as brilliantly as we could hope for on a flagship device. If gaming is your favorite pastime, the NEX 3 is an especially excellent choice.
There's no task out there that the Vivo NEX 3 can't handle with ease
Also equally notable were the benchmark results of our review sample. It registered an overall score of more than 460,000 points on Antutu Benchmark 8.1, which is the second-highest output we've ever seen on a smartphone. The Geekbench 5 numbers for single- and multi-core tests are 743 and 2,663, respectively. Still impressive.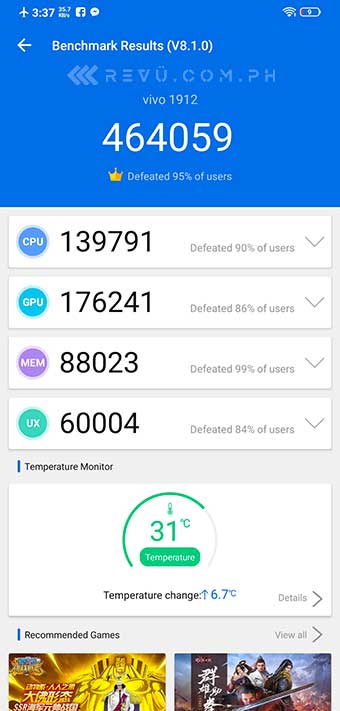 To improve thermal performance and prevent the NEX 3's high-powered components from getting toasty, Vivo has fitted a vapor chamber-style cooling system here. It serves its purpose well, as our review unit never feels too hot in the hands during intense gaming sessions.
Battery life and charging
The Vivo NEX 3 packs a 4,500mAh battery backup, which is a bit more than most of its rivals. For comparison, the Samsung Galaxy Note 10 Plus' battery is 4,300mAh, while the Apple iPhone 11 Pro Max makes do with a 3,969mAh cell.
With lighter usage and some power-saving measures implemented, we usually get to stretch the Vivo NEX 3's battery life to two full days
We usually get a full day's backup with a good amount to spare to breeze through our morning routine the next day with zero qualms. That is pretty much all you can ask from a modern flagship. With lighter usage and some power-saving measures implemented, we are able to stretch the battery life to two full days.
The included 44-watt power brick is able to top up the battery to full capacity in 73 minutes. Brilliant. A shorter 30-minute charge gave our unit 65%, which should be good enough to get most users through a day of use.
Final thoughts
The NEX 3 is Vivo's first true, bonafide top-end offering for the Philippine market. And although it took three generations to arrive, the wait gave us one of the most compelling phones of 2019 for those with deeper pockets.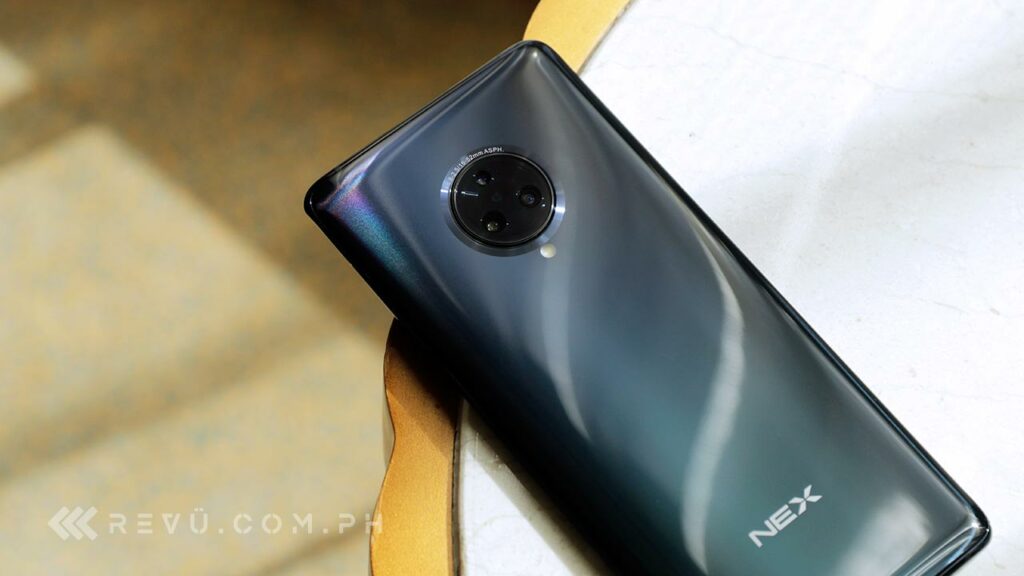 The NEX 3 is massively bold, with a striking waterfall display that spills toward the sides to meet the frame and a 64-megapixel rear camera that takes stunningly detailed photos and videos. And on the inside, you'll find a Snapdragon 855 Plus chip that is the fastest Qualcomm has ever built and a battery that can survive two days of use and recharge from zero to full in well under two hours.
It may be a little too huge for some tastes, but if you're looking for a big-screen flagship smartphone outside of Samsung's Galaxy and Apple's walled garden, the NEX 3 is probably your best bet.
Vivo NEX 3 specs
6.89-inch Waterfall FullView display, 2,256 x 1,080 resolution, 20:9 aspect ratio
Qualcomm Snapdragon 855 Plus processor
8GB/12GB RAM
128GB/256GB storage
Triple: 64MP, f/1.8 primary camera + 13MP, f/2.2 ultra-wide camera + 13MP, f/2.48 telephoto lens
16-megapixel, f/2.09 pop-up selfie camera
Fingerprint sensor (under-display)
4,500mAh battery with 44-watt Vivo Super FlashCharge fast-charging
Funtouch OS 9.1 based on Android 9.0 Pie
Colors: Glowing Night, Liquid Galaxy
---