Apple might not have the highest market share globally for smartphones, but it still maintains its dominance when it comes to profits.
Market-research firm Counterpoint reported that Apple got 66% of industry profits and 32% of overall handset revenue in the third quarter of 2019, despite the total global handset industry experiencing an 11% decline to $12 billion. Of the top 10 companies, only Samsung and Huawei were able to increase their revenue on an annual basis.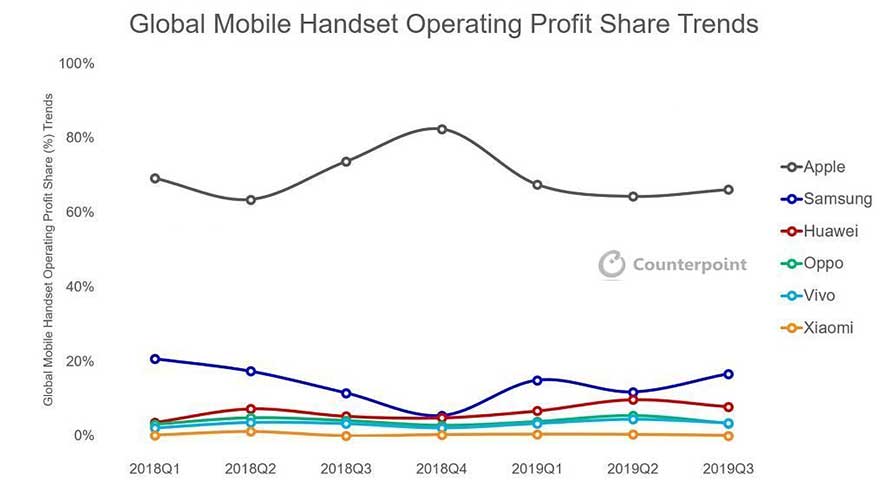 Counterpoint attributed the loss for the industry overall to an increased release of entry and mid-tier products and a fall in revenues for key smartphone original equipment manufacturers. The replacement cycle for premium smartphones has lengthened because the recent hardware upgrades weren't enough of a reason for consumers to get a new device.
The market-research company claimed that Apple's dominance could be credited to its loyal premium user base in major markets like the United States, the European Union, and Japan, allowing Apple to operate at a profit level its competitors can only dream of.
SEE ALSO: The Philippines' top 5 smartphone brands in Q3 2019 — Counterpoint
And with a reliable service strategy and its approach to its ecosystem, Apple is guaranteed a steady inflow of revenue in the coming years. Counterpoint predicted Apple's profit for the holiday season will increase with the new iPhone 11 series phones gaining traction.
According to Counterpoint, Samsung came in as a distant second with a 17% profit, which is mostly thanks to the success of the Samsung Galaxy A and Galaxy Note 10 lineups.
Meanwhile, the Chinese smartphone brands operated at low-profit margins, but they were doing better than in previous years. Despite having expanded outside China and are now penetrating high-tier price points, these brands still have work to do.
READ ALSO: How OPPO is preparing for the 5G era in Asia-Pacific
The said brands are working to attract mature smartphone users with new feature-packed flagships sold at affordable prices. Some are even looking to monetize their user base by launching services like Internet of Things products and financial services. But they are struggling to increase smartphone average selling price and margins because of extended consumer holding periods and Apple lowering pricing on some of its key products.
What could drive buyers to upgrade in the coming quarters will be the adoption of 5G. OEMs who are preparing products ahead of full 5G commercialization, including Chinese brands like Huawei, OPPO, Vivo, and Xiaomi, could experience revenue growth. But while revenue growth is probable for these companies, profit margins might not benefit because the cost to make said handsets will tend to rise as well.
What's happening in terms of market share?
As we mentioned, Apple isn't the leader when it comes to market share. Counterpoint reported that in the third quarter of 2019, Samsung, Huawei (including Honor), and Apple had cornered half of the smartphone industry when it comes to market share, with hundreds of other brands competing "fiercely" for the rest of the market.
Samsung experienced an 84% year-on-year growth, allowing them to take over one-fifth of the global smartphone market share, again due to the Galaxy A and Galaxy Note 10 series.
Huawei, together with its sub-brand Honor, grew a healthy 28.5% year-on-year globally while getting a record 40% of the smartphone market share in its home country, China.
Apple iPhone shipments were down by 4%, with revenue falling by 11% year-on-year for the company.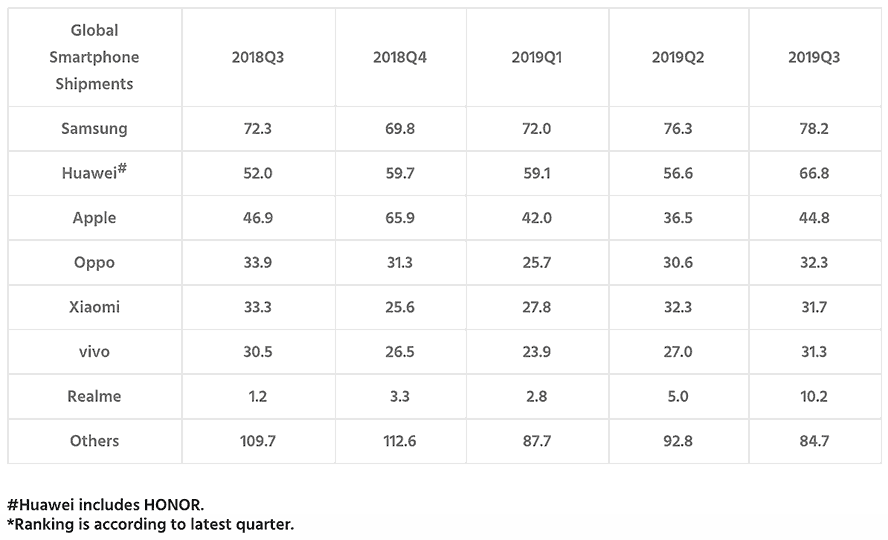 The data above is supported by data from Strategy Analytics, which we reported about earlier. The third-party, market-research firm also named Samsung, Huawei, and Apple as the dominant market leaders when it comes to market share.
---