Estimated reading time: 13 minutes
We've come to expect a lot from Realme, particularly in the low-end segment. So when the world's fastest-growing smartphone brand announced the first phone to receive the high-reliability certification by TÜV Rheinland at the Realme Quality Standards Launch Event earlier this month, we had high hopes.
Now that the proverbial cat is out of the bag and the Realme C25 has been officially launched in the Philippines, we can finally see firsthand what the buzz is all about. There's plenty to like at first glance, especially since the Realme C15 successor brings higher specs to the table, including a faster Helio G70 processor that runs a custom Android 11 skin out of the box and a 48-megapixel image sensor. And like its predecessor, the C25 packs a long-lasting 6,000mAh battery backup, too.
In a nutshell, Realme's latest Android release promises a midrange experience for much less money than what most competing devices go for. How well does it deliver, though? Read our full review of the Realme C25 to find out.
Price and availability
In the Philippines, the Realme C25 with 4GB RAM and 64GB storage has a suggested retail price of P7,490, which translates to around $156 converted, but it will be discounted by P1,500 ($31) during Shopee's Brand Day Sale until April 18, dropping its price to just P5,990 ($124) for a limited time. That's an incredible deal for what you get.
Even better, the C25 also qualifies for free shipping at the online store if you buy it on the 18th. Meanwhile, the 128GB storage variant costs P8,490 ($176) locally. Water Grey and Water Blue (that sort of looks like gray) are your color options.
Helio G70: Still a competent budget chipset
The Realme C25 uses a MediaTek Helio G70 SoC, which is basically a watered-down Helio G90, and boasts the same octa-core setup. You might recall that last year's Realme C3 was the first to run on the platform.
The Helio G70 is built on the same 12nm process as the G90; has two Cortex-A75 performance cores running at 2GHz and six Cortex-A55 efficiency cores for everyday tasks; and comes with a Mali-G52 2EEMC2 GPU clocked at 820Mhz.
The unit we have packs 4GB of LPDDR4X RAM and 128GB of storage that can be augmented using the dedicated microSD card slot. The generous amount of storage is certainly welcome as more games that require a lot of storage space to install are released on the Google Play Store. Realme's C25 also offers dual 4G VoLTE, Bluetooth 5.0, plus Wi-Fi 802.11ac, but doesn't support dual-band Wi-Fi (only the 2.4GHz band is supported), which is understandable given the bargain price point.
SEE ALSO: Realme Smart TV review: Quality Android TV experience
In our review of the Realme C3, we noted that the Helio G70 was a capable performer and that Qualcomm had every right to be concerned about its low-end Snapdragon 400 lineup. So, how does the chip hold up in 2021? Honestly, it's still a solid option in the segment, though the introduction of newer chips with faster connectivity like the Qualcomm Snapdragon 480 5G and MediaTek's entry-level Dimensity series will no doubt dampen its appeal to consumers who can spare some extra cash for better performance.
Check out our benchmark results below to get an idea of how the 4GB/128GB variant of the Realme C25 performs under load. Take note that, with the exception of the CPU Throttling Test app, we ran the benchmarks in Performance mode, which attempts to boost the gaming performance of your device at the expense of battery life.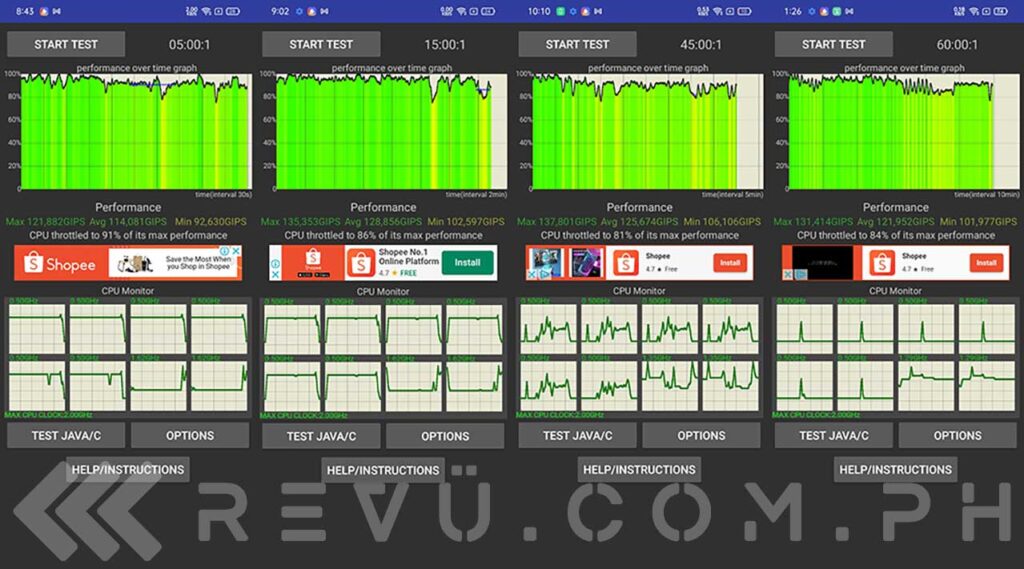 In the key day-to-day performance departments, the Realme C25 generally delivers. Scrolling is smooth; swiping feels snappy; opening and switching between apps is mostly a pleasant affair; and multitasking is handled well. It helps, too, that the Realme C25 runs Realme UI 2.0 on top of Android 11, Google's latest and smoothest operating system. If you want a more visually fluid experience when scrolling, you can enable Smooth Scrolling in the Settings under Realme Lab.
Can it game?
The short answer is a resounding yes. If you're eyeing this phone for gaming, you'll be happy to hear that it doesn't disappoint. We've always felt that MediaTek's G series chips were an excellent choice for the masses, and the Helio G70 is definitely no exception. It delivers smooth gameplay in most recent titles with the graphics cranked down.
Even in games like Genshin Impact — which is as popular as it is deemed brutally demanding — our unit managed to provide solid frame rates at low detail settings. We don't recommend enabling the 60 fps option, though, despite the Realme C25 being capable of running Genshin Impact above 30 fps at times.
Mobile Legends: Bang Bang is another wildly popular title among mobile gamers that you can play on the smartphone without any issues. Visually, it's not quite the eye candy like Genshin Impact, but on the flip side, that makes the game much more playable at High Frame Rate or HFR mode.
Gameplay video: Genshin Impact, Mobile Legends: Bang Bang (2:01 mark), Call of Duty: Mobile (4:01 mark); Dead Cells (6:01 mark); and NBA 2K20 (8:01 mark)
Playing the fantastic Dead Cells port for Android, we managed to get a frame rate in the 50s or better, making it one of the smoothest games you can run on the Realme C25 if you're into the retro-styled Metroidvania genre. It doesn't hurt that Dead Cells is one of the most addictive titles you can play on the go, too.
Released in 2019, NBA 2K20 is no longer up to par with modern AAA games on the Google Play Store, at least in terms of graphics, but it's still one hell of a fun time and the only pure basketball game you can play on your device with real NBA players and teams. You'll be pleased to know the game is highly playable on the Realme C25 even with the graphics set to the higher settings and a physical controller paired with the handset during gameplay.
Similarly, running Call of Duty: Mobile for brief stretches on the C25 proved to be a mostly enjoyable experience. We had a fun time diving into matches and raking in the kills, thanks to the smooth visuals when the graphics quality is set to Low and frame rate pegged at Medium.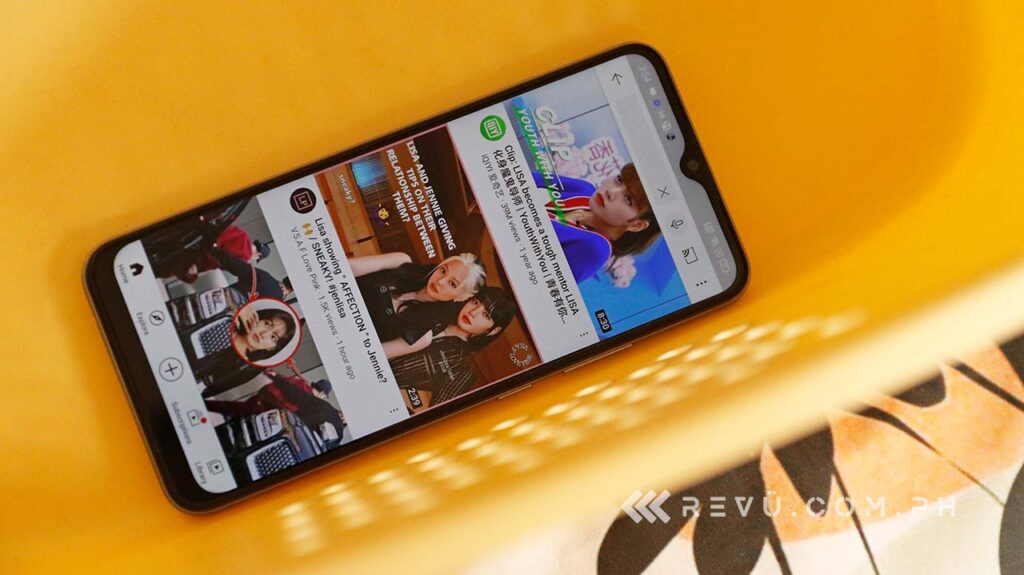 It should also be noted that the phone's 6.5-inch LCD display is big enough for gaming, allowing for comfortable touchscreen gameplay in titles we tested. The HD+ resolution is fine and helps the phone run heavier games better, while the 60 fps refresh rate is perfect for the segment and what the Helio G70 chipset is capable of.
And then there's the improved Game Space app in Android 11-based Realme UI 2.0. Through this app, you can disable alerts, notifications, incoming calls, and more by turning on Game Focus mode; access quick shortcuts by swiping from the left-hand side when the phone is in landscape orientation; and customize the performance of apps on your device.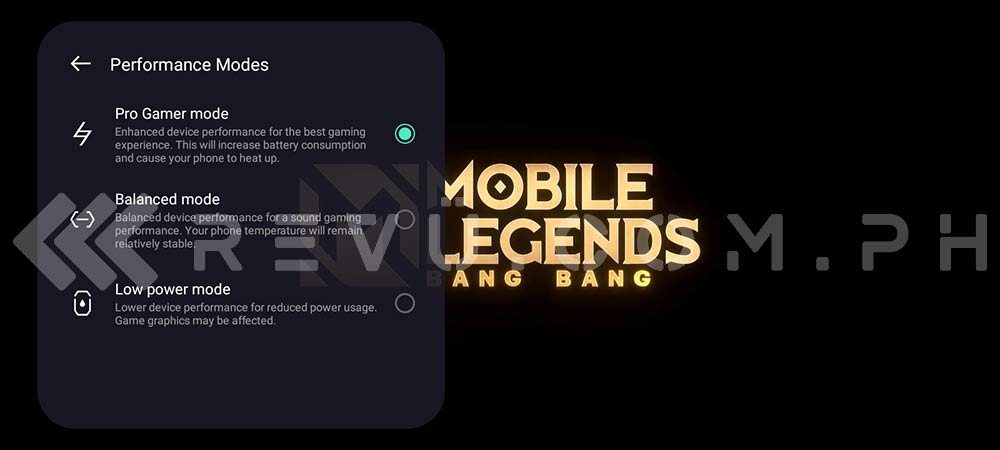 In for the long haul
Realme takes pride in providing its customers excellent value for money, not just when it comes to the technical capabilities of its devices, but also with regard to durability and reliability. With the Realme C25, though, the company has taken things up a notch, partnering with TÜV Rheinland to bolster its already strict quality-control protocols and produce budget devices that will last years.
The C25 is the first smartphone in the Philippines to get a reliability certification from the German technical-testing authority. To achieve this, the phone has gone through 23 major test scenarios that encompasses 10 daily-use tests, such as drop, wear, and tear, and 7 extreme-environment tests, including super-high temperature, extreme humidity, voltage fluctuation, and static electricity. TÜV Rheinland says many of these tests were based on a user's initial three-year smartphone lifecycle to comprehensively evaluate a handset's durability in modern scenarios and conditions.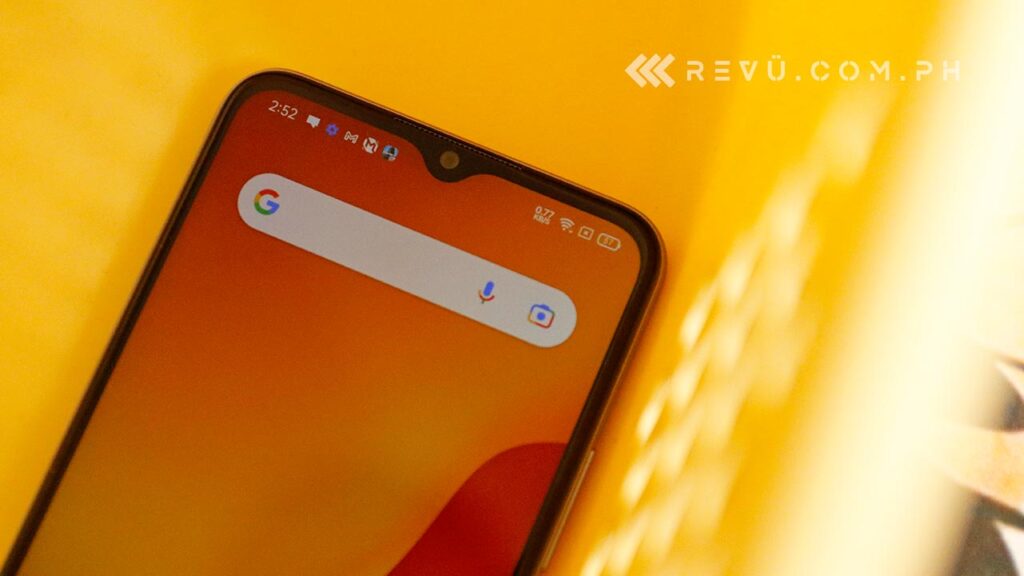 Of course, that's not to say the Realme C25 is weatherproof, waterproof, or even highly resistant to liquid damage — it's none of those. It doesn't have any kind of Gorilla Glass coating on the front, too, in case you're wondering. However, it has a little weight to it and does feel more durable in the hand than the average entry-level handset.
We've seen some bend tests on video; while not necessarily indicative of a phone's durability in everyday use, they do suggest the presence of a strong inner build tucked beneath the C25's plastic casing. Speaking of which, the C25 features a nice textured back similar to the Realme Narzo 20's, except there's no V pattern when light hits it just right, and the vertical branding is the biggest we've seen on a local release since 2020's Realme C11.
Keeping the lights on is a 6,000mAh battery that promises mega battery life, offering a quoted standby time of up to 47 days, which is weeks longer than what we're used to seeing at this price range. If you need to stretch the battery life of your phone, switching Super Power Saving on can help a lot, and there are other — albeit less impactful — power-saving functions in the Settings app that can add more mileage at the cost of performance.
The battery life is excellent, as expected, providing more than 48 hours of continuous use on a single charge when using the Realme C25 as our daily driver.
As a backup, it gave us five full days of light usage consisting of web browsing, social media, and occasional gaming. When we ran the PCMark battery test, our unit got an astounding 19 hours and 30 minutes at half brightness — one of the best results we've seen in a while.
The C25 supports fast wired charging up to 18 watts out of the box using the included power adapter. In our tests, the 6,000mAh cell required close to four hours to fully top up from zero. That's completely understandable. Then again, you probably won't need that much time for a day of heavy use.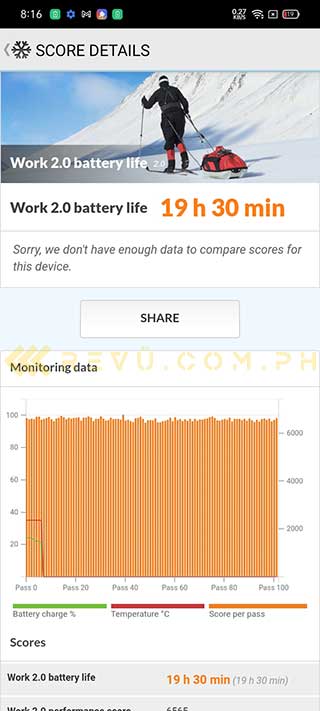 48MP image quality for less
Around the back, you'll find a triple-camera system with a 48-megapixel primary sensor that outputs 12-megapixel pixel-binned images by default, in addition to secondary 2-megapixel macro and monochrome sensors. This makes the Realme C25 the only C series handset on the local market equipped with a true 48-megapixel camera.
When it comes to shooting video, you can capture 1080p footage at up to 60 fps using the main camera, while the 8-megapixel shooter on the front is good for 1080p video as well, but the frame rate is capped to a maximum of 30.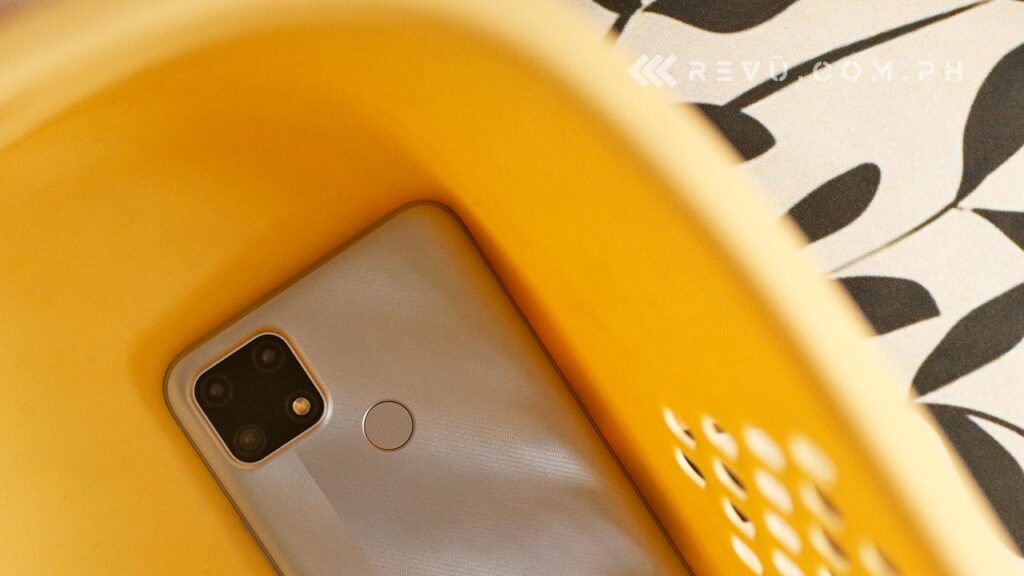 A triple-cam setup isn't anything special these days — even among cheap handsets — so it's not surprising that the Realme C25 has one. What pleasantly surprised us is how good the phone's primary camera is for its price, provided you are shooting in favorable lighting. You get plenty of detail at 12 megapixels, as well as serviceable low-light performance, with the option to switch to Night mode for even brighter, more contrasty pictures.
Unfortunately, you won't see an ultra-wide camera here, so you'll need to be in Pano mode to capture expansive landscapes and city scenes. You won't find a telephoto lens either. Thankfully, the 48-megapixel shooter allows up to 2x zoom on your subject without losing much detail in good light. The digital zoom goes up to 10x if you need to get closer.
The 2-megapixel macro unit is useful for closeup shots in well-lit environments, but outside of ideal scenarios, it is practically useless, especially since you can get better results from the main camera. Also, the cameras at the back and front perform sluggishly when shooting in dim lighting, and auto-focus is slow to put them to work in the field.
Sample shots (click on a thumbnail to see the full-sized image and launch the gallery: 1) Manual; 2-4) Auto (1x); 5) 5x zoom; 6) 10x zoom; 7) 1x; 8) 2x zoom; 9) 5x zoom; 10-11) Macro; 12) Auto (dim); 13) Night mode (dim); 14) Auto (low light); 15) Portrait mode (low light); 16) Auto (ample lighting); and 17) Portrait mode (ample lighting)
Final thoughts
The Realme C25 is a solid all-arounder with acceptable compromises you'll find in plenty of other devices in the category. Even at its full price, it's a compelling offering, but we do suggest taking advantage of any discounts available to you during or after its initial sale period. Trust us: Its first-sale offer isn't something you want to ignore.
The Realme 6i and Narzo 30A are great alternatives, too, if you want to stay within the Realme ecosystem and take advantage of the extra features you can get from some of the company's AIoT products.
Realme C25 specs
6.5-inch LCD display, 1,600 x 720 resolution, 60Hz refresh rate
Octa-core MediaTek Helio G70 processor
Mali-G52 GPU
4GB LPDDR4 RAM
64GB/128GB storage
Triple 48-megapixel, f/1.8 (main), 2-megapixel, f/2.4 (mono), 2-megapixel, f/2.4 (macro) rear cameras
8-megapixel, f/2.0 front camera
Fingerprint reader (rear-mounted)
6,000mAh battery with 18-watt USB-C fast charging
Realme UI based on Android 11
Color options: Watery Blue, Watery Grey
---