Antutu has just released the July rankings for midrange and flagship Android smartphones released in China, and devices from one smartphone manufacturer came out on top.
The OPPO Reno 3 5G and OPPO Find X2 Pro were the best-performing phones in their respective categories. Take note that the Reno version that's available in China is not the same Reno 3 variant that's on sale in the Philippines; the former is powered by a MediaTek Dimensity 1000L chip, while the latter uses a Helio P90. However, the high-end Find is the same one we have in the country.
Top 10: Midrange smartphones
The two best-performing Android handsets in the benchmark tool Antutu after the OPPO Reno 3 5G were Xiaomi's Redmi 10X 5G and Redmi 10X Pro 5G. Both have Dimensity 820 system-on-chips, showing how far MediaTek has come.
But the next six devices on the top 10 list also gives us an idea of just how powerful the mid-level Kirin SoCs are. The Kirin 985-powered Honor 30, Huawei Nova 7 Pro, and Huawei Nova 7 and Kirin 820-enabled Honor X10, Honor 30S, and Huawei Nova 7 SE 5G phones occupied the fourth to ninth spots.
SEE ALSO: Globe's 5G network on the Huawei P40 series: The future is here and Tested: Smart 5G network on the Philippines' most affordable 5G phone
Two of them — the Nova 7 and Nova 7 SE — are official in the Philippines and are proven to be compatible with the 5G networks of both Globe Telecom and Smart Communications. In fact, the latter is the cheapest 5G-ready mobile in our country.
In last place for the month of July was the Redmi K30 5G with Snapdragon 768G, the only unit here that uses a Qualcomm processor.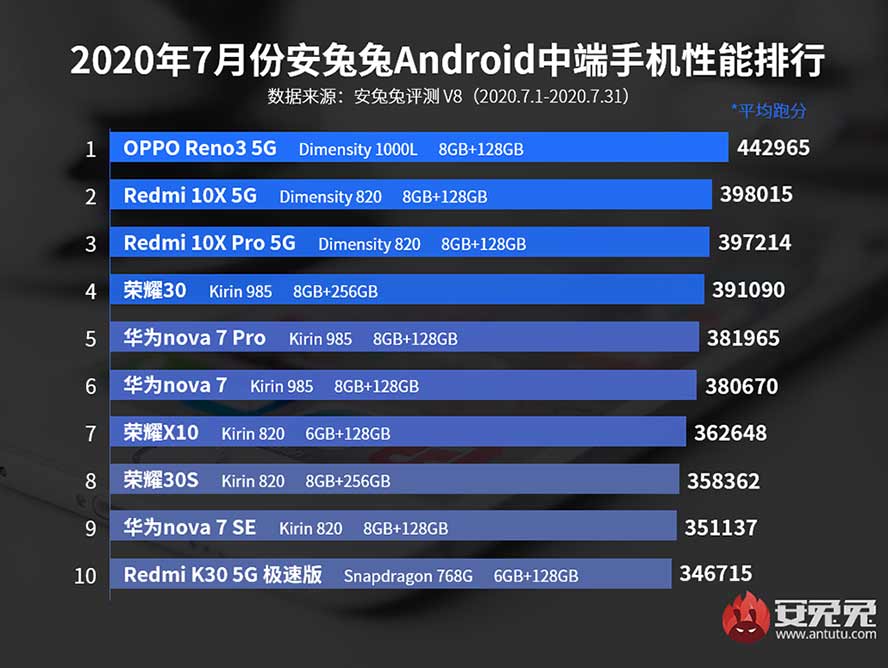 Top 10: Flagship smartphones
This is where Qualcomm flexes its muscles, with all Android models in the ranking boasting the flagship Snapdragon 865 chip. Hot on the heels of the OPPO Find X2 Pro was the regular Find X2. Another OPPO, the Ace 2, came in at No. 6.
READ ALSO: Vivo X50 Pro 5G phone coming to the Philippines in August and Realme X50 Pro 5G phone coming to the Philippines soon?
Two belong to Xiaomi's stable: the Redmi K30 Pro, which was launched in the Philippines as the POCO F2 Pro, at No. 3 and the Mi 10 Pro at No. 4. Vivo's iQOO Neo 3, Vivo X50 Pro Plus, and iQOO 3 landed fifth, seventh, and 10th. Rounding out last month's list were the Realme X50 Pro and Meizu 17 Pro.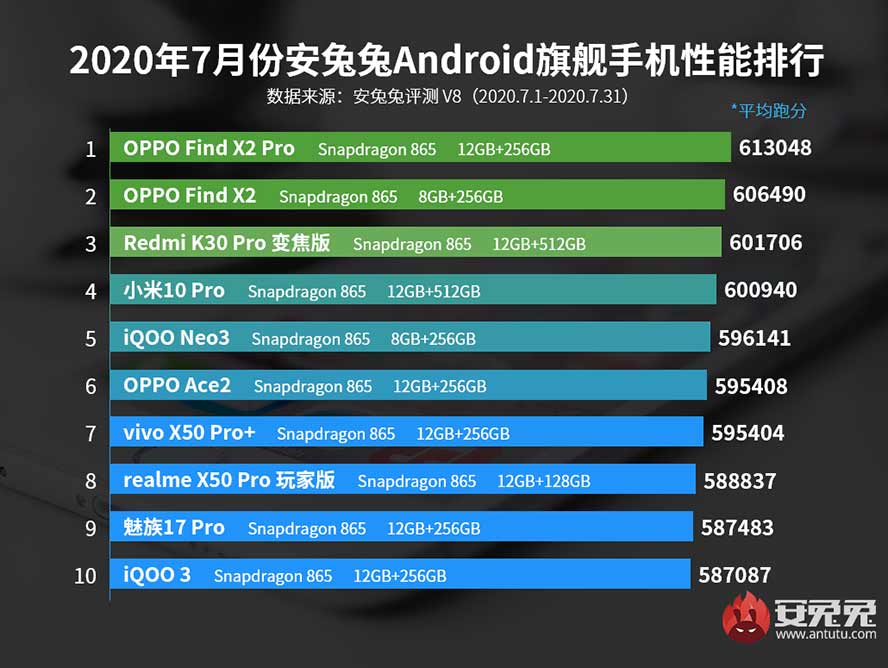 Antutu is just that: a benchmark. But at least it gives you an idea of the capability of each smartphone. Of course, the processor is just one factor that affects the user experience. There are other important things to consider, including how well a manufacturer optimizes its software.
---