Two days after releasing the September lists of best-performing midrange and flagship Android phones available in China, Antutu Benchmark has shared the global rankings.

If there's one glaring thing we noticed, it's that devices powered by Samsung's Exynos chips were not part of them. Let's break them down, shall we?
Top 10: Midrange Android smartphones
Just like in the mid-level-smartphone rankings in China, a handset with MediaTek inside topped the worldwide list. Vivo's iQOO Z1 with Dimensity 1000+ ruled the charts with a high average rating of 514,902.
Other MediaTek-powered units that made it into the list were the Redmi K30 Ultra, Realme 7, Redmi Note 8 Pro, and Realme 6 — from two brands that have always been compared by consumers.
Huawei's Kirin chipsets figured prominently as well, with three phones that landed third, fourth, and seventh: the Honor 30, Huawei Nova 7, and Huawei Nova 7i.
Qualcomm somehow had entries, too. The Xiaomi Mi 10 Lite 5G and Redmi K30 5G — both sporting Snapdragon 765G processors — were in fifth and sixth places.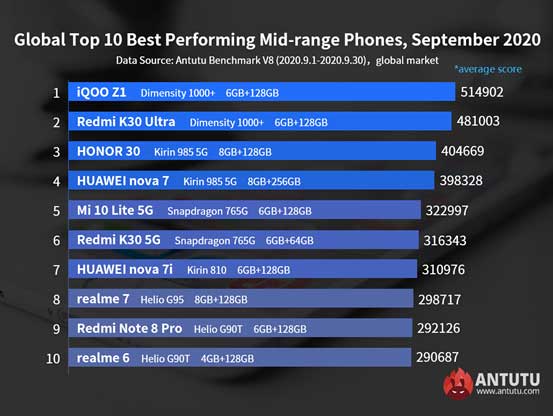 Top 10: Flagship Android smartphones
The ASUS ROG Phone 3, whose review we recently published, was still king of the charts, with an average Antutu benchmark score of 642,671.
Two other Qualcomm Snapdragon 865 Plus smartphones got into the list of best-performing Android flagships. We're talking about the Samsung Galaxy Note 20 Ultra 5G and Galaxy Z Fold 2 5G. Take note that in countries like the Philippines, we have the Exynos versions of the said Samsung models.
The rest of the devices? All Snapdragon 865 devices, from No. 2 Xiaomi Mi 10 Ultra to 10th-placer OnePlus 8. This shows how powerful Qualcomm's premium chips are.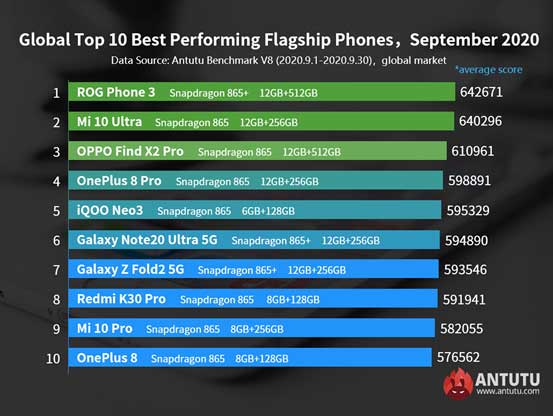 ---